Adam Tebbe profiles Bhante Aluthgama Chandananda, a monk who is pursuing a master's degree in social work at the University of Cincinnati.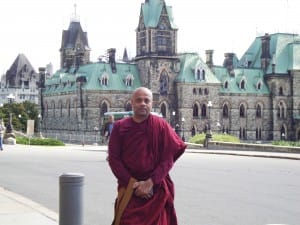 Bhante Aluthgama Chandananda stands out on the University of Cincinnati campus, donning the saffron robes of a Buddhist monk while running to classes. Students and teachers often refer to him as "Chan." The Sri Lanka born monk is currently a resident at the Ohio Buddhist Vihara while also pursuing a master's degree in social work at the University of Cincinnati. Upon graduation, Chan will likely be the first Buddhist monk to graduate from UC with a Ph.D.
Bhante cites his mother as being the one who influenced his calling to service.
"I remember her collecting food, clothes, and other essential items to distribute to the poor.  People in trouble or in need often came to our house hoping for some money and a little food."
Bhante, a monk of the Theravada sect, wants to help those suffering from mental afflictions, particularly children. A recently published article featured in Connections magazine (published by the University of Cincinnati's College of Allied Health Services) spotlights Chan and his work (the publication is currently available in print form only).
"Well-trained social workers are rare in my country, though I now recognize that the services and skills of just such professionals are badly needed."
Before coming to Cincinnati, Chandananda didn't even know that a professional social work degree existed; he received his bachelor's degree from the University of Cincinnati back in 2010 and is currently pursuing his master's there. Before that, he was a high school teacher in Sri Lanka, teaching Buddhism and history, and he also started a scholarship program (still running today) for kids of low economic means.
"During that long period working in a high school, I learned to recognize and appreciate the problems, attitudes, and interests of youth, and I gradually found out a lot about dealing with people this age."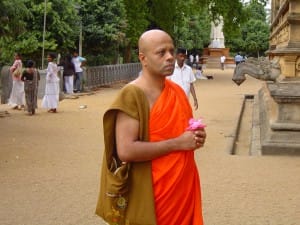 In 2010, Chandananda returned to Sri Lanka, putting his newly developed social work skills in to action by starting a housing program. With the help of friends in Cincinnati, they've already had one home built for a family, with another one under way. In 2011 he traveled to Japan to help raise funds for tsunami victims and their families.  While there, Bhante gained invaluable experience in working with victims of trauma — experience that is sure to come in handy in his chosen line of work.
Wanting to continue his education, he returned to Cincinnati and entered the university's master's degree program, from which he will graduate in 2012. He plans to work in the United States for two or three years before returning again to Sri Lanka, where he knows his services and knowledge are now needed.
"My most cherished  dream would be to a establish a scientifically grounded center for mentally disturbed children in Sri Lanka where, so far as I am aware, it would be one of the first such facilities to come into being.  It is my sincere hope that my training as a social worker, my previous experience as a high school teacher, and my life-long vocation as a Buddhist monk may all coalesce, rendering me a person not only able to fulfill such dreams but worthy of doing so as well."
Bhante's scholarship and housing project is called "Sri Lankan Scholarships and Shelter Fund" (SSSF). Tax-deductable contributions can be made payable to "Georgia Buddhist Vihara." Checks must be marked "SSSF" in the lower left corner in order to ensure that every cent collected is expended entirely on modest school stipends and shelter for needy Sri Lankans. All contributors will receive a receipt.
Donations can be sent to:
Rev. A. Chandananda
C/O Georgia Buddhist Vihara
3153 Miller Road
Lithonia, GA 30038
THANK YOU FOR READING LION'S ROAR. CAN WE ASK FOR YOUR HELP?
At Lion's Roar, our mission is to communicate Buddhist wisdom in today's world. The connections we share with you — our readers — are what drive us to fulfill this mission.

Today, we're asking you to make a further connection with Lion's Roar. Can you help us with a donation today?
As an independent nonprofit committed to sharing Buddhist wisdom in all its diversity and breadth, Lion's Roar depends on the support of readers like you. If you have felt the benefit of Buddhist practice and wisdom in your own life, please support our work so that many others can benefit, too.

Please donate today — your support makes all the difference.

Lion's Roar is a registered charity in the US and Canada. All US & Canadian donations are tax deductible to the full extent allowed by law.