Danny Fisher sits down with Venerable Miao Hong Hsiangju Liu, the first Buddhist to ever be appointed to the President of the United States' Advisory Council of Faith-Based and Neighborhood Partnerships.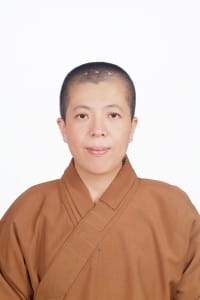 As we head toward the US elections on Tuesday, one of the accomplishments that President Barack Obama can claim (whether he keeps his job or not) is the historic first-ever appointment of a Buddhist to the President's Advisory Council of Faith-Based and Neighborhood Partnerships: Venerable Miao Hong Hsiangju Liu, the Humanitarian Project Liaison for both the International Buddhist Progress Society (IBPS) and Buddha's Light International Association (BLIA) in the United States and Australia, and the BLIA representative to the United Nations.
Her appointment was especially pleasing to me personally: I've written about the conspicuous absence of a Buddhist on the Advisory Council before, and I am a colleague of Ven. Miao Hong at University of the West, where she serves as a special assistant to the Board of Trustees.
Ven. Miao Hong flew to Washington, DC, at the end of the summer for her first council meeting. Before leaving, we spoke in her office on the campus of UWest about the news.
First, Venerable, I'd just like to know: what was your reaction when they contacted you about this?
I was very humbled, first of all. When it happened, I told my master and another person, "I don't really deserve this."
Second, I thought, I understand that because the Order has been in the United States for so long, with Buddhist nuns and monks and others doing so much hard work trying to benefit beings in communities. On the one hand, we don't really need special recognition for that; on the other hand, this is something that can benefit Buddhism and our work, as well as the Advisory Council.
The Fo Guang Shan organizations, International Buddhist Progress Society (IBPS) and Buddha's Light International Association (BLIA), are doing so much humanitarian work, and we need to be able to have a more public voice. During his inauguration, President Obama did not mention Buddhists, but he did mention "Christians, Jews, Muslims, Hindus, and non-believers." We got missed, and I was a little disappointed by that. Because his stepfather is from Indonesia, I didn't think we would get overlooked — he knows about Southeast Asia. But, anyway, this appointment will help Buddhists not to get missed in he future.
I also think that with the addition of a Buddhist to the Advisory Council, it offers a chance to present a new and different perspective on current affairs and the issues that we will be looking at on the Advisory Council. Buddhist philosophy has very unique, useful ideas for bringing harmony and peace to communities. Personally, I'd like to be invisible — that's one of the reasons I took my vows. I just want to be myself and do my work. But if I'm the person with the opportunity to offer a Buddhist perspective and share a Buddhist voice, I cannot say no.
You mentioned your ability in this role to be able to better represent IBPS, BLIA, and Fo Guang Shan broadly. I can imagine, though, as the historic first Buddhist of any kind appointed to this Advisory Council, you'll be burdened with the special expectation of trying of represent all kinds of Buddhists in the US. Would you talk a little bit about that?
I'm not interested in just representing Mahayana — and I certainly don't have anything against Theravada or Tibetan practitioners. I see myself as a Buddhist nun, a Buddhist figure.
However, during my two years at the UN, I observed a lot of problems in the world around gender issues. One of the reasons I said yes to this is because I'm a woman, a nun, and I thought, "This could help balance out monastic voices." I see these gender issues in all the monastic traditions of Buddhism. I thought, "Maybe my presence can demonstrate something good for some of the organizations and orders — something about fairness and gender equality. That's something that can benefit society. It can benefit this generation and the next and the next and so on."
Lastly, what can you tell us about the Advisory Council and your work with it? What have you been told about your role in the future?
Not just yet. Currently, though, I'm working on behalf of the IBP and BLIA with First Lady Michelle Obama's "Let's Move" campaign, confronting the obesity epidemic among American children. We're vegetarians in our order. As a first step locally, I'm coordinating with the San Bernardino County school and districts on a number of projects to help make healthy eating more appealing and appetizing to students.