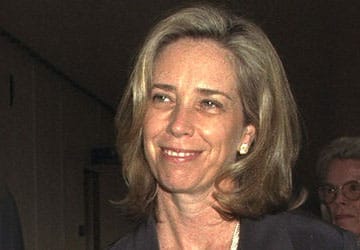 Melissa Mathison, the screenwriter and pro-Tibet activist, has died.
Most famous for authoring the scripts for The Black Stallion and Steven Spielberg's E.T. The Extra-Terrestrial (which earned her an Oscar nomination), she also wrote that of Kundun, Martin Scorcese's meditative biopic about the 14th Dalai Lama. That assignment marked the beginning of a friendship with His Holiness, and also of Mathison's dedicated work for the Tibetan cause.
As The Los Angeles Times reports:
With the help of actor Richard Gere, a supporter of Tibetan causes, she and [then-husband Harrison] Ford met with the Dalai Lama in Santa Barbara in 1990. At that meeting and subsequent visits in Santa Cruz and in India, she pitched the notion of a film based on his early years.

The Tibetan spiritual leader wanted "everything to be as correct as possible," she said in a 1998 interview with the Philadelphia Inquirer. "Each time we met I would bring him new scenes."
Mathison eventually became a board member of International Campaign for Tibet.
Recalling her in a statement Wednesday, Spielberg said she "had a heart that shined with generosity and love and burned as bright as the heart she gave E.T."