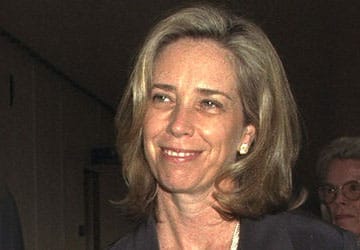 Melissa Mathison, the screenwriter and pro-Tibet activist, has died.
Most famous for authoring the scripts for The Black Stallion and Steven Spielberg's E.T. The Extra-Terrestrial (which earned her an Oscar nomination), she also wrote that of Kundun, Martin Scorcese's meditative biopic about the 14th Dalai Lama. That assignment marked the beginning of a friendship with His Holiness, and also of Mathison's dedicated work for the Tibetan cause.
As The Los Angeles Times reports:
With the help of actor Richard Gere, a supporter of Tibetan causes, she and [then-husband Harrison] Ford met with the Dalai Lama in Santa Barbara in 1990. At that meeting and subsequent visits in Santa Cruz and in India, she pitched the notion of a film based on his early years.

The Tibetan spiritual leader wanted "everything to be as correct as possible," she said in a 1998 interview with the Philadelphia Inquirer. "Each time we met I would bring him new scenes."
Mathison eventually became a board member of International Campaign for Tibet.
Recalling her in a statement Wednesday, Spielberg said she "had a heart that shined with generosity and love and burned as bright as the heart she gave E.T."
THANK YOU FOR READING LION'S ROAR. CAN WE ASK FOR YOUR HELP?
At Lion's Roar, our mission is to communicate Buddhist wisdom in today's world. The connections we share with you — our readers — are what drive us to fulfill this mission.

Today, we're asking you to make a further connection with Lion's Roar. Can you help us with a donation today?
As an independent nonprofit committed to sharing Buddhist wisdom in all its diversity and breadth, Lion's Roar depends on the support of readers like you. If you have felt the benefit of Buddhist practice and wisdom in your own life, please support our work so that many others can benefit, too.

Please donate today — your support makes all the difference.

Lion's Roar is a registered charity in the US and Canada. All US & Canadian donations are tax deductible to the full extent allowed by law.