Through meditation practice, we can appreciate how well our body works. We notice our body and actions have an innate elegance, dignity, and uprightness. This is the experience of basic healthiness. We can maintain our dignity in both illness and health.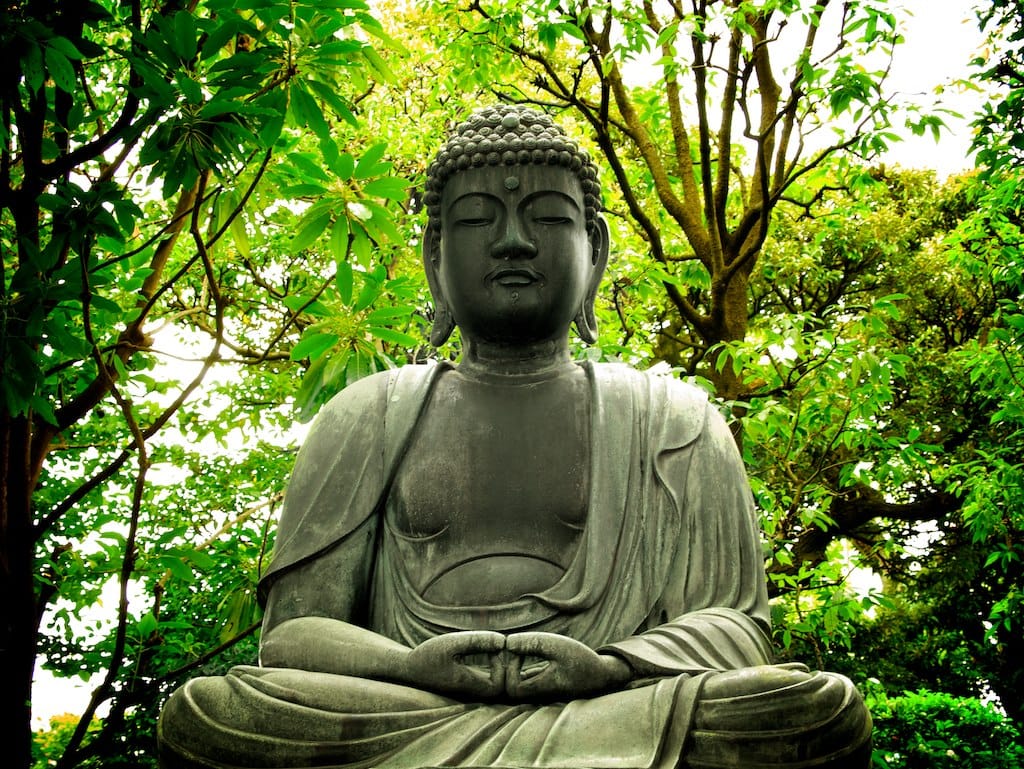 Through the practice of meditation, we can understand and experience our state of mind directly. Because we develop a straightforward, clear understanding of who we are, because we can make some kind of relationship with ourselves, we can look directly at our state of mind in both health and sickness.
Beyond that, the discipline of sitting and dealing with ourselves honestly lets us experience how confusion can actually be overcome. This involves an appreciation of basic, unconditional goodness and a stance of gentleness and fearlessness in dealing with ourselves and our world. In other words, we can maintain our dignity in both illness and health.
The underlying principle is the notion of basic healthiness. As we begin to sort through our neurotic speed, we can experience this basic healthiness through our meditation practice. We cease to flit from thought to thought endlessly; we begin to slow down and experience the environment around us. This brings a fundamental sense of well-being. It is an appreciation of our mind and body working together, acting as a whole, becoming synchronized.
This feeling of being settled in, or just so, is the experience of basic healthiness. We begin to appreciate how well our body works; we notice that our body and actions have an innate elegance, dignity, and uprightness. We recognize that as human beings, we possess a fundamental wholeness and wholesomeness which is not soiled or diminished by disease.
From the Buddhist and Shambhala perspectives, we maintain health by developing awareness fully in our life, so that this synchronization of body and mind can happen.
Traditionally, it is said that illness arises because of hesitation and doubt about our fundamental healthiness and goodness. Even when we are healthy, we have great difficulty believing that we already possess health and can experience it directly. So when we are sick, we see illness as completely overwhelming. We are embarrassed about being "sick," and this sense of shame causes further alienation from our body, so synchronization of body and mind cannot happen.
So in dealing with disease, we need two important qualities: tender heart and fearlessness.
Tender heart is important because of the sense of humiliation that illness often produces. When we are sick, we experience a feeling of vulnerability, which we label feebleness. We tend to react with further embarrassment, anger, or denial, which in turn worsens the disease state. This cycle is obvious in common reactions to heart disease, ulcers, diabetes, etc.
The alternative is to allow ourselves to experience that vulnerability further. When feebleness and pain begin to settle in, we can experience a fundamental tenderness about ourselves and our world. Our sickness has made us extremely sensitive to the environment—the lightest touch may seem painful. But instead of trying to deny it or becoming angry, we can look directly at our reaction to sickness. Then the veneer of anger, resentment, and irritation gives way to an underlying feeling of tenderness. That feeling of tenderness is not feebleness or depression, but the taste of synchronizing mind and body. It is tender heart.
It is extremely enticing simply to lie back and enjoy our illness.
There is discipline involved in relating with our tender heart. We have to catch ourselves when we start reacting to what we believe to be some kind of emotional weakness. Instead of allowing ourselves to be caught in anger or self pity, we could allow ourselves to feel tender and sensitive. We could see ourselves as warriors and be willing to experience our feebleness fully. The genuine tenderness that comes up is the beginning of rediscovering our innate dignity, even within a serious disease state.
This is where the notion of fearlessness comes in. Fearlessness is the willingness to move forward and look at ourselves honestly and directly. It is extremely enticing simply to lie back and enjoy our illness. Illness provides a lovely excuse for a break. Unfortunately, that approach propagates sickness further, and, although our symptoms may disappear, the illness—or invitation to it—continues. So illness can be like marmalade with poison in it.
Fearlessness is important to health in two ways. First, we must be willing to deal directly with our disease. This means learning about it, and learning what adjustments in lifestyle may be required to control it—in short, taking responsibility for our body and our disease.
Second, the discipline of not sinking into depression and self-pity requires a great deal of fearlessness. We have to be willing to allow ourselves to experience that powerful sense of vulnerability. It is as if illness has made our body exquisitely sensitive to the touch, very raw. Still, we need not shrink back; we can look at that state of mind and body honestly.
This act of fearlessness can bring about a shift in our experience from feeling helpless and feeble to feeling dignified and tender. It is powerful to see this at work in an elderly, chronically ill patient who has felt degraded and ashamed for a long, long time. To such a person, that sense of genuine tenderness and dignity is like a long lost friend.
Neurotic speed and claustrophobia rule in medicine today. Anyone who spends time in a hospital, whether as patient or staff, recognizes that genuine openness and warmth do not abound. Flospitals are not exactly what we could call healing environments.
This is not surprising. A culture that does not value the mind/body relationship on an individual level is unlikely to produce a system of health care that appreciates the patient as a human being, one who can establish a dignified relationship with disease—or health, for that matter. It is no wonder that when we seek a health professional because of illness, hoping to find some measure of genuine openness and compassion, we often find someone who is more frightened and confused than we are.
The importance of an open relationship between patient and health professional is well recognized in a psychiatric setting, but there is no question of its importance in all areas of health care. When a relationship of honesty and trust is fostered, illness no longer seems so fearful and claustrophobic to the patient or to the health professional. Humor and cheerfulness can enter the situation naturally.
Health professionals have to realize that even before a patient seeks their help, some degree of fear or alienation has already developed. It is relatively well accepted that the large majority of illnesses, even minor ones, remind the patient of the possibility of loss or death.
Illness creates a mental feeling of separation from the environment, as well as alienation from one's body.
A sick person wants to protect himself against that fear of loss or death. This creates a claustrophobic situation that often results in the various styles of hysteria, hostility, or stoicism that characterize people's response to illness.
How do health professionals deal with this cycle of fear ancfalienation in their patients? It is here that one of the true shortcomings of traditional medicine arises. In current health care education, there is no provision for training health care professionals to explore their own fear and anxiety. No emphasis is made on developing a relationship with their own mind.
Physicians and other health professionals are never asked to come to grips with their own fear of death. Therefore, when they are faced with a patient who is in a state of panic and anxiety, they tend to withdraw from any meaningful contact, because that would bring up their own fear and anxiety.
But when health professionals are open to their own fear, they can acknowledge the patient's uncertainty and anxiety. When health professionals can relax and trust themselves, they can create a mutual space of trust in which the patient can relax as well. In that space they can acknowledge the patient's warmth, and by doing so, cut through much of his or her desperation.
If we loosen the traditionally rigid roles of health professional and patient, some actual sharing can occur and an honest relationship with the patient is possible. There is less alienation, and so the patient fights the disease and its therapy less. He begins to feel better about himself and to experience his own basic dignity. He begins to trust himself. This is the beginning of the healing process.
This can be achieved through the discipline of meditation. Through meditation practice, health professionals can develop an understanding of their own claustrophobia and fear. The idea here is extremely simple: as practitioners of meditation, they are trained to relate with themselves in a straight forward and open manner; the extension of this to their patients is a simple but powerful step.
If an open space of accommodation and trust is allowed to arise, the potential result is that patients will be willing to take more responsibility for their own health care. The value of that cannot be denied. When that happens, health professionals find that their relationship with their patients has become an extremely fertile one. It is a relationship which provides a precious opportunity for their own growth, as well as for the health of the patients.