Each Friday, we share three topical longreads in our Weekend Reader newsletter. This week, LionsRoar.com editor Sam Littlefair asks: how can we find sanity in our dizzying media landscape? Sign up here to receive the Weekend Reader in your inbox.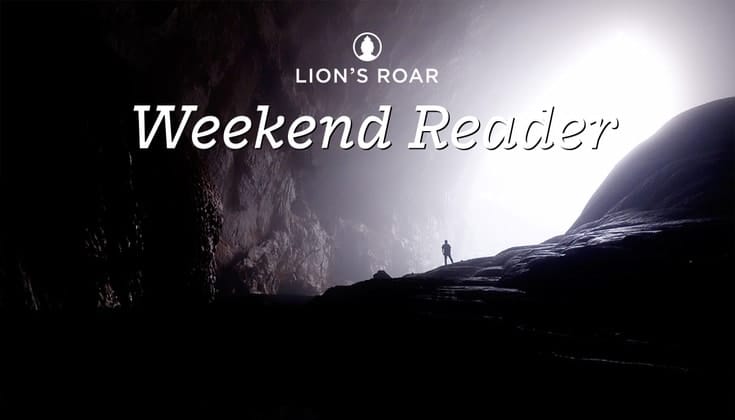 We live in a maelstrom of media. When I first wake up in the morning, I check Twitter on my phone. At the store, pop music blares over the radio. On the elevator, a TV screen plays ads on a loop. At work, I intermittently check the news for any new leads. When I get home, I crave to plug in and watch whatever show I'm bingeing at the moment, or, if I've got the energy, read a book or a magazine.
Some of this is productive, inspiring, mindful, and fun. Some of it is mindless, depressing, and wasteful. In an evermore connected world, it's important for us to be mindful of what we watch, listen to, and read.
In his five mindfulness trainings, Thich Nhat Hanh lists "mindful consumption," which is most often applied to eating and drinking. But, as Sister True Dedication — a former BBC journalist — notes in her article "What Do You Put in Your Mind?", when we engage in mindful consumption, we also must consider our consumption of media. As she writes, "Our mind is made of what we feed it."
There are ways to be mindful of how we consume media, as well. In "How to Read the News," Holly Stocking suggests questions to ask yourself while reading the newspaper to help set a positive intention in your media consumption. And, in "I'm Not O.K., You're Not O.K.—and That's O.K," Sylvia Boorstein talks about how the news can make us feel hopeless and how we can work with that. Hopefully, these three articles will help you find some peace in all of this madness. —Sam Littlefair, editor, LionsRoar.com
PS: For some mindful media: Tomorrow, Democrats in Hawaii go to the polls to choose between two Buddhists in the Democratic gubernatorial primary. Read a report on the race by Cristina Moon on LionsRoar.com.
Just as you consume food, you consume media. And like food, some media is wholesome and some is unhealthy. Sister True Dedication on why you need to pay attention to what nourishes your mind.
I heard Thich Nhat Hanh speak with a fierce and solemn voice as he declared in a talk, "When we watch television and movies we consume, when we browse the internet we consume, when we listen to music or a conversation, we consume." I remember his soft words booming through the loudspeakers: "And what we consume every day may be highly toxic. It may contain violence, craving, fear, anger, and despair."
How can we follow the news in ways that nurture – not diminish – well-being? Author, Buddhist, and media scholar Holly Stocking offers some guidance.
One of the most important factors to determine whether an action is virtuous or non-virtuous is intention. In Buddhist ethics, which presumes effects both seen and unseen, intention is especially important. If our intention is to benefit all beings, the karmic law of cause and effect tells the results will likely be positive, whether it appears that way to us or not. Conversely, if our intention is to harm others, we can expect the results to be negative. But whether or not you subscribe to this karmic law, it can help to set a positive motivation or intention for consuming the news.
When we read the news, we might find ourselves overwhelmed with "non-OK-ness," but Sylvia Boorstein says there are ways we can work with that feeling.
In trying times, says Sylvia Boorstein, it's important to treat ourselves and each other with kindness.
I was reading the morning newspaper on a recent trip to New York City from Philadelphia on the Metroliner express train and I found myself suddenly so overwhelmed by sad and frightening situations all over the world that I turned to the young woman next to me and said, "I need to take a nap now. Will you wake me in twenty minutes, please?"
"Yes, of course," she said. Then she said, "Are you O.K.?"
"I'm O.K.," I replied. "Are you O.K.?"
"No," she said. "I'm not."
Suddenly, my sleepiness was gone and she could tell I was alert and listening. "I read the news earlier," she said, indicating the newspaper in my lap. "And I'm scared."