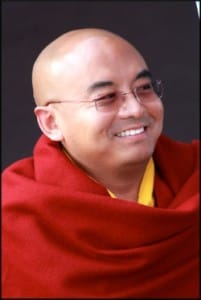 The bestselling author and internationally renowned Tibetan Buddhist teacher Mingyur Rinpoche has been on a private pilgrimage since early June of this year.
"He took no money, and no possessions," explained his brother Tsoknyi Rinpoche. "He didn't take his passport, his mobile phone or even a toothbrush."
In a June letter, Mingyur wrote, "I have harbored the wish to stay in retreat and practice, wandering from place to place without any fixed location. I also received an ocean of instructions from my glorious and kind root gurus. Though I have attempted to stay in retreat and practice, I have passed the rest of my time in laziness and diversions, letting my life come to nothing more than a distraction."
Donald Lopez, professor of Buddhist and Tibetan studies at the University of Michigan, says this action has "an interesting parallel with the Buddha. Since the fall of the Tibetan monarchy in 842, incarnate lamas have served as a kind of aristocracy in Tibet, so a high-ranking tulku is not unlike a prince. Mingyur Rinpoche has renounced royal life, just as Prince Siddhartha did. This radical step that he has taken is essentially a return to the lifestyle that the Buddha prescribed for all monks."
To read recent coverage by way of The Guardian, click here.
THANK YOU FOR READING LION'S ROAR. CAN WE ASK FOR YOUR HELP?
At Lion's Roar, our mission is to communicate Buddhist wisdom in today's world. The connections we share with you — our readers — are what drive us to fulfill this mission.

Today, we're asking you to make a further connection with Lion's Roar. Can you help us with a donation today?
As an independent nonprofit committed to sharing Buddhist wisdom in all its diversity and breadth, Lion's Roar depends on the support of readers like you. If you have felt the benefit of Buddhist practice and wisdom in your own life, please support our work so that many others can benefit, too.

Please donate today — your support makes all the difference.

Lion's Roar is a registered charity in the US and Canada. All US & Canadian donations are tax deductible to the full extent allowed by law.