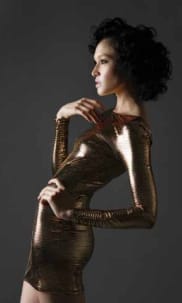 For Naima Mora, being a fashion model goes beyond striking a pose. As she tells Andrea Miller, it's about doing her part to make the world a better place.
There's Buddhism with its iconic images of Shakyamuni in simple robes, and then there's the fashion industry, with its legion of willowy, airbrushed models and its plethora of this season's stuff. Are these two worlds at odds? Not at all, says Naima Mora, who has modeled for such big-name companies as CoverGirl and Elle magazine.
"Buddhism is about everyday life," she explains. "The average person here and now—anyone—has the potential to attain enlightenment. I decided that I wanted to be a model. Then I had to decide what to do with that. I could be self-absorbed and not do anything besides book my work and live my own life, but I decided to take my successes and use them as a platform to encourage people. That can be said about any career or path. Whatever path we choose is always an opportunity to reveal our buddhanature."
Mora got her start in modeling while working at a coffee shop. Some casting scouts came in and asked her if she wanted to audition for America's Next Top Model. It wasn't long before she had a place on the internationally syndicated show.
Halfway through filming, Mora and the other aspiring models were on location in Cape Town, South Africa, when they visited Robben Island. To Mora, the rows of cells seemed endless, but finally the group came to the single cramped cell that had held Nelson Mandela for eighteen years. The guide asked who would like to open the door, and everyone fell silent.
Knowing she'd never have this chance again, Mora took the master key to the prison in her hand and felt the cold, iron weight of it. Then, fingers trembling, she turned the key in the lock. The door swung open.
Growing up amid the violence and poverty of Detroit, Mora had struggled to believe that there was hope for a better future. At age fifteen, she was held up at gunpoint for the first time on her way home from school. Some of her closest friends were murdered; others were victims of statutory rape. Yet Mora also had positive role models, and this made all the difference.
Mora's parents were avant-garde jazz musicians and Nichiren Buddhists. Sometimes, she remembers, their Buddhist group would come over and they'd chant with the front windows wide open. Hearing the foreign-sounding drone, the neighborhood children would make fun of Mora and her sisters. A child herself, she couldn't explain to them why her parents wanted to chant; nonetheless, their Buddhist-infused lessons of compassion and hope informed her worldview.
"My parents gave me the understanding that I have the power to influence my surroundings, but my surroundings don't necessarily have the power to influence me," she says. "I can change my surroundings by changing myself internally."
Another significant role model for Mora was her grandmother, Elizabeth Catlett, a sculptor and printmaker. Catlett overcame racial discrimination and became an acclaimed visual artist who focused on women of color as her subject matter. As Mora puts it, "She dignified people of color in her art and was a huge inspiration to me."
Mora was likewise inspired by people further afield, people she hadn't actually met: the Buddha, Rosa Parks, and Venus and Serena Williams. Yet it was not until she stepped into that South African prison cell that she fully grasped the importance of inspiration.
Some twenty thousand people had tried out for cycle four of America's Next Top Model, and Mora did not understand why she had been chosen. "I didn't get it," she later said in a TED Talk. "I felt like I was this really ordinary girl from Detroit, Michigan, with meager to almost terrible odds at competing." But then Mora imagined spending year after year in the same tiny cell.
In contemplating Mandela's plight, Mora suddenly found herself with a deeper understanding of the Buddha's teachings on the universality of suffering. Human beings, she realized, cannot just work hard in the face of the first noble truth. We also need hope; we need to be truly inspired.
Mora had always wanted to win the competition. But now she knew that it was more than that. She had to win. She had to win with the purpose of inspiring others as she had been inspired.
And win she did.
As she stated on the last episode of cycle four, "Part of the reason I felt I had to win was because I represent something more than myself. I represent a black girl. I represent a Mexican girl. I'm part Irish. I'm everything."
Fans from all over the world reached out to thank Mora. In being honest about who she was and the struggles she had faced, she'd helped them see that if they believed in themselves, they could succeed. It didn't matter if their goal was to become a model or a mathematician, a police officer or a politician.
Mora notes that it's largely young people who find her inspirational. That, she says, is deeply satisfying. "Young people," she explains, "are not as afraid to be vulnerable as a more mature demographic."
It could be argued that Mora skates over the troubling aspects of the modeling industry, such as the pressure it puts on women, particularly the young women she aims to inspire. Modeling can be a dark and lonely career, she admits. But she prefers to not perpetuate the negative connotations. As Mora sees it, the idea of beauty that is currently being marketed is just that. An idea of beauty.
"To be successful in the fashion industry," Mora says, "you really have to have a deep sense of self. When it comes down to it, yes, you have to fit into a certain size dress. But if you're going to book the job, it's because you exude a sense of confidence and joy that attracts people and makes them want to work with you.
"Modeling is not a career for everyone. But everyone does have specific gifts and talents. I think that as long as you have an aspiration, then you can get there in a healthy way. My career as a model is a means to an end for me. I enjoy it, but it also puts me on a platform where I can encourage young people through my successes."
According to Mora, effecting change in a troubled world is not just the responsibility of politicians or religious leaders; that responsibility belongs to all of us. "If I can inspire my best friend to fight for her happiness and recognize that she can attain it, she's going to gain faith," says Mora. "Then she's going to encourage those around her to do the same, and eventually the world will change. World peace is attainable, but it starts with the individual."
If you ask Mora why we should live our lives trying to seek and create inspiration, she'll tell you that the answer is quite simple: "Because the world needs it. It really, really needs it. As individuals, we are not powerless in helping to create a world of hope and love and courage."