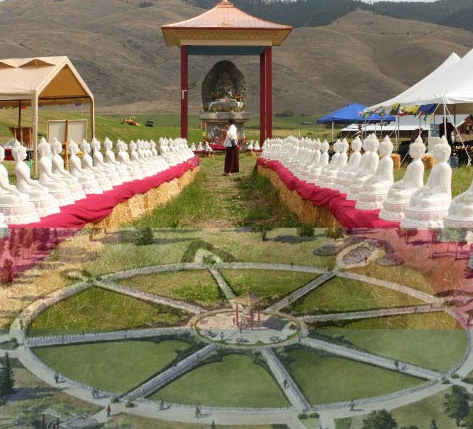 From Konchog Norbu, Garden of 1000 Buddhas
The Garden of 1000 Buddhas, a vision of Gochen Tulku Sang-ngag Rinpoche being created in a peaceful valley about 20 miles north of Missoula, MT, received its first major media attention on November 1, in a New York Times feature entitled "On an Indian Reservation, A Garden of Buddhas." The thrust of the story is how a Tibetan Buddhist group happens to be building this Garden on the Flathead Reservation — home to First Nation Salish, Kootenai, and Pend d'Oreille peoples — and how a potentially contentious situation has been made friendly through mutual respect and empathy.  Tulku Sang-ngag designed the garden to replicate an eight-spoked dharma wheel, with the hub being a 24-foot statue of the female Prajnaparamita — Perfection of Wisdom — that the Tibetans call Yum Chenmo, or Great Wisdom Mother. Rendered in exquisite detail by Nepali artist Lama Sonam Tsering, Yum Chenmo was chosen as the centerpiece by Tulku Sang-ngag after the violence of the 9/11 event and its aftermath. This is because of her particular quality of counteracting aggression and warfare. Radiating from Yum Chenmo will be eight 140-foot throne walls, upon which will be placed a total of 1008 white Portland cement Buddha statues, all being created by volunteers in two Montana casting studios. These Buddhas represent the 1000 Buddhas of this "Fortunate Aeon" that Shakyamuni Buddha (4th of the 1000) described in the Bhadrakalpika Sutra. The garden will be finished with a circular outer wall supporting 1000 stupas, currently being carved by a family sculpture enterprise on the Indonesian island of Java, a gift of Rinpoche's Taiwanese sangha.
Evolving for the past ten years, the garden project received an extraordinary boost last autumn when His Holiness the Dalai Lama accepted Tulku Sang-ngag's invitation to perform the consecration ceremonies once the garden is complete. This will be the Dalai Lama's first official visit to Montana. No date has been set; this will happen once garden construction nears completion.