The classical yoga scriptures say that yoga postures, considered to be physical preparation for sitting meditation, should be done with ease. The dictionary defines ease as freedom from pain, labor, discomfort, anxiety or great effort; a quiet state of mind. But how do you get there from here?
The other day my dad, who like many recent converts to yoga is full of curiosity about the practice, saw me sitting crosslegged on the floor and asked, "What's the name of that pose?" I told him it was called Sukhasana, which means easy pose. His reply to that was a snort followed by, "Easy for who?" Good question, Dad.
The classical yoga scriptures say that yoga postures, considered to be physical preparation for sitting meditation, should be done with ease. The dictionary defines ease as freedom from pain, labor, discomfort, anxiety or great effort; a quiet state of mind.
But how do you get there from here? And how do you stay there for more than a few breaths? Is it possible to experience ease in yoga or in meditation? Is it really possible to live our lives without great effort, pain and anxiety?
Yes it is, with practice. That's why we use the word "practice" to describe the act of doing yoga and meditation. Yoga and meditation are paths for developing specific skillful means—breathing, non-judging, patience, compassion, mental concentration, and precise physical alignment—that enable us to move toward spaciousness in our lives. The notion that it is actually possible to move through the world with ease is somewhat radical, and that's why we have to practice it.
This easeful living can begin purely with the physical level of existence. In the first Teisho of the millennium at the New York Zen Society, Eido Roshi introduced the Four Dignities: walking, sitting, lying down, and dwelling or being. Yoga postures prepare us for more balance in these areas through exercises that balance front with back, upper body with lower body, strength with flexibility, inhalation with exhalation. But even in yoga, if we don't have a blend of wakefulness and openheartedness in our approach, our experience will still not be one of ease.
Meditation teaches us how to pay attention to our breathing as a reference point for being in the present moment. It is a practice of noticing when we are not present, letting go of our distracting thoughts, and returning without judgment to following the breath in and out.
The practices of letting go, non-judging, and taking a new beginning over and over again are of great benefit, and when we apply this relaxed wakefulness to yoga, we begin to experience the dance of equanimity—in body and mind, on and off the mat. This takes practice, such as the following mini-yoga program designed to be a simple, immediate way to begin to practice ease.
Sukhasana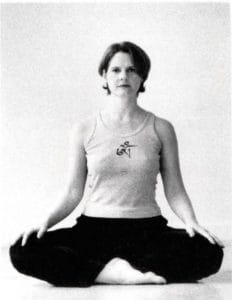 Begin by sitting down. Place one ankle in front of the other, not one under the other. Your knees should be slightly lower than your hips, so feel free to use cushions to elevate your pelvis as much as necessary. We want to let our lower body drop earthward, allowing our breath to nourish our internal organs. If we can surrender our weight instead of hoisting it up, our breathing will deepen, our nerves will be soothed, and we will start to experience balance, space, ease.
Now lift the sides of your rib cage, letting your heart feel light and bright. Close your eyes, let the front of your face fall to the back of your head, and let go of your opinions, just for a little while. Soften your throat. Let your palms rest on your thighs just above your knees.
Begin to follow the path of your breath with your mind. Notice where each exhalation ends and each inhalation begins. Slowly begin to deepen your breathing, little by little, so each inhalation grows slightly deeper and each exhalation extends a bit further. Let your deep breathing evolve organically, so you can experience the nourishment of oxygen without tightening at the top of the inhalation or pushing at the bottom of the exhalation.
Calming Breath with Arms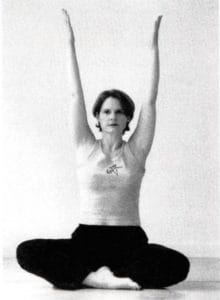 Now we will begin to balance body, breath and mind with an exercise called the Calming Breath with Arms. Breathing in and out for an equal length of time is another way to experience expansiveness and balance. Inhale for 4 counts as you lift your arms all the way up next to your ears, and exhaling for 4 counts, lower your arms back down by your sides. Let your arms and your mind ride on the wavelike motion of your own wind energy.
Calming Breath with Twisting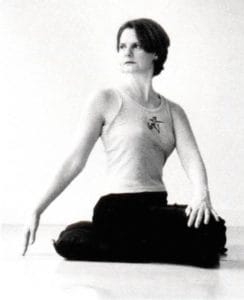 After 4 sets of the Calming Breath, add a twist. Inhale and lift arms up for 4 counts, and as you exhale for 4, twist your spine to the right, letting your left palm land on your right knee and your right hand on the floor behind you. Then, inhale and lift the arms up as you turn back to face front, and repeat to the other side. Practice the Calming Breath with Twisting at least 3 more times. Twists massage both the back and abdominal muscles, relieving headaches, backaches and digestive problems.
After completing this little yoga class, come back to Sukhasana and live there. Sukha is sometimes translated as space. The opposite is dukha, which is sometimes translated as suffering, or by Krishnamacharya as "a dark room." In The Solace of Open Spaces, Gretel Ehrlich writes, "Space represents sanity, not a life purified, dull or 'spaced out' but one that might accommodate intelligently any idea or situation." Isn't that where we want to live?
THANK YOU FOR READING LION'S ROAR. CAN WE ASK FOR YOUR HELP?
At Lion's Roar, our mission is to communicate Buddhist wisdom in today's world. The connections we share with you — our readers — are what drive us to fulfill this mission.

Today, we're asking you to make a further connection with Lion's Roar. Can you help us with a donation today?
As an independent nonprofit committed to sharing Buddhist wisdom in all its diversity and breadth, Lion's Roar depends on the support of readers like you. If you have felt the benefit of Buddhist practice and wisdom in your own life, please support our work so that many others can benefit, too.

Please donate today — your support makes all the difference.

Lion's Roar is a registered charity in the US and Canada. All US & Canadian donations are tax deductible to the full extent allowed by law.