The case of the West Memphis Three – released on August 19, 2011 after eighteen years in prison – is a polarizing one, but it's important, too, for anyone concerned about flaws in the justice system, as well as those who feel a connection to Buddhism. Why? Rod Meade Sperry on the backstory.

Imagine: you find yourself in the most extreme and unfortunate of circumstances. You're on Arkansas' Death Row, convicted as the ringleader of the triple-murder of three young boys, a crime that you maintain that you did not, would not commit. On top of this, the reality of life in prison has made it necessary to file a lawsuit against the state to get proper protection from being victimized in repeated prison rapes. Time and money to appeal is running out, and you must depend on the kindness of strangers for moral and financial support. There's help, but the idea of "freedom," of any kind, seems almost delusional. That's Damien Echols's story.
The name might ring a bell. After all, the case of the West Memphis Three — as supporters of Damien Echols, Jason Baldwin and Jessie Misskelley call them — was big news for a while, spawning two HBO-produced films (Paradise Lost and Paradise Lost 2: Revelations), several benefit concerts and albums, and a host of books, including journalist Mara Leveritt's excellent Devil's Knot: The True Story of the West Memphis Three. But even after all this, all three boys-turned-men remain behind bars.
You may also have run across Echols's name in a 2001 Lion's Roar piece by the Reverend Kobutsu Malone of the Engaged Zen Foundation. As Malone reported, Echols, in the face of his profound suffering, elected to take jukai (the Zen precepts ceremony) from him. He still maintains his Zen meditation practice in the pen.
Damien's practice is also touched on in Broken Summers, a book by the writer/performer Henry Rollins. In part a document of the author's efforts to do benefit work for the WM3, the book includes a photo-section. There, readers will find a reproduction of a drawing by Damien, of Bodhidharma, the first ancestor of Chinese Zen. But this is not just a sketch; it's a pretty-well-detailed picture of Bodhidharma, and it's rendered entirely in coffee: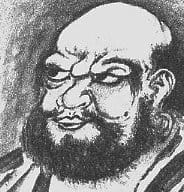 One assumes that prisoner Echols had no access to a pen. Whatever the case, there's clearly some dedication there.
Word from supporters has always been that the WM3 were set up: with no solid leads on suspects, the police went along with the ongoing "Satanic panic" of the region and decided that Echols, Baldwin, and Misskelley, based on their fondness for heavy metal music and black clothing, were devil worshippers. The murders of the young boys found in West Memphis, Arkansas' "Robin Hood Hills" in 1993 were, the cops maintained, part of a Satanic ritual. It's worrisome: how many of us have been enthralled by music that parents and cops love to hate? For many, it's part of being a kid. And some of us still like it, secretly or not, as adults.
But: despite our very different circumstances, we might also share Damien Echols's desire to sit, look at our minds, and challenge ourselves to transcend our suffering. Look at the "All-coffee Bodhidharma" and think about the West Memphis Three. It might cross your mind: That could have been me!
As meditators, or spiritually-concerned people — Buddhist or not — perhaps we can work with the idea that Echols, Baldwin, and Misskelley are us. After all, the WM3 trials and their outcomes, whether or not they are indeed the travesties that they seem to be, affect each of us. Consider: Is this a country that allows a case like this to get so out of control? Are we people who prize dialogue and fairness, or can that go out the window when three little boys are victimized and townspeople, understandably, are demanding that the perps are found and punished? Is "a life for a life" really something to live by when life is as short and complex as it is?
Of course, big questions like these don't have answers that fit us all. But whatever you think about the West Memphis Three — guilty or innocent — there's a powerful reminder here of the hope, the chance, of relief. Think about Damien Echols. Even if you studied up on the case and ended up thinking he's guilty, the fact remains that he's found his way to the Dharma in the face of it all, and he's making a commitment to himself in one of the most extreme and unfortunate of circumstances. We might consciously blow off some aspect of our practice because we "don't feel like it," but maybe it can help to think of that guy on Death Row. That guy who could have been you.
Kobutsu Malone and the many other people who so dedicatedly attend to Dharma work with prisoners must know in ongoing and much more intimate ways that these people are us. Not like us; they are us. Just to see film footage of the troubled and just-convicted 18-year-old Damien Echols, in comparison with footage of him today — in his mid-30s, self-educated, and thoughtful — suggests that Buddhist teachings and communities might indeed help any one of us to find the Buddha in ourselves. It sure seems that things come out differently when we work to see people in prisons, literal or figurative, without the bars getting in the way.