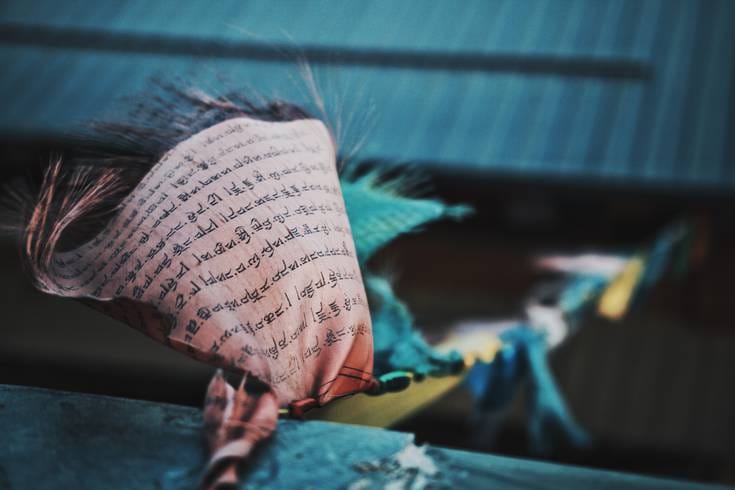 Tibetan Prayer Flags. Photo by
kychan
.
I had always believed that going to Tibet for the first time would feel like a return home. Before I'd even laid eyes on it, I'd learned to love my parents' native country.
The picture of Tibet I'd formed while growing up in Canada was drawn from a lifetime of listening to my parents' reminiscences, and from the harrowing images of political turmoil evoked by refugee accounts. Now, after the experience of living in eastern Tibet for a year, I can see the ways my picture of "home" was accurate, and also how the reality of Tibet is much more complicated.
I spent the year as an English teacher at a college in Xining, the dusty capital of Qinghai province in northwest China. Qinghai (with the exception of the eastern area around Xining) was formerly part of Tibet's Amdo province, and a little over one million Tibetans inhabit Qinghai's minority Tibetan prefectures of Haibei, Hainan, Huangnan, Golog and Haixi.
Situated in the Huangshi River Valley in eastern Qinghai, Xining is an alpine city 7000 feet above sea level and, for most of the year, it is cloaked in a layer of dust that rises into the air on fierce gusts of wind. Considered the economic, cultural and political center of the province, Xining has six colleges and universities, eight hospitals, some four hundred plants and mines and a few bustling commercial centers where the cuisine reflects the province's ethnic diversity. Ethnic minorities, mainly consisting of Hui (Muslims) and Tibetans, account for about 15% the city's one million people.
In the center of the city, a raucous outpouring of sounds, sights and smells vie for one's attention. Vendors shout cheap prices into megaphones from behind a display of fake Nike and Adidas products. Techno music blasts from imitation Gap stores. An unemployed man kneels with his head bowed in submission, begging for money, as the foot traffic threatens to trample him. Along the street, one can find rows of stalls of roast mutton on spits, yogurt and Qinghai carp.
Despite these signs of "progress," Xining seems Dickensian. Weary donkeys plod methodically with bowed, nodding heads, oblivious to the trucks of lumber and livestock blaring past. Walking tractors sputter amongst the street traffic, producing a trail of black smoke. Tall smokestacks from coal refineries line the sky, their sooty smoke billowing against that backdrop of barren mountains that surrounds the city.
All of my students at the college in Xining were Chinese, but because of my mother's words to me before I left Canada—"Hmph! You're going to help Chinese. To help them develop!"—I taught English to Tibetans on the side at home. The differences I initially observed between me and Tibetans raised in post-Maoist Tibet masked an important similarity: they were Sinocized, I was Westernized—each had acculturated to the societies we grew up in.
In the lives of the young Tibetans of Xining, I saw what my life might have been like had my parents remained in Tibet. While I was raised to believe in an independent Tibet as an irrefutable fact, it was difficult for them to conceive of such a thing. This was perhaps the most unsavory lesson I learned during my time in Xining. The sight of a beggar defecating in public was less jolting than seeing, for the first time, a rosy-cheeked Tibetan youth sporting the khaki uniform of the Chinese government.
I managed to find, though, many like-minded companions among the Tibetan monks I met while visiting monasteries and temples on my time off. Although spies and random inspections by "culture police" have created a definite circumspection and palpable air of vigilance within the more populated monasteries, in confidence many of the monks expressed their loyalty to the Dalai Lama and revealed pictures of the Tibetan leader that were kept hidden behind portraits of Mao. Some of the more brazen monks would hang portraits of the Dalai Lama for all to see. "When we're ordered to take the pictures down we either refuse or we comply, but then we mount them again," confided one monk with a mischievous twinkle in his eyes.
Twice, while visiting a monastery, I was whisked into a secluded room where I was barraged with whispered questions about the Dalai Lama and Tibetans in the West. Whether I'd ever met the Dalai Lama was an inevitable question. I had, but I was tempted to lie about it; I couldn't bear the wistful envy in their eyes.
It was different among the lay Tibetan youths. In Xining, the differences between Tibetan and Chinese young people are dissolving, forming a common generation raised by Western pop culture. Young Tibetan city-dwellers prattle in Mandarin with their peers and sport the latest fashions dictated by MTV. Along with Buddhist prayer beads, pagers and cellular phones frequently accessorize today's urban Tibetan youth.
In the early stages of my year in Xining, I struggled with random moments of frustration at the flagrant racism of Chinese towards Tibetans. When I was riding on the bus one day, the conductor refused to let a group of Tibetans board, pinching his nose in disgust and declaring, "I don't want them stinking up the bus." The occasional sight of Tibetan nomads in their conspicuous clothing, ambling along the congested, bustling streets, would elicit rude stares and whispers among pedestrians. I wanted to scream at them, "You're the ones who don't belong!"
My presence in Xining hit a sore spot for some of my Chinese colleagues and students alike. I surmised they had a difficult time accepting an educated Tibetan woman—there are so few of us. "You're not Tibetan," one of my students concluded. "You think you are, but you must be Chinese."
Consequently my credentials were suspect. They couldn't believe that a woman with yellow skin, who looked just like they did, was as capable of teaching English as a Caucasian. White foreigners are accorded undue social prestige, and, for a local, being seen with a person with white skin raised you up a notch on the éclat scale. But my Asian face was not marketable. I could not be paraded around the campus for my Chinese colleagues to show off.
Throughout it all, my Chinese students constantly reminded me of my Chinese heritage. They "tsk-tsked" me disgustedly when I told them that being in China made me more aware of my Western heritage. "But China is your motherland!" they insisted. At that, I could only smile, aware of the watchful eyes of the ever-present Communist Party member.
At Kumbum monastery, a half hour's drive from Xining, my frustration swelled into a silent rage. That famous monastery was established by Tsongkhapa, the founder of the Gelugpa sect. A popular tourist site these days, it is frequented by laughing Chinese tourists who don Tibetan "costumes" and pose for photographs. I watched tourists surrounding a group of chanting monks, snapping photos of the "performance." In the background a young monk sighed as he bent to pick up a discarded Pepsi bottle.
My travels to the Tibetan prefectures farther outside Xining gave me another picture of Tibet, which contrasted sharply with the Sinocized and Westernized life in the city. Before heading out to these places, I was warned that they were "poor and underdeveloped," and thus unsafe for foreigners. But what I saw were places of natural splendor and simplicity. In Yushu (in what was originally Kham) I bathed in warm springs with healing powers. I climbed mountains and explored meditation caves. I picnicked with friends under tents pitched in fields amid colorful patches of wild flowers. We clutched slippery chunks of boiled mutton in our bare hands and sliced off pieces with heavy knives. Heaping bowls of Tibetan yogurt topped with dollops of sugar made frequent rounds among the feasting picnickers.
The main pastoral area of Qinghai is Yushu, home to the greatest number of yaks in the world. In the evenings, I and my friends would zip through the town of Jeku in a horde of motorcycles. We would bump and twist along narrow roads, their surfaces deeply grooved by hardened tire tracks. Masses of glittering stars that shone from an ebony sky lit our trail. From the distance came a sound I rarely heard in Xining: wild dogs barking and howling. Compared to Xining, where dog meat is an expensive delicacy, the Tibetan regions are canine havens.
In Huangnan (within the original Amdo), I visited a small, dusty village of about eight hundred inhabitants. Only one dirt road connects the village to a nearby town. On each side of the road stands an array of houses made of adobe and bricks. From the outside, these houses are unappealing to the eye but they enclose picturesque courtyards with hardwood paneling. Vast wheat fields stretch out beyond the cluster of homes towards the distant grassy hills in the distance. Further out, I frequently sighted a kaleidoscope of colorful figures on the mountainsides—Tibetans, stooped, painstakingly searching for yatsa kampos, a fungus widely revered for its medicinal properties.
During one of my visits to the village I witnessed local politics in action. The men of the village had previously gathered to discuss the problem of Tibetans sneaking in to pick yatsa kampos. That day the village men met with the interlopers. It was a solemn occasion. The men sat cross-legged, forming two tiers by the roadside, and eyed each other stonily. I was gently pulled away by a friend when I ventured closer to investigate. Although the dispute was peacefully reconciled, the men carried concealed knives and guns under their clothes should the other side prove uncooperative. Violent confrontations are not uncommon even in this pacific community, where in the prevailing lawlessness, social order rests on communal rituals of diplomacy.
I also took part in a mani pilgrimage, a biannual event in which the villagers assemble at the local temple to distribute pajas (Buddhist scriptures). In this case, the pajas were sandwiched between wooden planks, adding significant weight to them. Carrying the heavy pajas on our backs, we trekked for about four hours, skirting the borders of the village and stopping occasionally at chortens (stupas) to pray for good crops and the prosperity of the village.
The path we followed was craggy and barely discernible. At one point it narrowed dangerously as it bordered the edge of a steep cliff. For what seemed like an eternity, I shakily placed one Nike-clad foot in front of the other, trying not to look down into the rocky abyss on my left. Meanwhile, little girls carrying twice my load giggled and sang as they glided past me in their ragged slippers. So I persisted, wheezing and tripping up and down the steep hills. I remember giving thanks for Blue Cross.
In spite of concerns for my own safety, I was able to appreciate the prettiness of our group. The villagers wore colorful sashes and head scarves, forming a bright rainbow undulating through the verdant hills. As they walked, they sang "Om Mani Padme Hum." Their high-pitched voices carried far over the hilltops, sending out a melodious prayer. A light drizzle exhumed a sweet odor from the muddy earth beneath our feet and cast a soft mist upon our faces. At that moment I felt proud to be Tibetan.
In a semi-nomad family's home in Haibei prefecture, I sat on hard floors, crunching into pieces of rock-like Amdo bread that we passed around. I frolicked with the children, delighting in their raspy, incoherent chatter. Their wind-burned cheeks looked as if ruby-colored lipstick had been smeared recklessly over them. As I waved goodbye at the end of my visit, I tried not to imagine the future that awaited them.
But even in this stark, stunning landscape, signs of modernization were everywhere. Even in the more remote regions, telephones poles stand amid nomadic grasslands. Bumpy roads slice their natural tranquillity, carrying honking trucks that muscle their way through throngs of sheep and yaks. Nomadic grasslands, once expansive, dwindle as they are divided by barbed-wire fences, the result of new laws on land and livestock ownership. With no voice or representation in China's modernization efforts, Tibetan nomads can only watch from the sidelines as their livelihood is steadily undermined by Chinese notions of the good life.
Back in Xining, I was disturbed by the malaise and indifference of the young Tibetans at my college, so different from the ambient cheerfulness of the country-dwellers. This was a symptom of the broader system in which they lived, one that predetermines a Tibetan's chances in life based on his surname, therefore reinforcing Chinese cultural supremacy. Unable to see the bigger picture, many Tibetans direct their frustration and anger toward a more immediate target—their ethnic identity.
Chinese and Tibetan students are almost completely segregated, academically and socially. In class, Tibetan students often nap, sometimes snoring while their jaded teachers drone on. When examination times arrive, Tibetan students buy answers from their teachers. Their lives on campus are relatively undemanding and filled with leisure. Their Chinese counterparts, on the other hand, often complain about their regimented schedules. But such regimentation shows that the system cares about them, while it has all but given up on Tibetans. They are set up to fail even before they enroll. When I asked a Tibetan student once what he wanted to do with his life, his cocky response was, "I want to fly."
Tibetan students are rambunctious, love to drink, and some often bully the Chinese students and security guards. One night, their rowdy ways led to a tragic death. A friend of mine, Tashi, died in a motorcycle accident while under the influence. I remember him mainly for his gentleness and his beautiful singing voice. The facts surrounding his death were twisted soon after the accident, and the prevailing gossip on campus was that Tashi committed suicide. The lovely person I had seen was instantly branded as psychologically unfit. This lie befits the predominant conception of Tibetan youth as degenerate social rejects with no future.
In exile, the dire chronicles of violence and religious persecution from Tibet over the years have captured the attention and sympathy of the world. Yet they have overshadowed the important reality lived daily by Tibetans like Tashi, who, in many ways, didn't fit the image I'd formed early on of Tibetans in Tibet: He had never been in prison. He'd never raised—or even seen—a Tibetan flag. He had Chinese friends and spoke fluent Chinese. But he was courageous merely because he was proud of his ethnic membership. He called me his teacher but he had taught me something greater: freedom for Tibet not only means reclaiming a homeland—it also means healing its wounded spirit.