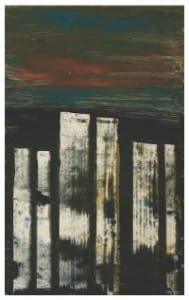 Have you seen Kongtrul Rinpoche's paintings? This is one here, and it's all great stuff — even when it's dark, it's somehow so warm and bold and full of feeling. See more in these online galleries, here.
Be sure also to check out "Let's Be Honest," a discussion between Pema Chodron and Kongtrul Rinpoche (and moderated by Elizabeth Namgyel) about "honesty, self-deception, and why the difference is the key to the dharma," from our January 2006 issue. Here we see Pema, the successful teacher, as the student (of Rinpoche). It's a fascinating interplay, and in addition to reinforcing our commitment to honesty in our practice, we're given a new point of view on the student/teacher relationship.
As Rinpoche says, "In the beginning of the relationship with the teacher, there is maybe a little bit of codependency. Later, when the codependency gets resolved, there is a sense of being a team, a sense of kinship. In my case [with his own teacher, Dilgo Khyentse Rinpoche], it was truly a delight to discuss the dharma, to learn more about how to practice the dharma. At that point, it's not one person trying to teach another. It's both parties trying to do the same thing." Read the rest here.
THANK YOU FOR READING LION'S ROAR. CAN WE ASK FOR YOUR HELP?
At Lion's Roar, our mission is to communicate Buddhist wisdom in today's world. The connections we share with you — our readers — are what drive us to fulfill this mission.

Today, we're asking you to make a further connection with Lion's Roar. Can you help us with a donation today?
As an independent nonprofit committed to sharing Buddhist wisdom in all its diversity and breadth, Lion's Roar depends on the support of readers like you. If you have felt the benefit of Buddhist practice and wisdom in your own life, please support our work so that many others can benefit, too.

Please donate today — your support makes all the difference.

Lion's Roar is a registered charity in the US and Canada. All US & Canadian donations are tax deductible to the full extent allowed by law.