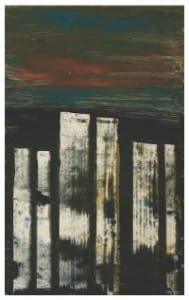 Have you seen Kongtrul Rinpoche's paintings? This is one here, and it's all great stuff — even when it's dark, it's somehow so warm and bold and full of feeling. See more in these online galleries, here.
Be sure also to check out "Let's Be Honest," a discussion between Pema Chodron and Kongtrul Rinpoche (and moderated by Elizabeth Namgyel) about "honesty, self-deception, and why the difference is the key to the dharma," from our January 2006 issue. Here we see Pema, the successful teacher, as the student (of Rinpoche). It's a fascinating interplay, and in addition to reinforcing our commitment to honesty in our practice, we're given a new point of view on the student/teacher relationship.
As Rinpoche says, "In the beginning of the relationship with the teacher, there is maybe a little bit of codependency. Later, when the codependency gets resolved, there is a sense of being a team, a sense of kinship. In my case [with his own teacher, Dilgo Khyentse Rinpoche], it was truly a delight to discuss the dharma, to learn more about how to practice the dharma. At that point, it's not one person trying to teach another. It's both parties trying to do the same thing." Read the rest here.
Can you help us at a critical time?

COVID-19 has brought tremendous suffering, uncertainty, fear, and strain to the world.
Our sincere wish is that these Buddhist teachings, guided practices, and stories can be a balm in these difficult times. Over the past month, over 400,000 readers like you have visited our site, reading almost a million pages and streaming over 120,000 hours of video teachings. We want to provide even more Buddhist wisdom but our resources are strained. Can you help us?
No one is free from the pandemic's impact, including Lion's Roar. We rely significantly on advertising and newsstand sales to support our work — both of which have dropped precipitously this year. Can you lend your support to Lion's Roar at this critical time?