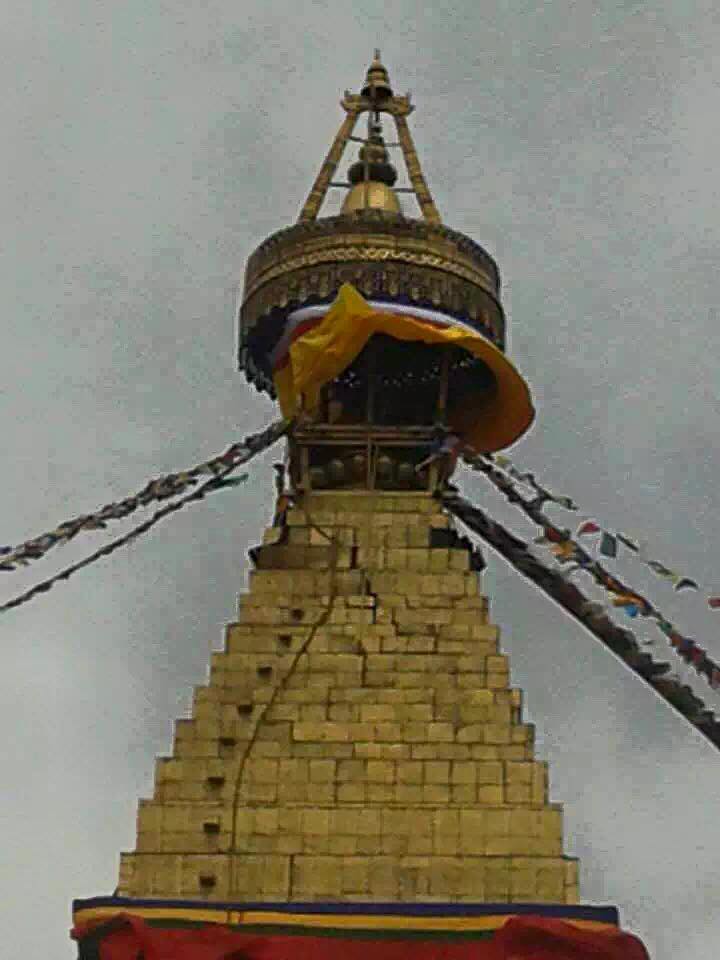 The famed Boudanath Stupa was photographed with a massive crack running down its spire on Saturday immediately after the quake. It has since been rumored to have fallen; these rumors are untrue.
Chaos and confusion loom large in the Kathmandu Valley as the region tries to recover from the destruction, injury, and ever-increasing casualties caused by a massive earthquake on Saturday, April 25. (Click here to learn how you can contribute to relief efforts.) Fortunately, the Internet remained an option for many, and so Buddhist teachers and communities both inside and outside the region have made use of it to keep in touch with concerned followers.
Accompanying Dilgo Khyentse Fellowship – Shechen's photo of the Boudnath Stupa (pictured here), as sent on Saturday, was this statement: "A strong earthquake was felt a few hours ago in Kathmandu Valley which has affected many buildings. Thankfully Shechen Monastery has no reported injuries and everyone is safe. Please make prayers and dedicate its merits to the people seriously injured, and especially for the devastated families of those who died."
On Sunday, fpmt.org reported "substantial damage to Kopan Monastery and Nunnery, a number of buildings are seriously damaged." Lama Zopa Rinpoche reported on social media that he and everyone at Kopan Monastery and Nunnery are fine and are donating blood to the injured.
That message was followed by one from Thrangu Monastery Canada, written on behalf of Kathmandu's Thrangu Monastery, established by Khenchen Thrangu Rinpoche: "Hello Dharma friends," the update reads. "A large 7.9-magnitude earthquake struck near Nepal's capital Kathmandu. Kabje Thrangu Rinpoche and all the Thrangu monks in Nepal are fine. We pray and hope everything goes without harm." Next came a message from the Facebook account of Khenpo Tsultrim Gyamtso Rinpoche, stating that he "and the Tek Chok Ling nunnery are unharmed."
Mid-Saturday afternoon, a message was issued from the Facebook account of Tsoknyi Rinpoche: "We have heard from reliable sources in Kathmandu that Rinpoche's family, the nuns at Chobar Hill and Muktinath Monastery, and monks and nuns at K-Nying (Chokyi Nyima's monastery) are also unharmed. The new buildings at Chobar have withstood the main tremors, but of course will need to be inspected for potential damage. For those of you who know Brady Hogan, we have heard she is also safe and in no danger. Rinpoche is teaching in Europe and was out of harm's way. We hope to post more later this afternoon as we gather updated information and further news."
This was followed shortly by a message on behalf of the aforementioned Chokyi Nyima: "Chokyi Nyima Rinpoche is sending his heartfelt good wishes to all victims of the earthquake that has happened today in Nepal. Rinpoche is praying for all of them and is asking all of you to keep them in your prayers as well."
Additional messages came later on Saturday:
Kyabgön Phakchok Rinpoche: "A tragic 7.9 magnitude earthquake struck Nepal today. Rinpoches and our sangha are safe but hundreds have died and thousands have been injured and lost their homes and livelihoods, including our sangha's families as well as the many local Nepali community who have been supporting our lamas and monasteries for many years." (This update went on to include information on a relief fund; see "How you can help," below.)
And from His Holiness the Gyalwang Karmapa: "Today, in the morning of the 25th of April, in Nepal, the land where Lord Buddha was born, there occurred a devastating earthquake. Many thousands of people have been killed or injured, and historic buildings and private homes have been turned into ruins. As soon as I learned of this painful and distressing situation, I made my deepest aspiration prayers and dedications for all the people affected, and continue to do so. Especially at times when we are faced with such a desperate situation, we cannot sit idle, unfeelingly. We must join forces and carry the burden of sorrow together. It is important that each one of us light the lamp of courage. Additionally, it is important that each of the Karma Kagyu monasteries in Nepal, while looking after their own pressing needs for immediate protection, also extend any and all aid and protection they can to the public in their surrounding communities. From my own side, I will make every effort to come personally in the near future to offer my solace and support as well."
Then, on Sunday:
In the morning, the Dalai Lama's letter to Nepalese Prime Minister Sushil Koirala was released:  "The people of Nepal and Tibetans have been neighbours throughout history and many Tibetan refugees live in Nepal. I offer my condolences to you and to those who have lost members of their families, friends and their homes in this tragedy. As a token of solidarity with the people of Nepal, I have asked the Dalai Lama Trust to make a donation towards rescue and relief efforts."
Dilgo Khyentse Fellowship – Shechen also shared a Sunday update reflecting the morning's major aftershock: "Everyone at Shechen Monastery is fine and safe, camping in the monastery grounds. The main Gompa and some other buildings were severely damaged and mobile phones are not working. Please keep Nepal in your prayers."
The Central Tibetan Administration issued a press release on Sunday, and announced a contribution to relief efforts. The release read, in part: "In an emergency meeting of the Kashag held today, the Central Tibetan Administration (CTA) has expressed its deep shock and sadness at the horrific devastation to life and property caused by the massive 7.9 magnitude earthquake that shook Nepal, the northern parts of India and Tibet on 25 April 2015. […]  While expressing his grief and sadness, Sikyong Dr. Lobsang Sangay, the political leader of the Tibetan people, said, "At this dark and painful time, words fail to convey how deeply we feel for the people affected in Nepal, Tibet and India." Read the whole release here.
Later Sunday morning, Dzigar Kongtrul Rinpoche posted: "I am thinking about all the people in Nepal and my prayers are with everyone there. It is a deeply tragic situation and extremely shocking and saddening to watch all the lives that have been lost and all the damage that has happened to the structures, like to the great stupa and monasteries, and also to the ancient structures that have stood for centuries. As devastating as this is, I feel hope and confidence that the people of Nepal and the country as a whole will recover from this with great strength and spirit."
Sakyong Mipham issued a letter informing the Shambhala community that "The Rigon Tashi Choling monastery in nearby Pharpeng sustained minimal damage and no one in the Ripa family or monastery was injured in any way. The situation in Nepal is very difficult and communication with the rest of the world is still sporadic. We ask that you all hold the Nepalese and Tibetan community in your hearts and personal practice during the coming weeks."
Monday afternoon saw another message from Chokyi Nyima Rinpoche, writing, "Our main monastery, Ka-Nying Shedrub Ling, is still standing but the buildings have suffered severe damage" and asking readers to consider making a donation to Shedrub Development Fund, toward "rescue efforts, rebuilding homes, and assisting those in need. This is our recommended fund for all donations to help repair the monastery and nunnery and provide wider assistance in Nepal. We will take full responsibility for ensuring that the funds donated reach those in greatest need."
Monday evening, Buddhist Global Relief shared that it had made a "emergency donation of $10,000 to support the relief efforts."
The Marpa Foundation, established in 1994 under the spiritual direction of Khenpo Tsültrim Gyamtso Rinpoche, writes: "everyone in the Tek Chok Ling community is safe, but its buildings sustained damage. We are still assessing the extent of the damage but we know that the nunnery and its guesthouse will need to be repaired, the Yolmo retreat facility needs to be rebuilt, and there will be many other earthquake-related expenses. To help Tek Chok Ling and its community repair, rebuild, and rejuvenate, please consider donating to this special fund.