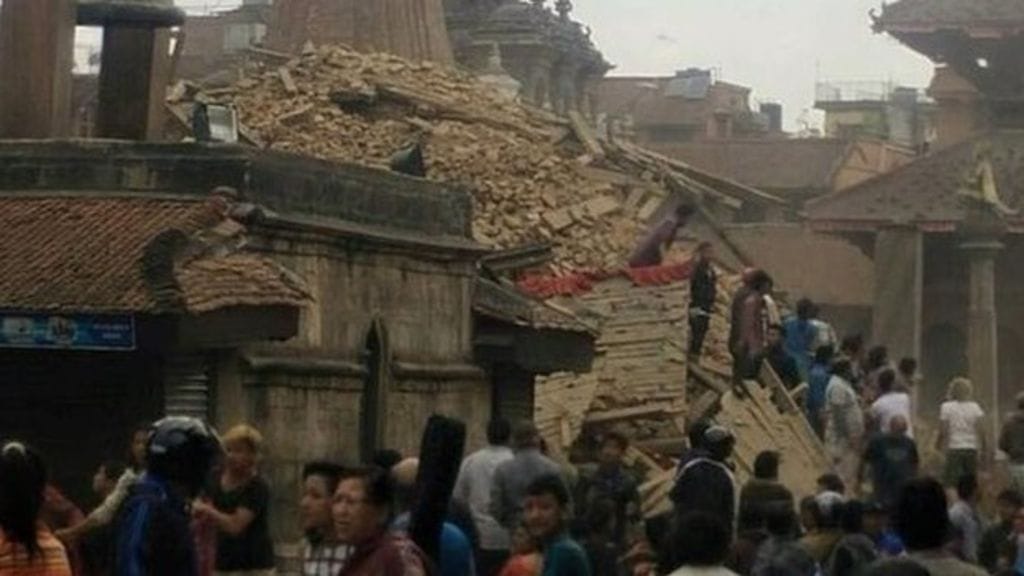 Photo by Dr Sheelendra Shakya via BBC.
[Updated May 1 pm EST] On Saturday morning, an earthquake of 7.9 magnitude struck Nepal, causing extensive catastrophic damage. Initial reports from the country's Ministry of Home Affairs claimed the death toll to be somewhere around 100-150, but these were updated throughout the day, rising to 1,400 and continuing upward in the days following. As of Friday morning afternoon, the death toll has been placed at more than 6,000—with a final total of 10,000 being a reported possibility.)
Click here for how you can contribute to relief efforts.
The quake took place at 11:41 local time, with aftershocks continuing, including a major aftershock (registering 6.7) taking place on Sunday morning. The earthquake's impact was extensive, with related tremors — and deaths — being reported at the Nepal-China border, in Bangladesh, and in Tibet. Tremors were also felt in New Delhi, India.
On Mount Everest, avalanches were seen. In Kathmandu, (population 1,000,000), countless homes, buildings, and landmarks have been seriously damaged: the famed Bhimsen Tower was felled, and the Boudanath stupa was been severely cracked. A photo of the latter was shared by the Facebook account of Dilgo Khyentse Fellowship – Shechen: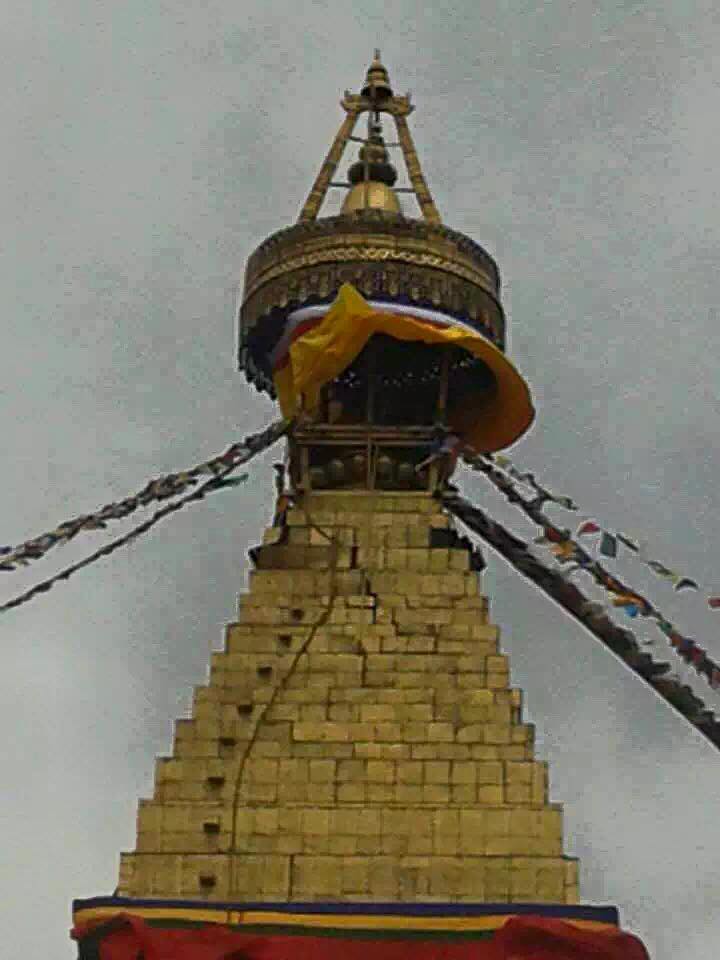 Many other Buddhist organizations and teachers weighed in via social media as well, offering condolences, prayers, and updates. Click here to read updates from Thrangu Monastery, Kopan Monastery, Tsoknyi Rinpoche, the Karmapa, the Dalai Lama, and many others.
Worldwide coverage:
Guardian: Nepal earthquake death toll exceeds 6,000 with thousands unaccounted for (May 1)
Al Jazeera: Nepal quake death toll could reach 10,000 (April 28)
Tibet Post International: Report shows post-earthquake status of Tibetans in Nepal (April 28)
The Latest on Nepal Quake: US Soldiers Stay in Nepal to Help (April 27)
NYT: Villages Near Nepal Earthquake's Epicenter Are Desperate as Death Toll Tops 3,800
Chicago Tribune: Rescuers struggle to reach many in Nepal quake, death toll surpasses 3,700 (April 27)
BBC: Nepal earthquake: International aid effort increased (April 27)
Washington Post: Crews struggle to reach villages hardest hit by quake (April 27)
Tibet Post International: Effects of devastating earthquake in Nepal reaches Tibet (April 27)
National Post: Nepal's UNESCO World Heritage sites crumble in deadly earthquake: 'It's an irreparable loss' (April 27)
BBC: Fears for Nepal's 'invisible' Tibetan refugees (April 27)
NYT: Earthquake Aftershocks Jolt Nepal as Death Toll Rises Above 3,400 (April 26)
How you can help
Click here for a list of organizations working to aid those in the affected region.