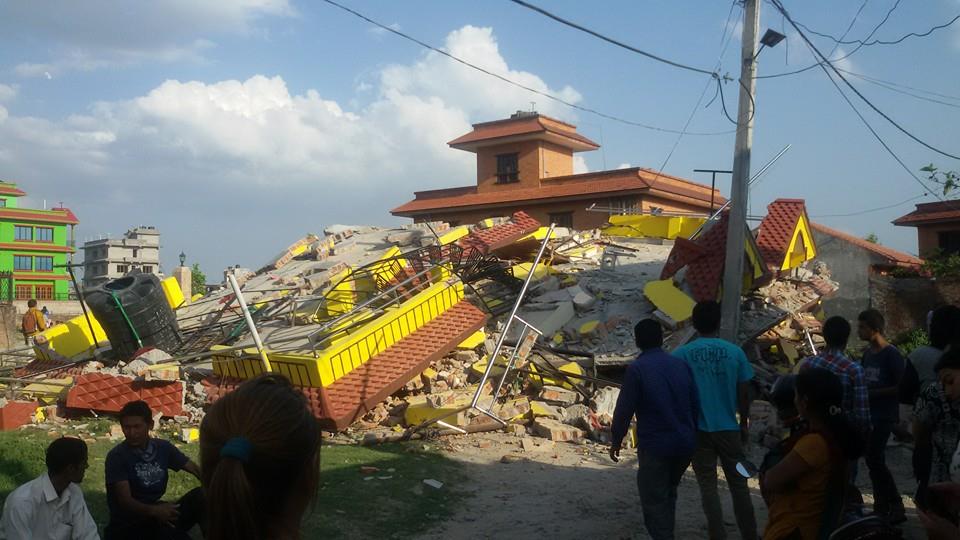 Image of earthquake damage shared by Kopan Monastery today on Facebook.
[Updated at 3:50 pm EST] A new earthquake of 7.3 magnitude has struck Nepal, east of Kathmandu near Mount Everest. This, after a previous quake last month left the region shattered and with 8,000 people dead. According to Al Jazeera, the Nepalese Ministry of Home Affairs says that 45 people have been reported as killed, with 1,129 people being injured. At least 19 buildings in Kathmandu have collapsed. (Scroll for updates from Buddhist figures and organizations in the region.)
The Guardian is hosting live updates on the new quake. Also posted there are accounts from people who were present, like one Unicef operative who was present, who said, in part:
"We dived under tables in the Unicef building as it rocked from side to side. The shaking seemed to go on and on. We got out to safety as soon as possible. Sitting out in the open it felt like I was on a boat on rough seas as aftershocks hit. We are thinking of every child in Nepal who has already been through so much. We are very concerned about the impact this new quake could have on children who are already very vulnerable. 1. 7 million children are in urgent need of humanitarian assistance after the April 25 earthquake – requiring clean water, shelter, sanitation."
Unicef is of course one of many organizations mobilizing to get aid and assistance to the people of Nepal. See our list of worthy organizations on our page created after the April 25th quake, "How you can help Nepal after the earthquake (Updated)."
Buddhist teachers and organizations give accounts and updates online
As with last month's quake, social media will be key in getting updates from Buddhist figures and organizations in the region. The first such updates are already in:
And, as happened after the April 25 earthquake, a photo of the famed stupa at Boudanath is again circulating, showing the further damage now sustained: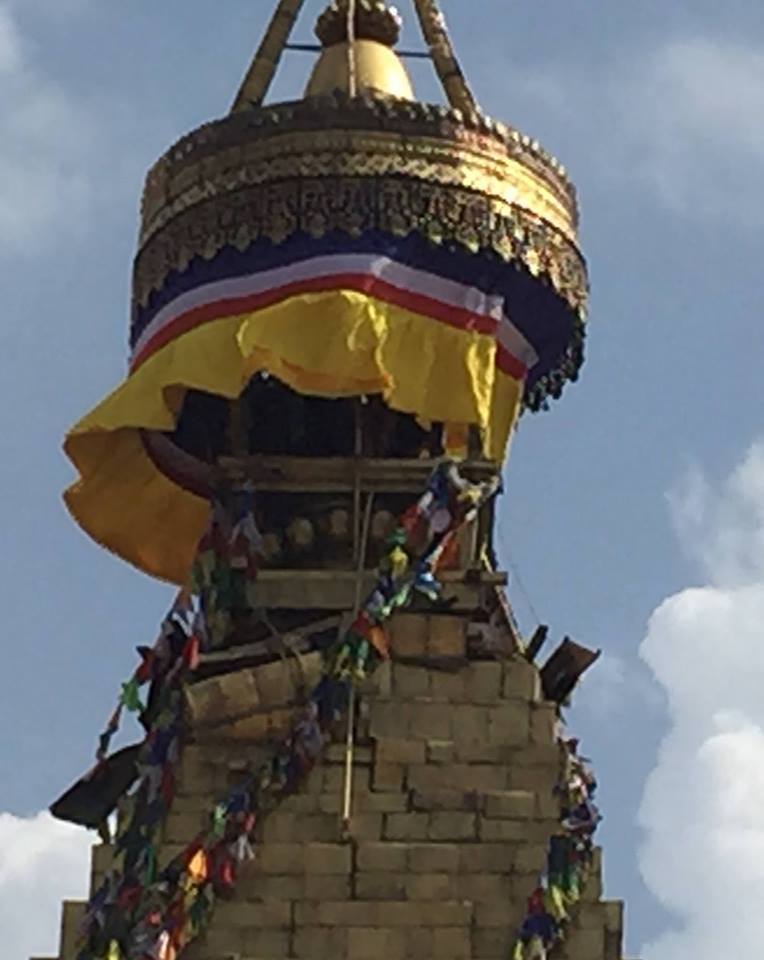 We'll provide more updates as we're able.
How to help
A number of organizations are doing relief work in Nepal, a number of them already mobilized in efforts related to last month's quake. Click here to donate to relief funds and find other ways to help.
Worldwide coverage:
May 12
BBC: Nepal earthquake: Dozens die in new tremor near Everest
Al Jazeera: Powerful new earthquake hits devastated Nepal
NYT: Nepal Rattled by Powerful New Earthquake East of Capital