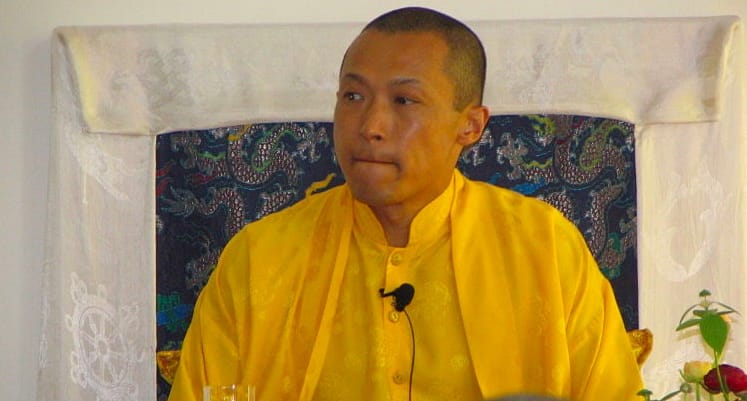 Sakyong Mipham. Photo by robertivanc via WikiMedia Commons.
A new report details an allegation that Sakyong Mipham Rinpoche, head of the Shambhala Buddhist community, sexually assaulted a woman while teaching in Chile in 2002. It also examines allegations that other leaders of the organization knew about the assault shortly after it occurred.
The July 10 report is by lawyer and sexual misconduct investigator Carol Merchasin and is an update to Phase II of Buddhist Project Sunshine (BPS), which Merchasin contributed to.
Merchasin describes the Chilean woman's account of the sexual assault as "very credible" and says it is consistent with patterns of behavior by Sakyong Mipham described in the BPS report.
Merchasin says there is "considerable corroboration" of the allegation that other Shambhala leaders knew the assault had occurred. She emphasizes that her investigation is preliminary and that a full investigation is required, which will give Sakyong Mipham and the Shambhala organization an opportunity to respond to the allegations.
A law firm in Halifax, Nova Scotia, where the international headquarters of Shambhala is based, has been hired by the Shambhala organization to undertake a third party investigation of any allegations of sexual misconduct against Sakyong Mipham or others in the community.
Lion's Roar contacted lawyer Michael Scott of Halifax, who is now representing Sakyong Mipham, for comment on yesterday's report. Scott, whose biography states that he "focuses his practice on criminal defense," said that he has received the updated report and will review it with his client, but has no comment at this time.
Merchasin's entire update can be viewed here:
http://andreamwinn.com/project_sunshine/Memorandum_II_on_Sexual_Misconduct.pdf
Previous coverage on LionsRoar.com:
THANK YOU FOR READING LION'S ROAR. CAN WE ASK FOR YOUR HELP?
At Lion's Roar, our mission is to communicate Buddhist wisdom in today's world. The connections we share with you — our readers — are what drive us to fulfill this mission.

Today, we're asking you to make a further connection with Lion's Roar. Can you help us with a donation today?
As an independent nonprofit committed to sharing Buddhist wisdom in all its diversity and breadth, Lion's Roar depends on the support of readers like you. If you have felt the benefit of Buddhist practice and wisdom in your own life, please support our work so that many others can benefit, too.

Please donate today — your support makes all the difference.

Lion's Roar is a registered charity in the US and Canada. All US & Canadian donations are tax deductible to the full extent allowed by law.