Peter Matthiessen—towering literary figure, passionate naturalist and environmental activist, onetime CIA agent, student and teacher of Zen—passed away April 5 after a year's struggle with leukemia. He was 86.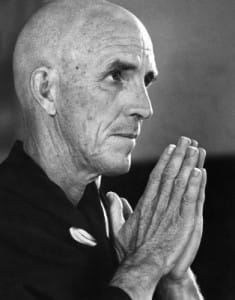 Matthiessen was on the cusp of publishing the 33rd book of his 60-year writing career, In Paradise, a novel based on his experiences on three "Bearing Witness" meditation retreats at the Nazi concentration camp at Auschwitz-Birkenau with Bernie Glassman's Zen Peacemakers. In Paradise will be released by Riverhead Books April 8. See the Lion's Roar post about the novel from September, 2013.
Said Bernie Glassman about Matthiessen on his Facebook page, "With much love for a wonderful, inspirational and great Zen Master, I wish to honor the passing of a dear friend, student, extraordinary Author and Socially Engaged Human Being. We will love you forever."
April 8 update: Glassman has now posted a longer appreciation of Matthiessen.
Another longtime spiritual friend of Matthiessen's, Roshi Joan Halifax, posted on her Facebook page, "My dear friend Peter, gone beyond. Offering incense and candlelight for his parinirvana………. In Kyoto and watching blossoms fall on this day of his death."
A wide-ranging New York Times Magazine profile of Matthiessen, posted last week to coincide with the publication of In Paradise, goes into detail about his Zen Buddhist practice, an evolution from early spiritual experiments with psychoactive plants and LSD. It references his constant reflection on the lament of a suicidal character in a Turgenev novel: "I could not simplify myself." In an attempt to do just that, Matthiessen in 1969 became the student of one of the pioneers of Zen Buddhist practice in America, the eccentric Rinzai master Soen Nakagawa.
"Matthiessen's turn to Zen," said the Times, coupled with the wrenching experience of his wife and meditation partner, Deborah Love, dying of cancer in 1972, "was directly responsible for the two best books he has written"— Far Tortuga (1975), a lyrical experiment set among islands off the coast of Florida that some critics found too difficult, and The Snow Leopard (1978), which earned Matthiessen two National Book Awards, about his outer and inner journey into the Himalayan Mountains with field biologist George Schaller.
In 1998, Shambhala Publications issued a volume of Matthiessien's Zen journals from 1969-82, Nine-headed Dragon River. In a review for Vogue, Andrew Harvey said, "Very few writers have the courage, inner experience, and literary technique to take us into the reaches of mystic awareness. Matthiessen has; his prose is among the finest of our time—at once sensual and austere, sinewy, yet full of warmth, eloquent yet reverent, polished clean by silence and awe."
And yet, Matthiessen told the Times writer, "I don't love talking about Zen. Somebody says, 'So what is Zen, anyway?' Often with a note of hidden hostility. And you try to explain, and then it's, 'Oh, crap, what am I saying?'"
But Matthiessen did teach Zen since receiving authorization to do so from Bernie Glassman in 1990 (he'd been ordained as a priest nearly a decade earlier), conducting meditation sessions in a zendo converted from an old barn on his property in Sagaponack, NY. It seems to have prepared him well for his final moments. The Times writer heard Matthiessen say to someone who offered suggestions for radical treatment of his leukemia, "I don't want to hang on to life quite that hard. It's part of my Zen training." Then, when they were alone, Matthiessen told the writer,
"The Buddha says that all suffering comes from clinging. I don't want to cling. I've had a good life, you know. Lots of adventures. It's had some dark parts, too, but mainly I've had a pretty good run of it, and I don't want to cling too hard. I have no complaints."
Read the New York Times's obituary of Peter Matthiessen here.