"It amazes me to hear students say their hips are tight as they're sitting on the floor with their legs spread at a 120 degree angle", says Cyndi Lee. "Their hips are open, but their minds are closed."
I recently had a yoga light bulb go off while watching the weather report on TV. The reporter was explaining that when the wind from the north came together with the gulf stream in a certain way, the result would be more snow in New York City. I never used to care about the technicalities of the weather-I just wished the reporter would tell me what I needed to know so that I could plan my outfit for the next day. But suddenly I saw that weather is like yoga practice: it is all about conditions coming together, and the possible outcomes that result from those relationships.
Yoga is both a practice and a state of being. Since yoga means "union," the state of being might be said to be a flowing sense of relationship with everything that arises, abides and dissolves. The practice of yoga can be a process of creating the conditions to arise that will lead to desirable results. Most people are looking for tangible results-physical flexibility and strength-but the benefits of yoga can be even more subtle, profound and long-lasting than that. But you have to pay attention, because the outcomes that arise from yoga practice don't always show up when or how we expect.
By paying close attention to my body, breath and mind-on and off the yoga mat-I have learned to recognize patterns and make choices that encourage an outcome of opening and stabilizing. The process of continually making the choice to be open, patient and curious is what I practice. This practice becomes a positive habit that shows up whether I'm working on a challenging posture or involved in a tough business conversation. As a side benefit, I am strong, flexible and healthy as a horse.
Patanjali's Yoga Sutra says that yoga asanas should be done with steadiness and ease. But how do we do that? Certainly, getting hooked on specific goals, such as the popular, "I want to stand on my head," won't lead to steadiness and ease; rather than creating the conditions for opening to happen, we'll be creating the conditions for frustration and possibly physical injury.
It always amazes me to hear students say their hips are tight, as they are sitting on the floor with their legs spread apart at a 120 degree angle. They have decided that their hips are tight because they have an idea of what open hips are, and it's different from what they are doing right then. As they push, pull and bounce, they don't realize that their hips are open but their minds are closed-closed to any other possibility for opening to happen, except in exactly the way they want it to happen. This kind of demanding lockdown is a mirror of what we do in all our relationships, not just the one we have with our bodies.
If we approach our yoga practice with any kind of gaining ideas, we will never be able to experience both stability and spaciousness. So instead of going for specific results, we need to release our agenda and our craving for deeper forward bends or tighter abdominals. When we do that, our attention shifts to the process of our mind in relationship to our body in every position and every transition. This kind of practice is an invitation to notice how we freeze our expectations and limit our possibilities. As we acknowledge this, we can then decide what we want to practice-patience, compassion, curiosity, opening-and create the conditions for those qualities to arise. This is how we begin to experience steadiness and ease. We create the ease through steadiness of effort over time, day in and day out. We create the steadiness through ease in our approach.
With this approach as the ground of how we work with our bodies and mind, we do not look for bliss-or anything else in particular. We simply observe what we are feeling and try to taste it fully. If something feels difficult, that's fine. Obstacles, in fact, are the entry point. This approach allows tight hamstrings or weak abdominals or droopy ankles to be interesting. Wherever the rub is, we go there. This is how we can we transform our obstacles into a dance of awakening.
Everything in life-ambition, fear, longing, pain, joy-is right there in our body: we can see it in every yoga pose, if we're sensitive and brave enough to go there. Your body is always going to expose obstacles to you. So how do we stay openhearted and curious when that happens? By remembering two things: 1) everything changes, and 2) everything is workable.
The following is a complete yoga program designed to help you prepare for sitting meditation, but also good for any reason. As you open your joints, heat up your muscles and massage your inner organs, try to soften your mind so you can become more sensuous, more at east, no matter what the weather.
Do these poses in this order, but you can repeat cow pose and cat pose as many times as you like before going on to the standing forward bend. Take at least five deep breaths in the last six poses. Stay in relaxation-savasana-for five minutes or longer.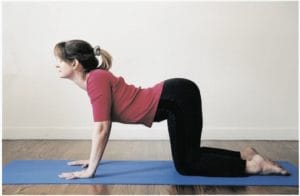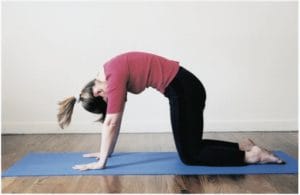 1. Cow pose: Inhale and let your back soften to open your heart.
2. Cat pose: Exhale, lift your abdominals and make space between your shoulder blades.
3. Standing forward bend with chair: If a chair is too easy, place your hands on a yoga block, a big book, a short stool or a low table-whatever will allow your breath t be full. If you go too low, your breath, muscles and mind will harden.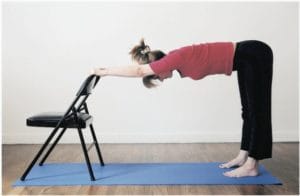 4. Side angle: This pose strengthens your legs and expands your lungs, so make sure that you can breathe deeply. You can do it like this or place your hand on a block.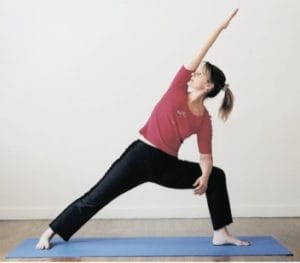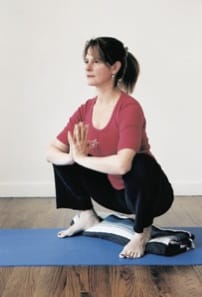 5. Squat on a block or blanket: This hip-opener is more workable if you sit on a block or put your heels on a blanket like I'm doing. Eventually you might be able to do it without either prop.
6. Shoulder opener with belt: Sitting on a cushion or blanket allows the hips to soften and the spine to lengthen. Hold the belt and make small circles all the way behind your back, as far as you can, and then all the way forward until your arms come down in front of your body. Be gentle. Find a tight spot that has a little opening, and work there. Don't push through these arm circles. This exercise opens the shoulders, triceps, chest and upper back, but only if you workmindfully. You can use a belt or towel.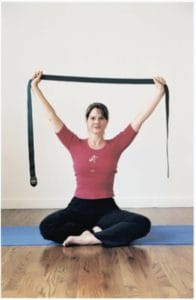 7. Spinal twist: When you inhale, get tall, and when you exhale, twist. You can do this with every breath, but try to let the twist be subtle-let it come from the tummy moving around so you can keep your back muscles soft and wide.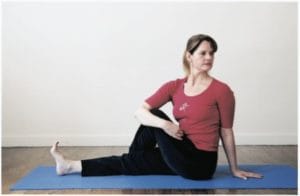 8. Half wheel with block: You can do this without a yoga block too. Press your feet down and try to lightly engage your buttocks.
9. Relaxation with eye pillow and blanket: The weight of the eye pillow is very soothing. Your body will start to cool off naturally, so have a blanket nearby in case you get cold.