We think we don't have time, but we do. Tina Welling on the real reason we don't meditate.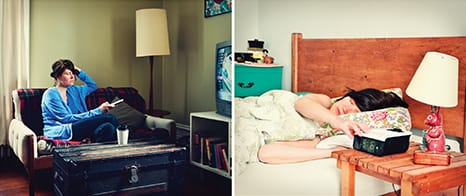 Recently I attended a nine-day Vipassana meditation retreat. The schedule included small group interviews with the guiding teacher. Seven of us sat in a circle and took turns talking about our experiences at the retreat and our meditation practice at home. We each had different experiences of the retreat, but every one of us told the same basic story about practice at home: no time to meditate.
Nora was attending the retreat to pick up her sitting practice after ignoring it for a couple of years. "I don't know what happened," she said, "but I haven't sat much since I last came on retreat. I'd made a special promise to myself then that I would sit every evening for thirty minutes, but once I left here, I just couldn't find the time. I hope I do better after this retreat."
Each of us reported how we had failed to maintain a regular sitting practice due to lack of time. I was no exception. But the nice thing about group interviews is that there's always someone you can tag as being worse at finding time than you.
For me it was Ralph, the longtime owner of a regional country club. I've attended retreats with him for six years. Ralph retired four years ago, specifically to have more time for his practice. Still, he reported, he couldn't fit in a daily sit. Ralph had come to each of the sits during the retreat so far and promptly fallen asleep. I could hear his breathing from across the room. He had done the same thing during the years he was running his club. Clearly, the guy was as exhausted by his retirement as he was by his work.
During the interview session, Ralph said, "I can't find time to sit at home. Here I've been sleeping during the sits and it feels good. Like I'm in a safe place, napping like a little kid, and resting deeply." (Most little kids don't snore, but I didn't mention that.) No Internet access or cell phone signal penetrated the granite mountains of the canyon holding our retreat center. Was that what Ralph had meant by "safe"? Safe from interruptions and demands? I was a bit startled to hear his confession; even more startled to hear what seemed like a justification. As if this sleep was what we all hoped for from Ralph. As if that were the reason the sangha rented the hunting lodge, draped Tibetan scarves over the dead-animal heads mounted on the walls, lit candles, and turned a place that celebrated death into one that honored life.
Yeah, I felt smug.
At least I didn't sleep.
Though if I'd been more honest, I'd have confessed to the group how much of my meditation time—both on retreat and at home—is taken up with plotting new novels. Plotting doesn't make noise like sleeping can. No snoring is involved. I did once burst into a muffled guffaw at a funny line of dialogue I'd thought up, though. I pretended it was a cough I couldn't hold back.
On my better mornings at home, I wake and let my dogs, Zoe and Elliot, outside for a minute and then bring them into my writing cabin. There I have my meditation cushion and shawl tucked beneath the east window. The pups curl up at my knees and wait until I bring my hands together before my chin and dip my head, marking the end of my sit. Then it's a crazy rush for the door and the breakfast bowls.
However, I'd hate to count how many mornings at home my dogs and I go straight to the breakfast bowls, do not pass meditation cushion. I hang my excuse on Zoe and Elliot: they're just too hungry for me to put off breakfast forty minutes because of meditation.
My dogs haven't disputed that decision yet.
We meditators often complain about not having time to sit, and when I do, I often think of the poet William Stafford. Whether he was home or traveling, Bill woke every morning at four or five to write. I accompanied him years ago on one of his poetry tours in the West and heard him read many of those poems that arose from his early morning routine. In his book of essays, Crossing Unmarked Snow, he admits that when people complained to him that they couldn't find time to write, "I have to avert my eyes, not to look accusingly at them." Because he knew that all of us have the same amount of time he did.
I imagine spiritual teachers feel the same way when they hear us complain, "I just can't find time to meditate."
After the group interview, I realized that I had no basis for my smugness about Ralph. I couldn't know what was going on in his life or psyche, nor in anyone else's. And if the retreat gave Ralph deep rest and renewed Nora's meditation vows once again, I was happy their needs were met. I hoped my own need to be steadier with my meditation schedule would be met as well.
As the retreat continued, I realized that time was a false issue. The struggle is really about something else. Typically, one part of us wants to meditate and another part wants another thing. In my case: to head straight for the breakfast bowl.
When I fell in love with my husband, I was not divided about my goal to spend time with him. And I've never heard anyone else complain, "Gee, I just can't find the time to be in love." So I decided that perhaps sitting could be viewed as falling in love with wakefulness. I liked the idea. Once a day or more I could give over my time and attention to just that: me, awake.
The problem was in the unconscious messages to myself that suggested I should be doing something other than meditating. Our culture supports "doing," not "being." Like many of us, I came from a tradition in which meditating was an alien act that suggested rejection of the religion of my family and society. Even now, decades after our country has been introduced to meditation, too little is understood about it. As a meditator, I have been charged with everything from seeking escape to worshipping elephants. When you're in the minority, it takes an extra push to step over the bump of being different. This is the value of communities and group retreats.
In the end, I decided it would be a good idea to examine my personal issues regarding time. A couple of hooks rose right away. One, I was a dreamer as a child—I still am, although I get to call myself a novelist now—so I was often caught staring out windows and reprimanded by teachers for "wasting time." Another was a phrase my father often used to hurry me along as I was growing up. "Time is money," he'd say. Well, it's not. And I'll have to work with that.
During our final sit on the last day of retreat, I wished for each of us to find our way out of this struggle with time and, as with falling in love, view our sitting practice as one of the great joys of life.