Though unusually bold, this Buddhist community's new statement is presented as congruent with the Buddha's teachings.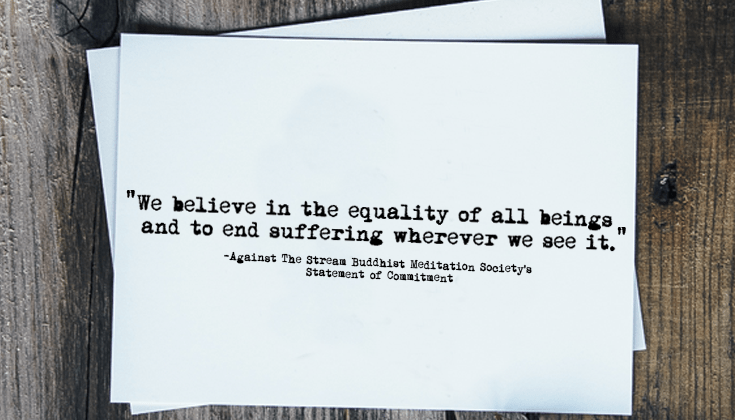 On February 14, the Against the Stream Buddhist Meditation Society found itself with a bit of a viral hit — in Buddhist circles, at least. Just released, ATS's "Statement of Commitment" quickly gained shares, "likes," and critiques as the sangha's members and followers began to digest its uncompromising language. A sample:
Since the inauguration, we have disagreed with the actions of the new administration and been concerned about the threat it has posed to the civil liberties of the citizens and residents of the United States and to our neighbors around the world. ATS is not content to sit quietly as we see these abuses unfold. We are stating our commitment to help change what we think are deluded and harmful actions and to support others in their work.
The statement goes on to address the need for preservation of education, health care, the environment, and the rights of immigrants, women, the LGBTQ community, and the press. Though unusually bold, the statement also asserts its congruence with the Buddha's teachings: "Using the Four Noble Truths and the Eightfold Path as our foundation and bulwark, we will say what needs to be said and do what needs to be done with wisdom and compassion for all beings."
I spoke to Against the Stream's director Mary Stancavage, who authored the statement's first iteration, and JoAnna Harper, guiding teacher of ATS Los Angeles, about how and why the Statement of Commitment came to be, and the reactions it's been getting.
So, tell me how Against the Stream's new Statement of Commitment came to be.
Mary Stancavage: The genesis of this statement was not just all of a sudden waking up and going, "Hey, look what's going on," but part of an ongoing commitment of Against the Stream — our Teacher's Council, the Board, and the community — to remain relevant. This has been going on for a few years, because sometimes people walk into a sangha or a class and hear a dharma talk after something happens like in Ferguson or Charleston, and nobody says anything about it. And there's this huge disconnect between the real world and the spiritual practice that you're going to.
We decided that that's not who we want to be, and to make sure we stay relevant in this world. So, as teachers, we've committed to bringing these topics into our conversations with our community. This commitment to relevance and an acknowledgment of what's happening in the world has been pretty much where we've been going for the last couple of years. It's very strong, and I know JoAnna has done a lot of work in this area since she came on as Guiding Teacher last year.
So, after the election and then the inauguration happened, and we started to see the actions rolling out, there was a tremendous impact on our community. We had people coming into class going, "How do I handle this? What do I do?" So we thought, how do we, as an organization, send a message to our community: This is what we think is important and this is how we hold what's going on — all within the teachings of the Buddha. How do we hold this whole big mess?
How did you come to craft this document as a response to that?
Mary Stancavage: I just wrote it. [Laughter] And then I sent it to the Board.
JoAnna Harper: That's totally true. And the Board approved it. So, that meant everybody on the Board also agreed with what was being said. And you know, there are words in that document that are hard, that would be typically considered not Buddhist, or not kind, or not easy on the ears. I was proud of us as a Board because nobody said, "No, we can't send that."
There are points that can be partisan, that can lean in the direction of a belief, that we have had pushback about. Some have said that we are being too partisan, too political. I can only speak for myself, but I feel like a large part of the community that I teach to are like, "Fuck partisan, fuck correctness. How do we want to show up? Who do we want to be?"
It's sort of like if we were living in a country where the law was to drown all female babies. We don't want to offend anybody that thinks that this is okay? Hell no, we're going to speak up for every female baby that's being drowned, right? So, and that might be through putting our body in front of it, and that might be through articulating it loudly and clearly — in a way, what we're doing right now. I think we're all willing to take the pushback – "Oh, you guys aren't being spiritually correct" — to push the message.
Mary Stancavage: And I have to say, though, that although I wrote the gist of it, we did go back and forth within the Board and make some changes. I also think part of it was in response to Trump: "We've got to expand this a little bit more to bring in the full picture of what's happening in our country."
How do you respond to those people who say that you're going somewhere that you can't and shouldn't because it's too divisive?
JoAnna Harper: We are not responding on social media. That just does not feel like the place for us to be in response or get in an argument. If people have a question, there will be an answer. We will be in dialogue. But if it's just a spewing of disagreement, then, that's okay, they can do that but we're not trying to be in a conversation around that.
That being said, have there been questions or reactions from people to the statement that further inform the statement, causing it to be revisited or recrafted in any way?
JoAnna Harper: The only one I recall — and it made sense to me — was that someone in the sangha said, "you didn't bring up violence towards black bodies," and that's right — we didn't specifically express that. We talked about white privilege and added something more specific. So yeah, this is informed by our community: Somebody said "Black Lives Matter," and we said, let's add Black Lives Matter. We're willing to take corrections where we think that corrections are needed because we can't possibly know everything and we're open to the revolution, the evolution, the wisdom that we don't have. It's really important.
So, do we want feedback? Is the feedback "you forgot somebody that's oppressed"? Yes, we want that kind of feedback.
Mary Stancavage: I think the question, "are you being too political," is part of the problem. That a statement about protecting human rights is a political statement is unfortunate. Is there suffering? Bring it back to that context: are you creating suffering by putting these things into place? We're thinking is that, yeah, a lot of suffering is being created.
A lot of the stuff in the Commitment Statement transcends the political realm. It's about human rights. It's about causing suffering to others.
And people are saying, you can't be a religious organization if you speak about these things. But faith-based leaders have led the marches for how many countless years, you know? We're talking about Martin Luther King and Thich Nhat Hanh. Bhikkhu Bodhi, right now, is very vocal about this stuff. So, to say you can't do it because you are a religious organization is bogus. Though, in the United States, to keep your tax-exempt status, you can't actually campaign for a particular candidate.
A lot of this stuff [addressed in the Commitment Statement] transcends the political realm. It's about human rights. It's about causing suffering to others.
The Commitment Statement launched on February 14. How would you say the response to it has been so far?
Mary Stancavage: The response on social media and through our community has been amazing. There were some people going, "Who do you think you are?" But, on Facebook I quickly saw something like 100 shares. We put it on a couple of Against the Stream Facebook pages, our web page, and in an email. I put it on my personal page. These had hundreds of shares; I think we had 11,000 views on our Facebook page. We usually get 300. And, I'm on the board of CLUE: Clergy and Laity United for Economic Justice. They're pretty much in L.A., and they're sending it out to their community. …So, whatever that all means, it's an uptick.
Are other groups considering using the Statement as a model for statements of their own?
Mary Stancavage: I was in a board meeting with some people from Common Ground yesterday, which is a sangha in Minnesota, and they said they're using it as a template for something they're working on. I don't know how much else is happening out there, but it is having an impact. I got so many thank-you emails.
JoAnna Harper: We can't afford to not have a voice right now. The whole "being a bystander" thing isn't working. I would not stand aside as I watched somebody beat their child, so I'm not going to stand by and watch what's happening now, either.
Any last thoughts for LionsRoar.com's readers?
JoAnna Harper: Just that, if you're interested in getting something relevant and real, come to Against the Stream!
Mary Stancavage: And get involved! Do something in your own community. Even without the Trump phenomenon, there's enough to get involved about.
JoAnna Harper: If we want to wake up, we have to really wake up to what's happening, not just to our internal experience.
Click here for more information about Against the Stream, or here to read its Statement of Commitment.