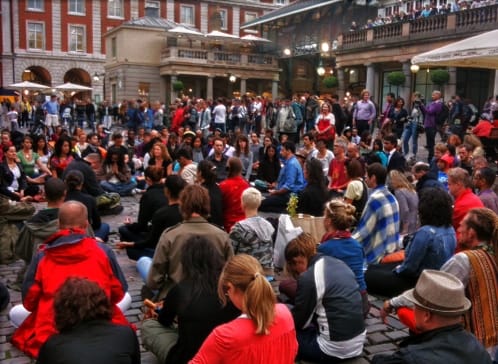 Photo by Steve Silberman
Steve Silberman describes the goals and the challenges of sitting with a Meditation Flash Mob.
Tonight at 6:30 in front of St. Paul's Church in Covent Garden, dozens of Londoners and global citizens of all ages took their seats on the rain-damp cobblestones to create a meditation flash mob sponsored by a local sangha called Wake Up London. Organized quietly on Facebook, the mass sit-in was the second public dharma event hosted by the group; the first took place in June in Trafalgar Square.
It was a challenging setting for urban practice. Covent Garden is one of the most crowded and chaotic spots in London, with streams of tourists pouring through the area in front of the church and eating in restaurants around the square, and street musicians and other performers contributing to the general din. Tonight was no exception. But there was magic in the moment that a silent signal passed through the crowd and practitioners starting laying down zafus, gomdens, backpacks, and coats and jackets and taking their places. At first, some of the startled onlookers didn't quite know what to make of the event, but after a few minutes of silent sitting — with incense and music from groups of nearby acrobats wafting over the heads of the practitioners — a huge area of the 17th Century square became focused and tranquil.
Wake Up London described its goals as follows:
1. To create an environment for people from all walks of life to come together in meditation.
2. To spread awareness of meditation to the public.
3. To come together as a community to send positive intentions out into the world.
4. To show that leading by example is the best way to lead. Simple acts can stimulate major paradigm shifts in thinking.
As tourists rushing from the Underground to the nearby bistros and theatres paused to take in the spectacle of more than a hundred people planting themselves on the  earth to appreciate a half-hour of mindfulness, it was easy to believe that more than a few paradigms shifted before the practitioners faded back into the passing crowd.