Evening Update: As will be unsurprising to many, Hu Jintao today asserted that issues in Tibet and Taiwan "concern China's territorial integrity and China's core interests." Or, as The Christian Science Monitor writes: "In other words, stay out."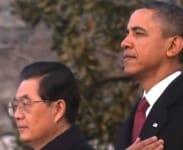 "A lot still needs to be done in China in terms of human rights," Chinese president Hu Jintao said yesterday at a press conference held in light of his visit with US president Barack Obama. "We will continue our efforts to improve the lives of the Chinese people, and we will continue our efforts to promote democracy and the rule of law in our country." Obama, for his part, noted that "History shows that societies are more harmonious, nations are more successful and the world is more just when the rights and responsibilities of all nations and all people are upheld. Including the universal rights of every human being."
Meanwhile, outside the White House, protesters held a rally in support of a Free Tibet. Video, via Democracy Now, after the jump. Also: President Obama has urged China's president to open dialogue with the Dalai Lama.
Update: Obama did in fact specifically mention the Dalai Lama and Tibet:
Even as we, the United States, recognize that Tibet is part of the People's Republic of China, the United States continues to support further dialogue between the government of China and the representatives of the Dalai Lama to resolve concerns and differences, including the preservation of the religious and cultural identity of the Tibetan people. Obama said at a joint news conference with Hu at the White House.
Yesterday's rally was the second of three days' worth of organized protest in response to Hu Jintao's visit, as planned by Students for a Free Tibet. SFT has posted complete schedules of their activity in Washington and also in Chicago on January 2oth.