Rod Meade Sperry looks at the lessons we can draw from the tv show Hoarders about detrimental attachment to "stuff".

Yet another new season of A&E's harrowing show Hoarders is to begin on Monday night. Described as "a fascinating look inside the lives of people whose inability to part with their belongings is so out of control that they are on the verge of a personal crisis," the show is a heartbreaker. And exploitative though it may at times seem, the show might be useful on the whole because it helps us put things — and our relationship to them — into perspective. After the jump, SunSpace's earlier look at Hoarders, for those who want to get caught up. (Or don't want to have to.)
I haven't seen anything like Hoarders in my life — and I hope you haven't, either. One's thing for sure: it will make you question your relationship to material things.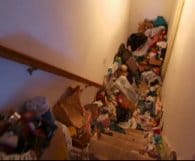 What Hoarders makes heartbreakingly clear is just how easy it is for the human animal to become lost and trapped by its own possessions, and how this is caused by our untamed minds. When the episode I watched ended — to the left you see a still from one of the subjects' homes, and honestly, it's almost tame compared to the overall mess the hoarders create for themselves — my eyes were darting around our apartment: All this has to go! No clutter! No tchotchkes! No bric-a-brac! Maybe I should convert the entire dining room into a nice, spare, furniture-less zendo.
Ah, but this is just the other side of the hoarders' coin, is it not? Our healthiest approaches to life are not about extremes; they're about a middle way; the right way for ourselves and our loved ones. The question is, what is that way? It's hard to study Buddhism, though, and not develop at least a little of the crucial non-attachment that allows us to discern what must stay, and what can go.
In the end, though, it all depends, of course: one person's treasure is another's trash, and all that. So what I'd like to know is, what's your relationship to your stuff? Granted, it's statistically unlikely that you might identify as a hoarder, but is your approach to your possessions unhealthy, or healthy? Is it working for you?
Here's a quick poll — and feel free to post a comment to get a bit more in-depth, especially if you have tips that have helped you to make your dwelling space more of a home.
You can view previews from the new season of Hoarders online here. It's not easy viewing, but it might just be worth it anyhow.