Danny Fisher interviews the Venerable Bhikkhu Bodhi about his upcoming visit to the White House.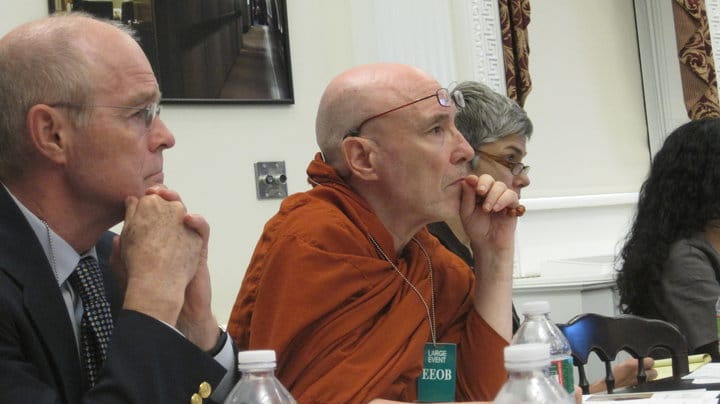 In the aftermath of January's terrible earthquake in Haiti, I spoke to the Venerable Bhikkhu Bodhi about what concerned readers could do to help. A well-known and prodigious translator of Pali Buddhist texts into English, he is also the founder of Buddhist Global Relief — a new, visionary, Buddhist-inspired humanitarian organization contributing to relief and justice efforts all over the world.
It was in this capacity, as a leader of faith-based relief organization, that the Venerable Bhikkhu Bodhi found himself invited to a meeting at the White House recently. When I learned of his visit, I immediately requested an interview. He graciously granted it. 
The Venerable Bhikkhu Bodhi at the White House. I sure like the sound of that! What can you tell us about your visit? What brought you there?
The Center for Interfaith Action (CIFA), based in Washington, has been organizing a Global Initiative for Faith, Health and Development. The initiative was launched in response to President Obama's call for the world's religions to collaborate on issues of shared humanitarian concern. The aim of the initiative is to prepare a strategic framework to advance and strengthen interreligious cooperation on action against global poverty and illness.
To prepare the strategic framework, CIFA has appointed a task force, bringing together the world's most prominent faith-based relief organizations to propose ideas, explore opportunities for collaboration, and lay down broad principles for interreligious action. They have emphasized that the purpose is interreligious action, not dialogue. In gathering the task force, CIFA wanted to broaden the range of the Global Initiative by including delegates from other religions besides the three Abrahamic faiths—Judaism, Christianity, and Islam. After a careful review, they chose Buddhist Global Relief (BGR) as the best qualified American Buddhist organization to serve in this role.
It felt odd for us to be sitting at the same table with delegates from such faith-based relief organizations as World Vision, Catholic Relief Services, the American Jewish World Service, and Islamic Relief USA. These have all been in existence for decades and their budgets run in the multi-millions. However, though BGR is only two-years old and much smaller in scale, the organizers were impressed by our achievements and the broad reach of our programs during our short life span. Thus CIFA invited our executive director, Kim Behan, and me to the first meeting of the task force, held at the White House on the afternoon of July 26th.
You mention the distinction between dialogue and action. Can you say more about what inter-religious action will look like with regards to the Global Initiative?
As far as the task force as a whole is concerned, this is still in the planning stage. However, for years there has been inter-religious collaboration on projects involving poverty alleviation and health care. One example held up at the conference as a model was a collaborative project between Muslims and Catholics in Nigeria on the eradication of malaria. Another project mentioned at the meeting (I don't recall the country or religions) was in combating HIV infection and AIDS. This is a serious problem, particularly in Africa and South Asia, and it is possible that in several areas, religions are working together to provide information about the kinds of preventive measures that can be taken to avoid infection.
If you look at the Center for Interfaith Action's Facebook page, you will find a number of examples of interfaith collaboration. The predominant form this takes, so far as I can see, is collaboration between religious leaders in sub-Saharan Africa in combating malaria. This has occurred in Nigeria, which accounts for a quarter of all cases of malaria in Africa, but also in Mozambique. The Facebook page gives more details.
The Center for Interfaith Action asked us to submit examples of interfaith cooperation that we know about. This is from a questionnaire they submitted: "We invite you to participate by suggesting one or more exemplary multi-religious collaborations. Please tell us about the case you wish to suggest by completing our electronic survey…. In undertaking this survey, we seek to multiply and scale up multi-religious and interfaith collaboration, highlight innovative models and methodologies to identify best practices, inspire new partnerships and advance the case for faith-sector actors as effective development partners."
Since I am relatively new in this field, and BGR has been working on its own (but with partners in the field), I could not submit any models. However, after the conference, our executive director, Kim Behan, has thought of writing to representatives from several of the organizations at the meeting proposing collaborative projects between them and BGR. She has in mind aid to Haiti and food relief to Niger, now in the grip of severe food shortages.
Bhante, are there teachings and resources from the Buddhist tradition that you find especially helpful as you prepare to work collaboratively with religious others in this way?
The Buddhist tradition has never made claims to exclusive possession of such virtues as goodness, kindness, and compassion. The Buddha recognized that followers of any religious tradition are capable of observing the basic ethical values of harmlessness, generosity, self-restraint, and compassion. Although we might hold different beliefs about the nature of ultimate reality and the final goal of the spiritual life, we all share a concern for the welfare of our fellow human beings. We also are in substantial agreement on the courses of action that we must adopt to bring hope and relief to those in our world who are treated as marginal and dispensable.
Buddhism posits that all human beings require a minimum of material security in order to live happily. We all need clothes, shelter, food, and medical care. In addition, people need meaningful relationships, a loving family, a harmonious community, and the freedom to pursue their goals and fulfill their aspirations. Such ideals are shared by followers of almost all religions—at least by the more liberal adherents of these faiths—and these ideals can constitute a core of common values around which multi-religious collaboration can be established.
How can readers help BGR in this Global Initiative?
It is still too early for me to make suggestions. I would have to see the initial draft of the strategic framework, which will take the executive committee at least a few weeks to write. Once the picture becomes clearer, we will have a better understanding of how others can help BGR in this initiative. But I do suggest that readers join the Buddhist Global Relief Facebook group, the Buddhist Global Relief Facebook cause, and check out our website at http://www.buddhistglobalrelief.org. More news about the White House meeting, and updates about further developments in this project, will be posted on Facebook and the website.