With Burma VJ now available on DVD, we re-present Danny Fisher's interview with two of the film's key players.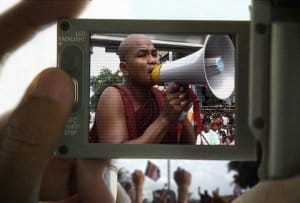 I recently had both the honor and the pleasure of interviewing U Pyinya Zawta, a founding member and the executive director of the All Burma's Monks' Alliance, for my blog here at Shambhala SunSpace. After spending ten years of his life behind bars for pro-democracy activities, he was one of the leaders of 2007's "Saffron Revolution"—the nonviolent demonstration by thousands of Buddhist monastics and other that called for economic and political justice in the military-ruled country.
When I spoke to him, U Pyinya Zawta was on his way to the 82nd Annual Academy Awards, where he was a guest of those attending with Best Documentary Feature nominee Burma VJ: Reporting from a Closed Country. (The Oscar ultimately went to The Cove.) Directed by Anders Østergaard and distributed by Oscilloscope Laboratories, which is headed up by Beastie Boy and Tibet activist Adam Yauch, the film features the work of citizen journalists inside the Saffron Revolution. Through stylized reenactments of key moments, it also tells the story of the video journalists' struggles to get their footage of the brutally quashed uprising to the offices of the Democratic Voice of Burma in Oslo, Norway.
Burma VJ will have its U.S. television debut on Tuesday, April 20th (9:30-11:00 p.m. ET/PT), exclusively on HBO. The network was kind to enough to offer us interviews with both the Oscar-nominated Mr. Østergaard (in Denmark) and the Democratic Voice of Burma's executive director Aye Chan Naing (in Norway). I spoke to them separately by phone.
Anders, first, let me say congratulations on the film and especially your recent Oscar nomination.
Anders Østergaard: Thank you.
How was it that you came to make Burma VJ?
Anders Østergaard: I was invited to make something about Burma by our producer Lise Lense-Møller, and we spent at least two years trying to figure out what to do and how to go about it. We became aware of journalists working inside the country, but of course had no idea that there would be a major uprising in the country—that happened while we were in production.
So the subject really presented itself to you, rather than you seeking it out?
Anders Østergaard: More or less, yeah.
Aye Chan, your organization ended up playing a large part in this story. For our readers unfamiliar with the film, would you please say something about the Democratic Voice of Burma's role in Burma VJ?
Aye Chan Naing: When the uprising happened, we, the Democratic Voice of Burma, were sort of the center of attention in a lot of ways—both from people inside Burma trying to get information out, and the major media outlets wanting that information. Burma, as you know, is a closed country, and it's very difficult to get television, media coverage of certain events. Until the Saffron Revolution happened, we ourselves didn't even realize how much attention our work might receive, how important all this footage was. Anders and his crew were there, watching our whole process, and interviewing our journalists, the VJs, and others. Burma VJ really reflects the whole system of operation that we have.
The film does an important service by showing us video reports from inside Burma, as well as illustrating the difficulty in getting them out. I'm curious to hear you both talk a bit about the film not just as cinema but also as education or activism.
Anders Østergaard: It was not a deliberate strategy that the film would be a piece of activism as such. It was something we realized after completing it: that the film had this educational quality, this activating force. But I made the film pretty much as I had made films before: I just tried to tell the story. So it was exciting to see people jumping out of their seats after seeing it, saying, "How can I help? What can I do?"
Having said that, you don't really get a lot of factual knowledge from the film, ultimately. The background information is very scarce. The idea of the film is to give you almost a physical experience of being there, being inside Burma for an hour-and-a-half.
Aye Chan, would you say a bit about what's happening right now in Burma? Also, how might concerned readers be able to help the people?
Aye Chan Naing: Right now, on the ground, things are quite bad in Burma—even worse than in 2007. We know a little bit more now because of the power of the video camera, and also mobile phones and the internet. The government is always trying to block things services, but there's so much technology today that there's no way they can keep everything from getting out of Burma—it's impossible. For example, in 2007 they shut down the telephone lines and so on, but we still managed to get all that you've seen—and that's because of all the technology.
In terms of what readers might be able to do to help, I would say get in touch with your Congressperson and make them more aware of the situation. America is the most powerful country in the world—especially when it comes to Burma. America is the country in a position to exert very strong pressure on the current regime. It's important that all the politicians in America know about Burma, and it's the people who can make sure about that.
Anders, as someone who has spent so much time with this material, the work of Burma's video journalists, what you have learned? What special insights about the situation in the country did you gain from making Burma VJ?
Anders Østergaard: I wouldn't really have any special insight into what's happening right now. My time with the VJs was during 2007. Of course, I do have my own perspective on the news today. I wouldn't for one second believe that the so-called elections [being prepared for currently] have any real value. By now we know that [the ruling military junta] wants the perception of change, but that they don't actually want to make any real changes.
Aye Chan, on this occasion, the premiere of Burma VJ on HBO, what would you like to say to our readers?
Aye Chan Naing: No government in the world should recognize the legitimacy of the current regime in Burma.
Sometimes people wonder, "How much can I really do? How much can I do to really change a situation so far from where I am?" But that's not right. In your country, you have free speech. You can talk to your government. You can ask them about what they're doing for Burma. You can pressure your government to find a solution. I would say to people like you, "You should use your freedom and your ability and your voice to help us." That will really help the situation, because politicians and others only pay attention to Burma when big things happen, like the uprising and government crackdown in 2007. But when things are quiet, people forget about Burma—no one talks about it. We need constant pressure on the Burmese government, and also the politicians in Western countries. Burma is a very poor country, and the regime is not so powerful. With constant pressure, I'm sure that they will have to listen to reason.
Anders, now that the film has been through the awards season and is ready to premiere on HBO, what are your hopes for it in the future?
Anders Østergaard: We can see that the film has taken on its own life. Educators, distributors, NGOs, and others have sort of adopted it and are helping to spread it out. It's a fantastic thing to see that it can be handed over to other people and they can look after it, so to speak, as if it were their own.
Otherwise, to be honest, I hope that it stays on not just as the definitive chronicle of what happened in Burma in 2007, but also as a general film about the nature of dissent and civil courage.
Do you have plans to make further films about Burma?
Anders Østergaard: I no specific plans to do so. But, on the other hand, since I've been so closely attached to the country and these people, it's not unthinkable that something would turn up to make me do another film on this topic.