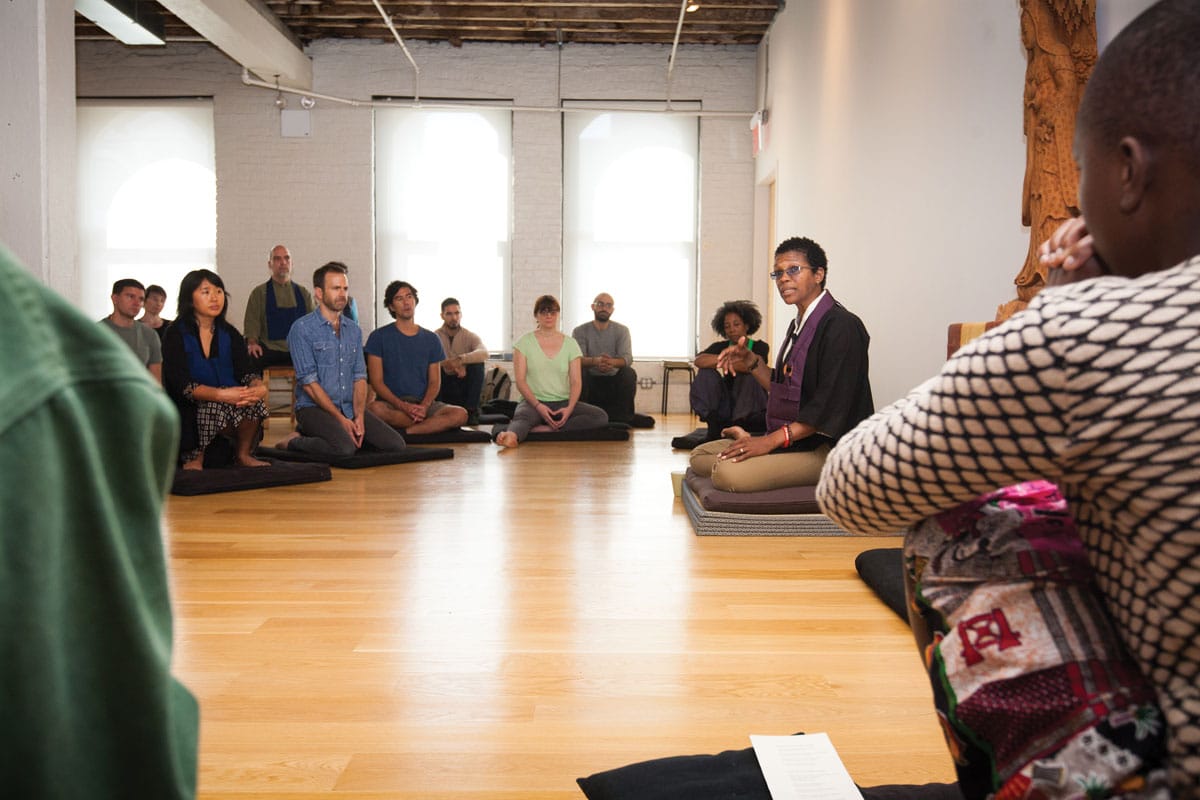 Guest teacher angel Kyodo williams addresses Brooklyn Zen Center. Photo by A. Jesse Jiryu Davis.
Buddhist centers cannot be separate from the communities around them. Rod Meade Sperry takes us to Brooklyn Zen Center, a model of urban dharma and love in action.
The tale of Brooklyn Zen Center, like so many good coming-up stories, starts in a dingy basement.
After practicing at San Francisco Zen Center, BZC co-founder Laura O'Loughlin moved to Austin, Texas, where she met and fell in love with one Greg Snyder. The two planned to move together to San Francisco to practice Zen, but family emergencies instead grounded them in Brooklyn: O'Loughlin's sister was dying there, and after she passed away, they stayed to take care of her father, who was in his final years.
"We visited other Zen centers in the area," she remembers, "but I had a heartfelt connection to San Francisco Zen Center, which felt like my family too." Together with friend Ian Case, O'Loughlin and Snyder decided to get busy building something in Brooklyn that would feel like home.
They created a space first, with the sangha, or community, to follow. It was humble. Laura, Greg, and Ian spent the summer of 2005 scraping the walls of a small basement space on 11th Street in Park Slope. It was right next to the building's boiler room. "We put a little sign out and, incredibly, people slowly started to find us." The community that would come to be known as the Brooklyn Zen Center was born.
The group grew, guided by visiting teachers like Norman Fischer, the late Darlene Cohen (who had ordained O'Loughlin and encouraged the creation of BZC), and Teah Strozer, who would eventually become the group's head teacher. By 2009, the sangha relocated from their basement to a one-bedroom apartment on 9th Street, whose living area became a dedicated zendo.
"We would do retreats of thirty people on top of each other, with the kitchen and the bathroom right there," O'Loughlin recalls. Cozy though it was, the group would again move two years later, to its current home at 505 Carroll Street in Brooklyn's Gowanus neighborhood. Strozer led the community in its inaugural five-day retreat at its new home.
Today, Brooklyn Zen Center's principals and members contemplate the sangha's ten-year anniversary, and its future. The community continues to grow, practice, and do a lot of great work, but how do you really gauge strength and success when you're a Zen center, whose values have little to do with so many of the usual worldly concerns?
Perhaps it all comes down to people.
Take Loyalty JeanAimé, for example. She seems, at first, to be rather shy. When I met her on my first visit to BZC, I knew she'd been an important part of the center and asked her to consider talking to me. She did consider it, for a good long moment or two, and then, smiling broadly, demurred. Greg Snyder, BZC's executive director (and JeanAimé's boss/champion), laughed: "That was pretty good. You got real close!" Apparently, I wasn't the only person who'd hoped to pick Jean-Aimé's brain and failed.
But to say that JeanAimé is "shy" is in no way sufficient. As Strozer says, "She's quiet a lot of the time, but she asks really interesting questions." And she gets things done. "I'm an artist," Jean-Aimé affirmed when I finally did earn an audience with her. "I'm a singer and a rapper." Notions of "shyness" now out the window, I ask her that impossible question: How would you describe your music? "I'm going for something that's really effortless, something that's raw and true. Meditation-like, always being in the moment." She's working on a new mixtape release, she says, and she lights up a little as she talks about it.
JeanAimé also lights up when she talks about BZC. When she first came here at age sixteen, it was by way of an internship through the Brooklyn College Arts Lab. She had only meditated once before, but this time it stuck. "We meditated, we did music, we did mindful cooking, all that good stuff. It was different from other places I'd usually be at in my everyday life. Everything was very aesthetically pleasing. It was really quiet and peaceful and open."
But while it felt natural to be at the center, getting there was another story. "Location is important," JeanAimé tells me. "I think BZC is secluded in a sense. I'm black, and so I live in Brownsville. Greg can just walk down here, but it probably takes me an hour to get here."
While many meditation centers charge little or nothing for programs, even the subway tickets can make participation impossible for many people. "Meditation," JeanAimé says, "can be expensive! If you're black, if you're young, meditation is a very different thing to do, so your mindset already has to be somewhere else to decide to come here. Then, physically, you're actually going somewhere else. And when you get here and everybody is white, it's harder to call this your own.
"We have to somehow make things work where everybody can be a part of it and it's not just some middle-class thing that white people do. It's important to see your face represented. Meditation centers should keep that in mind."
It quickly became clear to the leaders at BZC (many middle-class whites themselves) that the then-nineteen-year-old JeanAimé offered a very different point of view on what BZC could and should be. So they asked her to be an intern instructor in BZC's Awake Youth Project, which brings guidance about mindfulness and meditation to young people in underserved Brooklyn high schools. Then, they asked her to join the center's board of directors.
If the inclusion of someone so young on the BZC board seems like an unusual move, well, that's the point. As Greg Snyder puts it:
"A community is as strong as the voices that are heard in it. We wanted to have a young person's voice on the board, to hear questions they would ask, like 'Why would you make this fee policy? Nobody my age is going to come near that.'
"After all, when you have a board made of professionals, all at a certain level, guess who the policies are going to lean toward? I came from a pretty poor family, and that was painful for me—it's very lonesome, no feeling of community. But I've been middle-class for a while now, and it's easy to forget how I grew up, and what it's like to really struggle, not to have the money for the subway to get to this place. Now, we have a voice on the board of somebody who's intimately familiar with the struggle of nineteen-year-olds and others around that age."
The Awake Youth Project at BZC has been a gift for everyone involved. It started with a phone call, Snyder remembers: "After maybe two months in this new space, I heard from Denise Page at Brooklyn College Community Partnership: 'We're working with some great teens coming from tough circumstances. They're having a lot of anger issues that we don't know how to deal with. Do you think meditation would help?'
"I had to smile, because the whole reason I came to meditation was an uncontrollable rage that I could not get a hold on."
Snyder remembers what he calls "the garbage bag incident" as his own turning moment. "I used to explode and throw furniture. I was twenty-seven or so, taking the garbage out. The bag broke in my living room and I just started attacking myself: You stupid idiot, what's wrong with you?
"When I calmed down, I thought, there's no one here, nobody to blame it on. There's only your mind. Around that same time I was reading Zen Mind, Beginner's Mind by Shunryu Suzuki and I thought, this sounds right! So I found a Zen group and started sitting every day, eventually doing a five-day retreat.
"I was furious at anything that moved," he remembers. But at the end of the fourth day, the rage broke. "I still get emotional thinking about it. At that point, I was like, 'Okay, I'm devoted to this,' and just kept going and never stopped.
"So, I was able to say to Brooklyn College, 'Yeah, actually I do think meditation could help these kids with their anger!'"
They tried a four-week workshop and the kids were into it. "They'd had trouble keeping their attention for thirty minutes," Snyder says, "but with us, they were staying for two hours, having discussions around mindfulness and emotion. It was suggested that we start a Tuesday-Thursday group so that kids from all of the schools could come together."
When Awake Youth was born, he says, that started changing the flavor of Brooklyn Zen Center right away. "Loyalty joined the Board, and we installed Clarisa James as coordinator of community relationships. Now we had somebody specifically asking, 'How are we really going to be in this community in a way that we're actually bringing meditation and mindfulness to life in the city? How does a Zen center bring its strengths to the issues around us that are actually causing suffering?' There's a tremendous amount of gun violence around us here. So out of what were just little events here and there came a fully fleshed-out anti-gun-violence program, with fifteen partners and speaker panels."
Snyder has a long background as an activist, having been active in (for example) labor organizations and the Zapatista Indigenous Rights movement, working directly with the Maya. He recalls a sobering moment of clarity about bringing that passion to bear in his work at BZC:
"What really turned me toward focusing my energy on implicit bias and race was the Renisha McBride case. She was a young woman of color, outside of Detroit. After wrecking her car, she went door-to-door looking for help and a guy shot her through his locked screen door. She was nineteen.
"We had four women, including Loyalty, who had graduated from Awake Youth and were that age, and I was awake for two nights after that happened. I couldn't take the idea of any of these women being shot because of what was in the mind of the person looking at them.
"The second night, I realized that as a Zen practitioner I was in a faith whose specialization is unconscious bias. That's what we do as Buddhists! That was when I said to myself that tolerating this kind of thing was not an option anymore. This isn't something that Buddhists should be half-hearted about taking up. We need to get on it. Do we want to continue living in a country where young people of color don't get jobs, or are even killed, because of the way they look?"
Yeshwant Chitalkar, who's instrumental in BZC's Inclusivity Committee, reiterates the need for different thinking: "I consider ours a very friendly and welcoming sangha, but even here factors like race, color, and privilege come into play. You have to notice it to do something about it. It's an inescapable fact that there are obstacles for persons of color to jobs, to housing, to a good education. As a Buddhist institution, we shouldn't be part of that problem. If we're leaving people out, what does that say about us?"
That sense of responsibility and responsiveness has permeated BZC through and through, causing the sangha to spearhead a host of helpful initiatives in the community around them. In addition to the Awake Youth Project, the gun-violence awareness gatherings, and the inclusivity committee, there's a people of color group (of which Chitalkar is a leader) that meets for practice and discussion. There's a Friday-night "25-35" group that allows younger people to gather socially in a decidedly non-bar-like setting and discuss what vexes and interests them. There's a Buddhist twelve-step program affiliated with the Buddhist Recovery Network. (Visit LionsRoar.com for an exclusive interview with that program's director, Luke Holland.) And this January, the center will host a workshop called "Undoing Racism."
But don't think it's all such serious business. "Spiritual awakening can be painful as hell," Snyder says, "so it should also be fun! I think of that quote from Emma Goldman: 'If I can't dance, I don't want to be part of your revolution.' I feel the same way: If I can't dance, who wants awakening?"
So it follows that the center is a lively place, filled with laughter and creativity, thanks to innovations like their "Jazz Mindfulness" night, or the use of the center's kitchen and eating area as a social hub and gallery for art created by BZC adults and kids alike. During my weekend visit with them, members were preparing to walk as a group at the massive People's Climate March in Manhattan. They were excited to be a part of something so big and important—there would be 400,000 marchers in all—but they were also just happy to be together. And even when things are quieter, there's a noticeably joyous, friendly charge in the air and an informality that may seem incongruous with the common idea of Zen temples as bastions of austerity.
That's no accident. "We're always asking ourselves, to what degree do you release the trappings of what Zen looks like so that everybody feels comfortable coming in? There are a lot fewer robes around here than at most Zen centers," Snyder notes. "We reserve them for high ceremonies but don't necessarily wear them day-to-day. We circle cushions during talks instead of keeping them in straight lines. We try to do whatever is appropriate for the day, and who's actually in the room."
This attitude also allows Snyder to enter more rooms, as it were, himself. "I'm a priest, but I don't look like one, except for my hair. That means I can do mindfulness instruction in public school systems, which I'd be unable to do if the approach weren't totally secular."
Head teacher Teah Strozer, who divides her time between San Francisco and Brooklyn, mentions two teachers she studied with as clear influences in this regard. "Suzuki Roshi was very radical when he came to the U.S., because he let men and women practice together right away. That was almost unheard of in Japan. He wanted us to turn toward what American Zen was going to look like, to have a real curiosity and openness, a readiness of mind. And Chögyam Trungpa Rinpoche, when he first came, didn't introduce the traditional forms and initiation practices he knew until years later." Likewise, Strozer says, "We want, first, to listen: What can the community handle? What can it not? What does it need?"
As if they didn't have plenty to do already, the BZC leadership is in negotiation to purchase a property in Connecticut that would serve as a dedicated monastery and retreat center. It seems like a shocking amount of growth for a center that's just ten years old, but it's not mere ambition that's driving BZC to found a monastic place of practice. It's really about balance, says Strozer,
"Our vision is to have it all be permeable. For example, with the monastery we can have an ongoing schedule where laypeople can come for a weekend and join in. Everybody needs to put in time on the cushion, and ongoing continuity of mindfulness is easier to do in a monastery than with the distractions of the city. Then they take that practice back to the city. And their presence informs our monastery, so that the greed, hate, and delusion we can see so clearly in the city are not forgotten by the monastics."
Strozer, like Snyder and the rest of the BZC team, can envision other payoffs, especially for underserved individuals. "I get ideas," she smiles, and tells me about one. "I'm a foster mom and also taught high school. I love teenagers—they're capable of much more than we give them credit for. You can go deep with them." In the proposed monastery land, she says, "there are very run-down cabins. I want to put together teams of teenagers with some carpenters. Teenagers have all this energy and don't know what to do with it. They're all over the map. I want to tell them, 'Okay, you have two weeks. These are your tools, this is your mentor. Your job is to learn to design and build a cabin.' They'll learn teamwork, and while they're doing it, we can talk about mindfulness or emotions." (Her vision for keeping the monastery running is notably progressive, too: "Off the grid. Solar, water, everything," she says.)
There are similar ideas for back in Brooklyn. Noting the San Francisco Zen Center's "foodie lineage"— Edward Espe Brown's famed Tassajara Bread Book, Greens restaurant, the organic gardens at Green Gulch—Snyder hopes to work hand in hand with local restaurateurs to place young people into food-service training opportunities that lead to good, rewarding jobs in the field.
Are any of these young people, or anyone who benefits from BZC's programming for that matter, likely to become Zen Buddhists?
"It happens," Snyder says, "but it's not a huge percentage. They may not love meditation, but they love it here. The feedback that we constantly get is that it's one of the only places in life they feel safe."
That's the main thing. "I'm not concerned with proving Buddhism," Snyder offers. "I just want it to be practiced in such a way that a kid on a skateboard in a Brooklyn park who feels alone can hear it." After all, he says, "the bodhisattva's vow is to save all beings. I can't imagine anything more revolutionary."