"Only a year ago," writes David R. Loy, "Barack Obama looked almost like the political equivalent of Maitreya, the Buddha-to-come. The election of a progressive African-American President seemed little short of miraculous."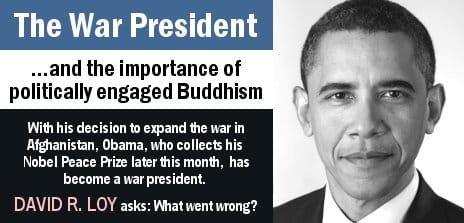 On December 1 Barack Obama announced that he was expanding the war in Afghanistan by sending 30,000 more troops to Afghanistan, bringing up U.S. troop levels to more than 100,000. He softened this with an overly-optimistic exit strategy ("troops will begin leaving within 18 months") that his aides – including his Secretary of War, Robert Gates — quickly played down. Suddenly we're deeper into yet another military quagmire, occupying and "pacifying" yet another country whose people do not want us – who have already successfully defended themselves against the British empire and the Soviet empire. But they didn't have Predator drones and Hellfire missiles.
With this decision Obama, who collects his Nobel Peace Prize later this month, has become a war president. …What went wrong?
I watched Obama's speech at West Point. As usual, it was well-written, although I find Obama's oratory less impressive than many others do. His rationale for expanding the Afghan war had some plausibility – if you haven't been following the news from there. But I got the feeling that Obama was boxed into this decision. To withdraw from Afghanistan would allow him to be called "the president who cut and ran," and no one likes the label "loser." Can you imagine what the Republican spin-machine would do with that? But what we most need today is a president with courage, who acknowledges what a disaster the Iraq and Afghanistan wars have been and who doesn't place top priority on the political games he must play to get re-elected in 2012. It looks like Obama won't be such a president.
Watching Gates on TV as he listened to Obama's speech, I was reminded that Obama did not choose a new Secretary of War: he re-appointed Bush's Robert Gates, a hawkish former head of the CIA deeply implicated in the Iran-Contra affair. Wasn't that a sign of something?
Only a year ago, during the last days of Bush's administration, Barack Obama looked almost like the political equivalent of Maitreya, the Buddha-to-come. The election of a progressive African-American President seemed little short of miraculous … were we about to enter the Pure Land?
Obama ran a brilliant campaign, long on rhetorical generalities, short on specific details. The key word was "hope," and hope was something many were thirsty for, after what they saw as the ignorant, incompetent and corrupt administration of George W. Bush. But the slogan was left vague, with little content – the better for each of us to project onto it whatever we felt was needed. In any case, we knew – or believed – that Obama's heart was in the right place.
Doubts began as he announced his appointments: some very good ones, but the most important ones quite disappointing. Obama's chief of staff, his first major appointment, was Rahm Emanuel, "the Karl Rove of the Democratic party," who supported the occupation of Iraq and worked to help elect other hawkish, pro-war democrats. He must be a hard worker: in between political appointments he earned $16.2 million over two and a half years as a banker.
In response to the world's greatest financial crisis since the 1930s, Obama could have turned to distinguished economists (and Nobel laureates) such as Joseph Stiglitz and Paul Krugman, who have written insightful critiques of our exploitative and destructive economic system. Instead, Obama appointed Lawrence Summers (head of the National Economic Council), Timothy Geithner (Secretary of the Treasury), and re-appointed Ben Bernanke (chairman of the Federal Reserve) – all three of them proponents of the financial system that collapsed last year and deeply implicated in its banking scandals. Having placed these foxes in charge of the chicken coop, it was no surprise that Obama continued Bush's bail-out of rich bankers at enormous taxpayer expense. (I remember reading a few months ago the comment of a disillusioned congressional aide on the influence in Washington of the big banks and investment firms: "The bankers own this place.")
Today unemployment remains extraordinarily high and the big gap between rich and poor is still getting bigger, but we are told that the economy must be recovering, because the stock market is going up again. Given the incredible level of public disgust with the financial system, there was a wonderful opportunity to push for fundamental change … but that opportunity has now passed, and the bankers have started to award themselves the same obscene bonuses they were rewarding themselves before the whole system began to collapse.
Obama vowed to address our dysfunctional health care system, and the basic problem is quite simple: the wealthy and powerful people who dominate this country do not want a comprehensive health care system, they want a profitable health care industry. The solution is also quite simple: a single-payer system along the lines of the UK, Canada, France and almost every other developed nation, which would be relatively easy to implement by extending Medicare. But the health insurance industry has many hundreds of well-paid lobbyists in Washington to promote its interests, and it now appears that, rather than solve the problem, the new system that Congress is about to set up will be even more lucrative for the insurers, since everyone will be required to have health insurance. "The [healthcare] industry and interest groups have spent $380 million in recent months influencing healthcare legislation through lobbying, advertising and in direct political contributions to members of Congress" (The Guardian, October 1, 2009).
I could go on to mention Bush's unconstitutional attack on civil liberties, which the Obama administration has continued, and Obama's disappointing approach to climate change negotiations, but enough is enough. Regardless of what Obama may or may not believe personally, in practice he is far from the progressive we need today. We live in a time of great crisis — social, economic, ecological — and a good part of the problem is a badly broken political system. Today there is no longer any significant difference between the wealthy people who control the economy and the powerful people who dominate the political system. As a result, we continue to be victimized by an economic system that requires never-ending growth, trashes the earth, and makes the very rich even richer, while more and more of the rest of us struggle to get by. As Dan Hamburg concluded from his years in the U.S. Congress: "The real government of our country is economic, dominated by large corporations that charter the state to do their bidding. Fostering a secure environment in which corporations and their investors can flourish is the paramount objective of both [political] parties." Every few years our votes are needed to legitimize the political system, and those votes are bought with incredibly sophisticated (and expensive) public relations and advertising campaigns. Except for that occasional ritual, it is delusive to think that we have government of the people, by the people, for the people.
Elsewhere I've argued that today the Buddhist "three poisons" of greed, ill will and delusion have become institutionalized: our economic system (corporate consumer capitalism) institutionalizes greed, our militarism is institutionalized ill will, and our "infotainment" media institutionalize delusion.* The three support and reinforce each other, which makes it very difficult to challenge any of them, especially since the people who control this interlocking system also happen to be the ones who benefit the most from it.
In the last few years, however, public dissatisfaction has been growing rapidly: the war in Iraq is now widely viewed as a disaster based on lies, and the economic crisis has exposed the corruption built into the financial system. There is some hope of a radical reformation, and many of us believed that an Obama administration might move in that direction. Regretfully, it is time to wake up and acknowledge that Obama is not doing that, and is not likely to do anything like that.
Why not? It is not yet clear to me how much we were deluded about Obama – that is, how much we were the dupes of yet another clever campaign – and (even more disturbing) how much his own intentions are being thwarted by a dysfunctional political system that would thwart any reformer. In either case, however, the extent of the crises that confront us require something much more than any new laws that this Congress may or may not pass. We don't need a liberal leader who may be slightly left-of-center; we need a populist, progressive challenger who is not afraid to take a chance and try something radical: to attempt breaking out of the present deadlock of two corrupt political parties and their corporate henchmen. I am not enough of a politician to offer details on how to do this, but there is enormous discontent in this country waiting for someone with the courage to articulate it and to offer leadership that points in such a new direction. It's already happening, of course – look at the faux "Tea Party" movement inspired by Rush Limbaugh and Fox News – and we can expect more such deluded responses to develop if more enlightened alternatives are not forthcoming.
There's no guarantee that a truly progressive movement would be successful – U.S. history is littered with failed populist parties — but, for those of us concerned about the enormous dukkha created by our corrupt political/economic system, there is really no alternative. The lesson to be learned from the Obama campaign is that it's a big mistake to expect the political/economic system to reform itself. People must demand the changes that are needed, a demand that assumes greater awareness of what is actually happening, and greater awareness is where Buddhism comes in. Buddhism is about dispelling delusions and seeing things as they really are, which means that Buddhism may have an important role to play in the great transformations that are needed if humanity and the biosphere are to survive and thrive in the future – a future that looks pretty grim right now.
The 2008 campaign that gave us President Obama exhilarated and exhausted many people, including many Buddhists, yet it's time to admit to ourselves that Obama is not doing what is needed, and it's time to revive a more politically engaged Buddhism. I'm not referring to a special Buddhist movement: any role that Buddhists might play will be minor, as part of a much larger global movement for peace and justice that has many faces and involves many different perspectives. But Buddhist emphasis on the liberation of awareness suggests that Buddhism might have a distinctive role to play in identifying what the basic problems are: greed, ill will, and the delusion of a self whose well-being is separate from the well-being of others. As well as addressing those "unwholesome motivations" in our personal lives, we need to find effective ways to challenge their collective, institutionalized versions.
---
* See, for example, "Wego: The Social Roots of Suffering" in Mindful Politics: A Buddhist Guide to Making the World a Better Place, and "The Three Poisons, Institutionalized" in Money Sex War Karma: Notes for a Buddhist Revolution, both published by Wisdom Publications.