Pursuant to the discussion going on around my previous post about the breaking (and dubious!) story about Osel, formerly known as Lama Osel of the Foundation for the Preservation of the Mahayana Tradition: the FPMT has published a letter from the young man himself.
This should dispel the rumors, undo some of the damage that some in the media have done,  and restore some harmony. An excerpt: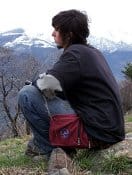 …certain media find ways to sensationalize and exaggerate an unusual story. So I hope that what appears in news print is not read and taken too literally. Don't believe everything that is written!
Experience shows that however hard one tries in interviews to sincerely and honestly convey key information, the printed result can tend towards sensationalism to get the most attention.
FPMT is doing a great job and Lama Zopa is an immensely special person – very inspiring and a great yogi.
Personally, my job is to find new ways in which to discover the true nature of our being. There is no separation between myself and FPMT — we are all working together in so many aspects and terrains. Humanity is our office.

You can see the whole letter here.
And note that Osel even signs off with "Big love," the phrase made so well-known by Lama Yeshe, the great teacher and founder of the FPMT. Osel was, of course, recognized as Lama Yeshe's reincarnation.