Each Friday, we share three topical longreads in our Weekend Reader newsletter. This week, LionsRoar.com's Rod Meade Sperry shares the lessons he's learned through the years from loving and losing pets. Sign up here to receive the Weekend Reader in your inbox.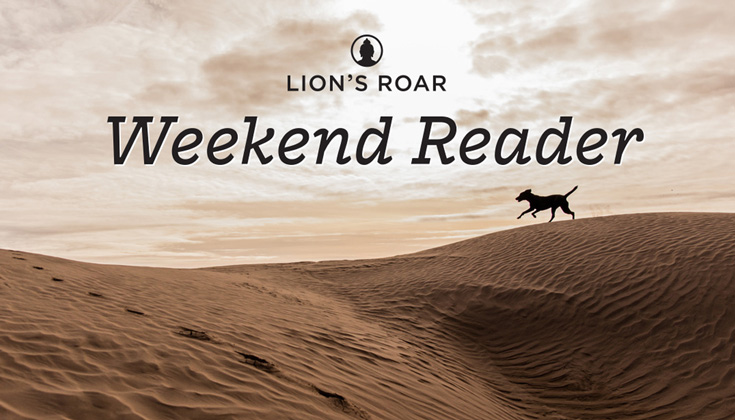 This is supposed to be the "pets" edition of the Weekend Reader. But for the first time in 17 years, I'm petless.
Our greyhound Marlow died in early 2014. It was tough. We cried. But got through it. Certainly, that was because Pie-Man, our Sheltie Terrier, and Mouse, our Tuxedo cat, were back at home.
In May, Pie-Man died. Now we were dogless. Life actually felt "wrong" without our dogs: not only extremely sad — I wailed after we put him down and found myself kind of scared by the sound that came out of me — but structureless. We were starting to get used to that when, a couple weeks ago, Mouse had to be euthanized. She was our first, and there's no doubt we loved her.
But I'm okay, pretty much. (I'll leave it for my partner to speak to her state.) Perhaps I'm a little punch-drunk or desensitized from losing our pets. Perhaps it's just that one might, if one is fortunate, get "better" at processing each new loss. No doubt. But I also know that reading about Buddhism and maintaining a practice has helped me.
Buddhism is famous, of course, for its teachings on impermanence, difficult human emotions, and death. It's good for us to contemplate our relationships to such things at all, but the dharma not only encourages us to do so; it sets our previous thinking on its head. (That's been my experience, at least.) And then there is Buddhism's emphases on kindness and compassion. When you practice with the motivation to make things better for others, it naturally helps you to make things better for individual beings as well. As such, the honor of pet stewardship was never lost on me.
That said, it'll probably be a while before we're ready to adopt another one. We still have love and body warmth to give, though, and right now it's Smidge — a truly charming Cavalier King Charles we're watching for friends — who's getting it. He'll go home tomorrow night, but that's okay — Marlow, Pie-Man, and Mouse aren't here, and we love them as much as ever. We don't have to own Smidge to, as my grandmother would say, "love him up."
Maybe we'll adopt in a couple years. Maybe we'll foster. Whichever happens, whoever next joins our family — and no matter for how long — we'll do our best to love them up. I hope you'll get something out of this selection of Lion's Roarpieces about how animals can bring out the best in us, and ways we might return the favor.
—Rod Meade Sperry, LionsRoar.com
Dogs comfort their human companions and parrots care for their injured mates. When we increase our understanding of how animals show compassion, says behavioral ecologist Joanna Burger, we understand more about ourselves.
Perhaps it is not surprising that dogs demonstrate care and compassion for their human companions — we have a long history together. Dogs are herding animals and, after evolving with us for more than 25,000 years, we're part of their "pack" and they want to keep the pack together and safe. But dogs are not unique in showing us compassion. Horses, for instance, have only been domesticated for about 5,500 years, yet they are also compassionate with us.
James Ishmael Ford on the toughest call a pet lover will have to make.
Question: I'm aware of the Buddhist exhortation not to kill, but my cat's health is declining and there's no doubt his pain can only be managed for so long. When, if ever, is it okay to put your pet down, and how do you work with it when the time comes?
Buddhist monk Ajahn Brahm shares his personal approach to loving-kindness meditation, also known as metta.
I prepare myself for metta meditation by imagining a little kitten. I like cats, especially kittens, so my imaginary kitten is to loving-kindness as gas is to a flame. I only need to think of my little kitten and my heart lights up with metta.