In the November 2019 issue of Lion's Roar, we asked our readers to tell us about their Buddhism-inspired tattoos. From dragons to lotuses, here they share why they've turned their bodies into sacred art.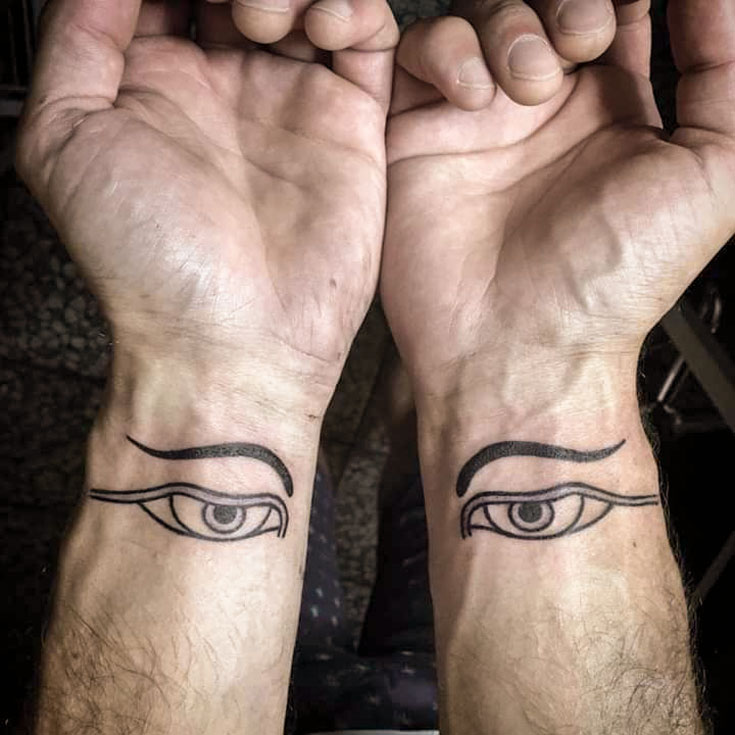 "Here is my dharma tattoo: Buddha's eyes, so I remember to watch myself and try to cultivate right view." —Maxime Geronimi-Bouilly, France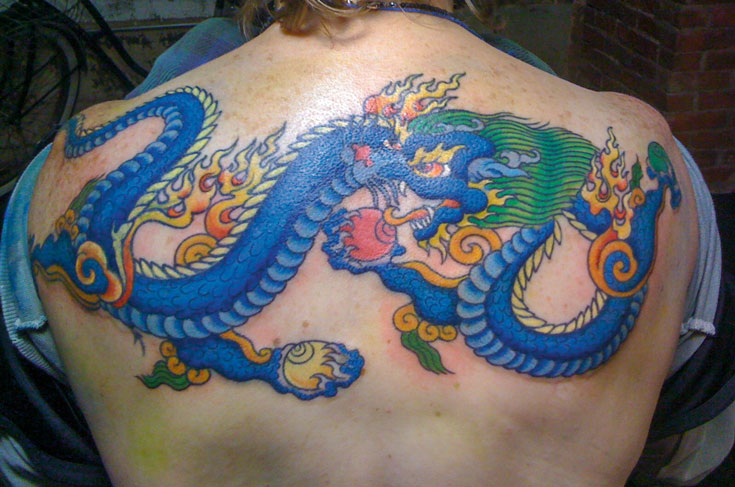 "A dragon because it is inscrutable, spontaneous, and aimless—acting in the moment with whatever arises." —Jeanine Hogg, Lakewood, Ohio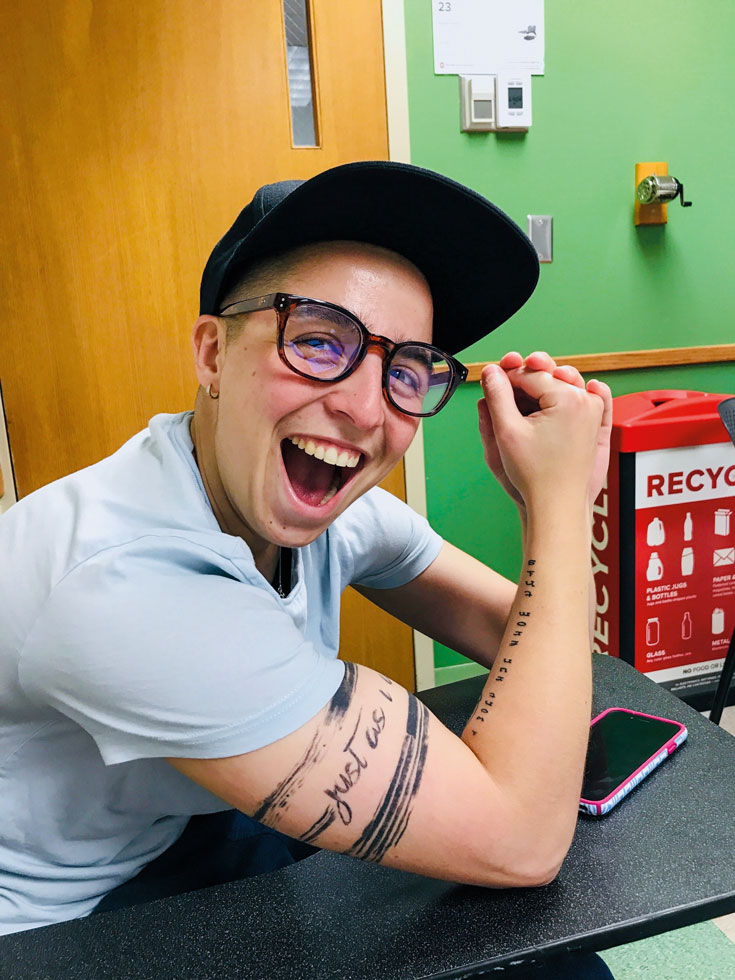 "As a transgender Buddhist, I often find myself struggling with self-hatred. In times of pain, I whisper to myself, 'Just as I am,' over and over. These words help heal my hurt, cultivate self-compassion, and soften my heart. My tattoo represents my basic goodness. The bands represent the Buddhist concepts of emptiness, or open space. It's about possibility and acceptance. I don't need to give up who I am to be lovable. I don't need to fundamentally change who I am to be worthy of existing. I am basically good—'just as I am.'" —Ray Buckner, Columbus, Ohio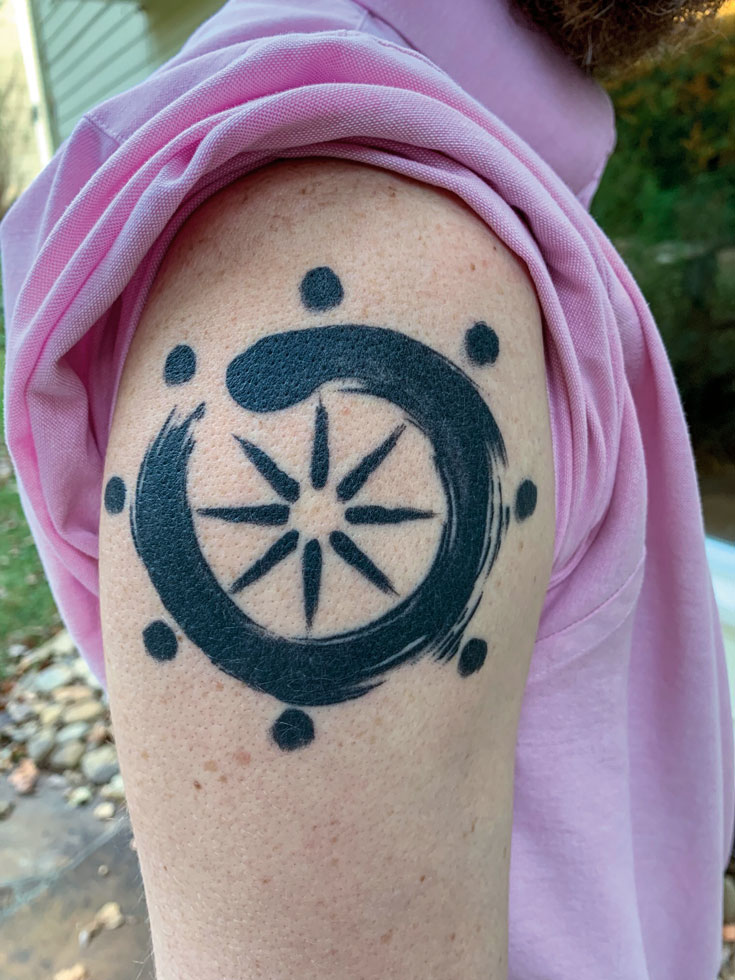 "My daughter designed it with me." —Alex Hoffmaster, Lilburn, Georgia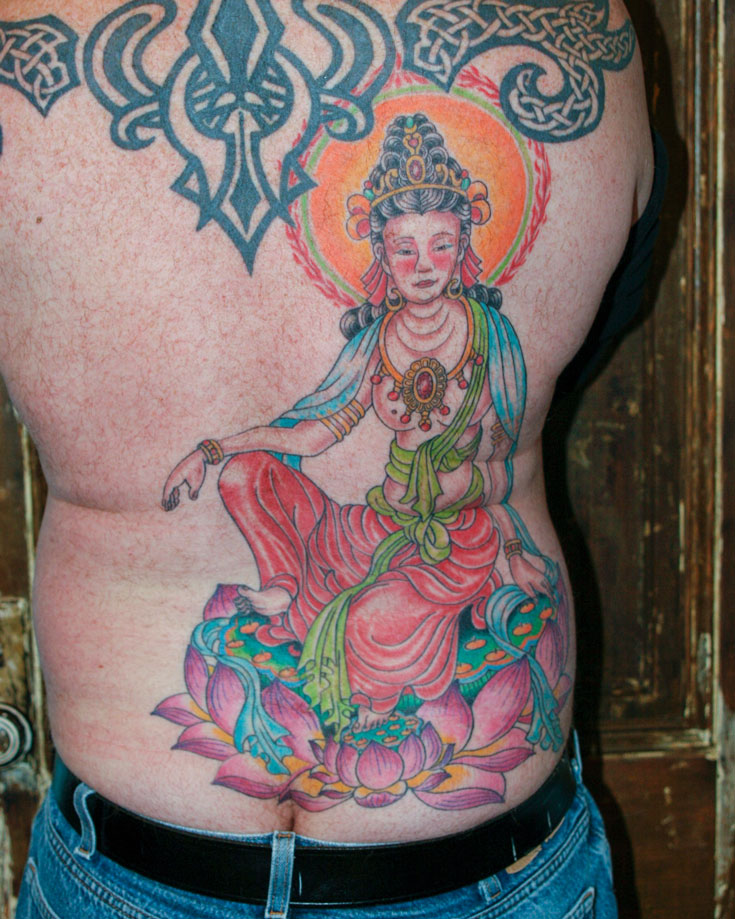 "I have an Avalokiteshvara on my back, so that she always has my back. It is placed so that when I sit, she sits on the cushion with me." —Rev. Daigan Gaither, San Francisco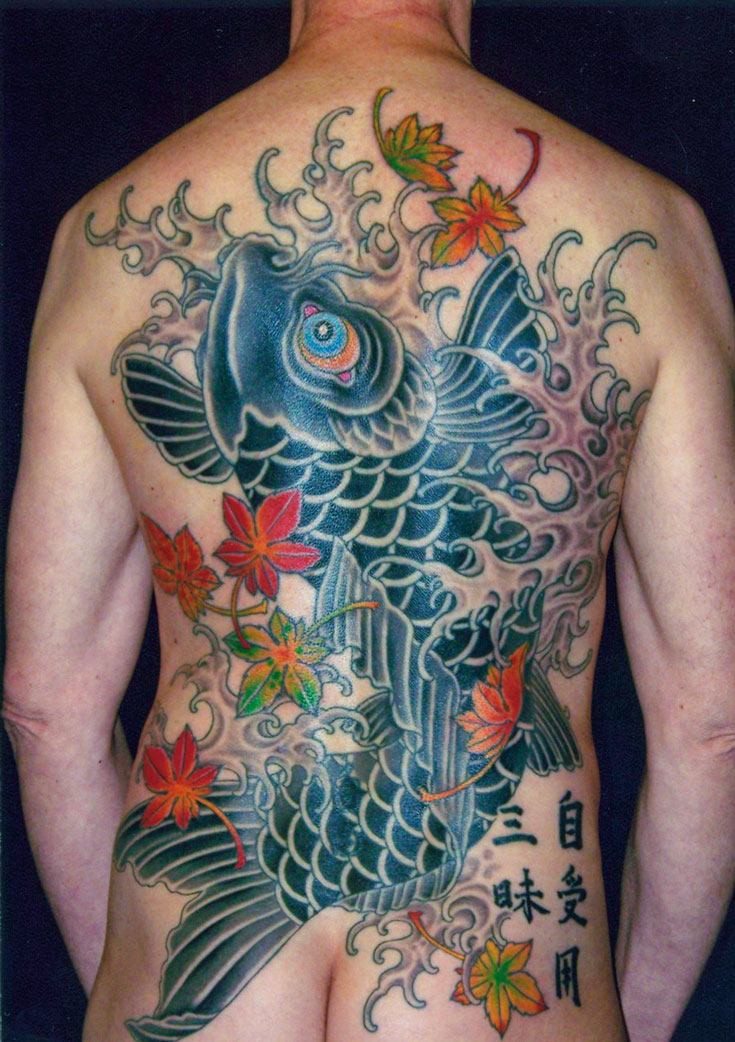 "I'm inspired by the phrase used by Dogen Zenji, jijuyu zanmei, "self-fulfilling samadhi." Through the practice of zazen we both celebrate and express the reality of enlightenment, which we can neither create nor destroy but which we can realize and express for the benefit of all beings. The calligraphy for this phrase by Dogen is part of this tattoo and shows up on my right hip." —Koshin Flint Sparks, Hawaii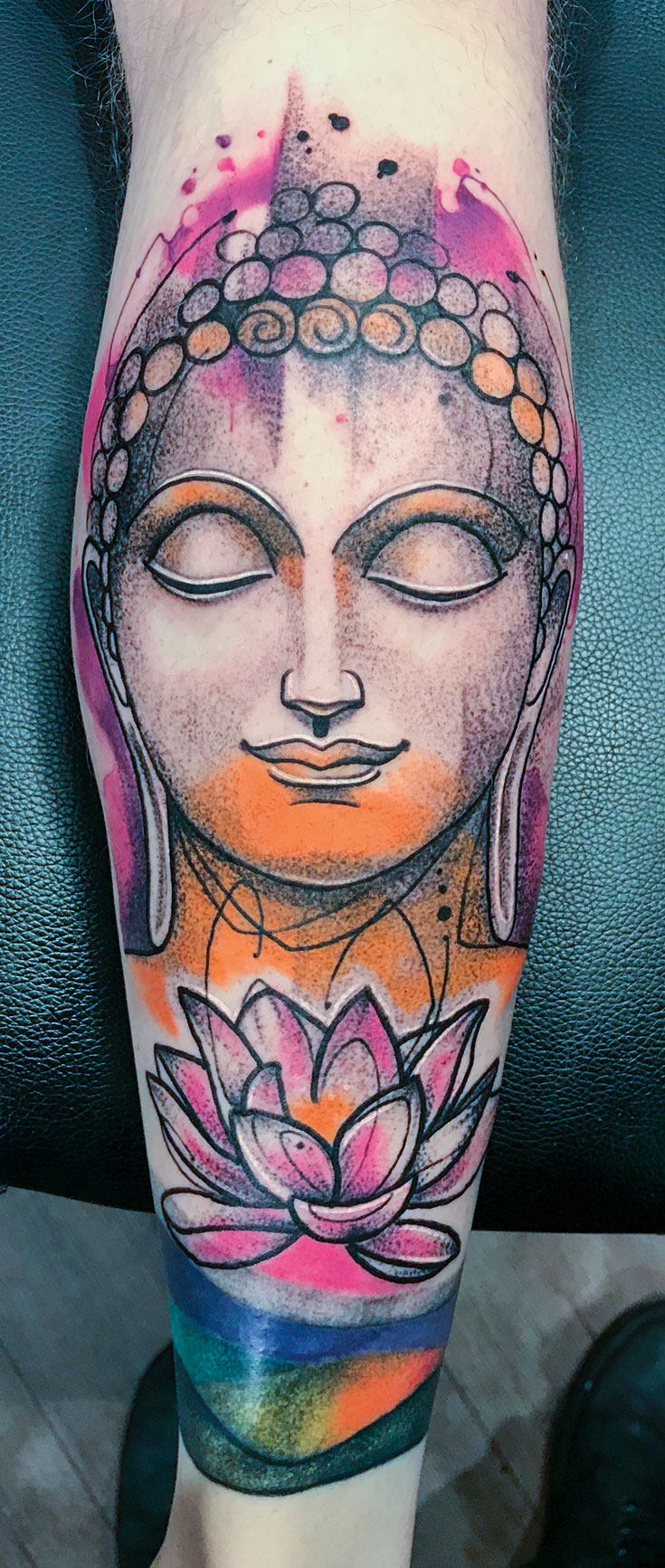 "This tattoo consists of a fluid rainbow, a Buddha, and a lotus flower. The rainbow represents my queer identity. The lotus reminds me to look for beauty, especially in the mud, and the Buddha is an invitation to cultivate wisdom and compassion for all beings. Often when I look at my tattoo, these words spring to mind: 'This is not me. This is not mine. I am not this.' I am reminded of anatta (non-self)and to not take 'me' so seriously." —Chris Webb, Amsterdam, Netherlands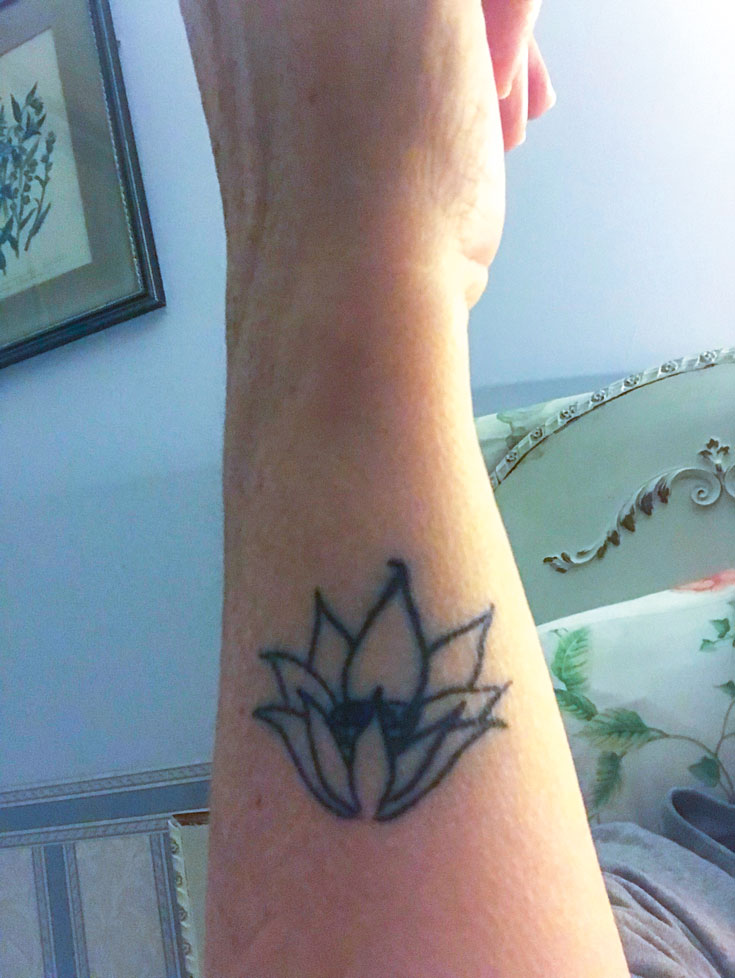 "Not long into my chemotherapy treatments my husband packed his bags and left. I was thrown into mental and emotional turmoil, not to mention the physical incapacity I was dealing with. Searching for some way to make sense of events, I found video talks by Tara Brach, and her wisdom saved my life. I listened, read, and practiced. The image of the lotus has been apt in my circumstance—beauty rising from the mud." —Judi Sillifant, Berkshire, United Kingdom
Thank you for reading Lion
'

s Roar. Now can we ask for your help?

Lion's Roar is a nonprofit. Our mission is to share the wisdom of the Buddha's teachings—to inspire, comfort, support, and enlighten readers around the world. Our aspiration is to keep LionsRoar.com available to everyone, providing a supportive, inspiring Buddhist community that anyone can access, from curious beginners to committed meditators. Do you share our aspiration? We can't do this without your help.

Lion's Roar reaches more readers like you than ever before. Unfortunately, advertising and other revenues are falling for print and online media. We know we have something deeply precious to share with the world, and we want to continue this important work. Can you help support our efforts now?

Lion's Roar is independent, unbiased, not-for-profit, and supported by readers like you. Please donate today and help the lion's roar echo for readers around the world.