Powerhouse singer k.d. lang played Halifax last night and dropped by our Lion's Roar Foundation office beforehand. Turns out she's as much a fan of our magazines as we are of her—she spent nearly 2 hours with our staff, talking about her life as a Buddhist, her projects underway with her teacher (Lama Chödak Gyatso Nubpa), and her love for our small city and province.

In concert, k.d. was as open and generous as she was with us in person. We hung off every long, resounding vowel, and wanted infinitely more—that's Constant Craving for you!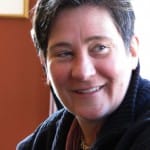 At the end, she dedicated a tune (Shadow and the Frame, from the album Watershed) "to my Buddhist friends at the Shambhala Sun." (The former name of Lion's Roar.)
Read the interview we did with k.d. last year where she talked for the first time about the dramatic changes in her life since becoming a Buddhist.
Photos: k.d. viewing our covers with former publisher Jim Gimian; talking to staff;  admiring an image of Guru Rinpoche.