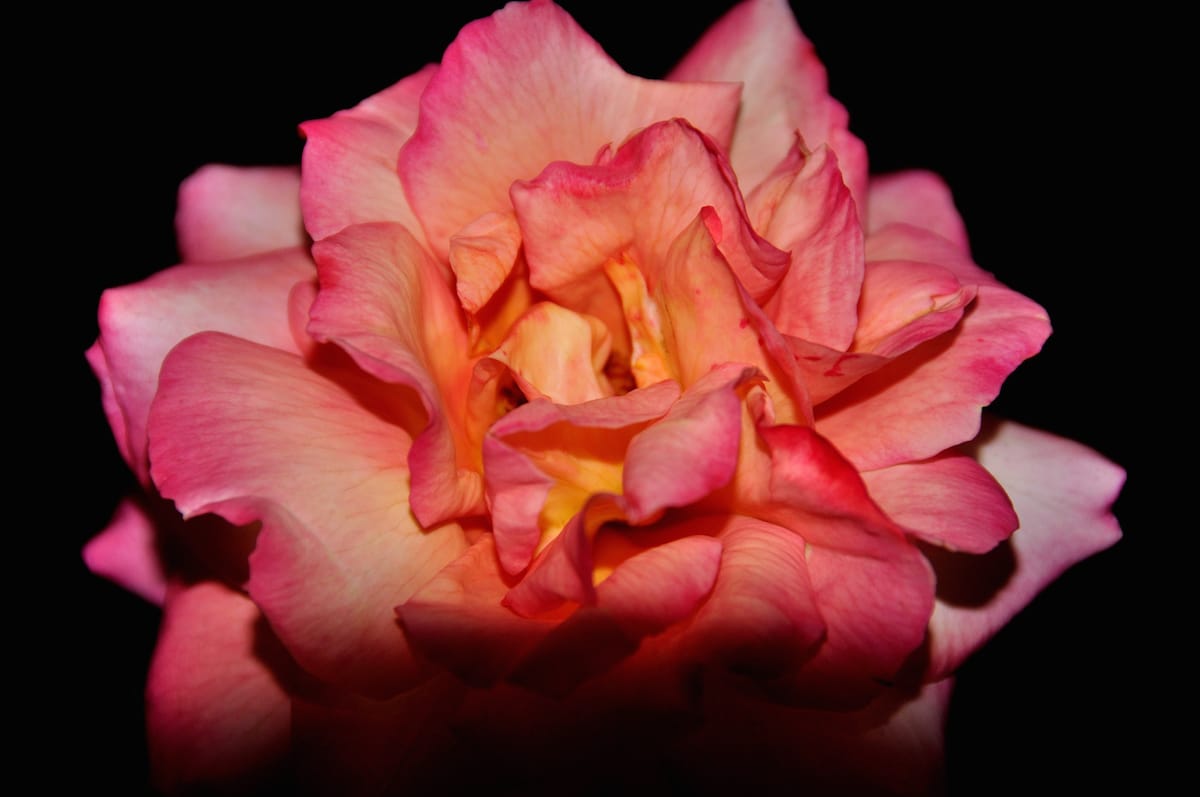 Photo by
Reji.
Desire is the creative force that propels our existence, says Anne Waldman, and the dance of opposites is transcendent play.
With his huge hammer again Eros knocked me like a Blacksmithand doused me in a wintry ditch
—Anakreon, translation by Anne Carson
Aristophanes gives a marvelous speech in Plato's Symposium, wherein he accounts for the nature of human eros, or desire. It seems that humans were originally round organisms, each one composed of two humans, yet joined into one perfect sphere. They rolled around merrily until they grew overly ambitious and attempted to roll straight up to Mount Olympus, at which point Zeus cut them in two, punishing their hubris. "Sliced in two like a flatfish, each of us is perpetually hunting for the matching half of himself," states Aristophanes. The mystery of eros seems to rest in this essence of bifurcation: I/Other, Love/Hate, Fullness/Emptiness, ad infinitum. As if we must begin with loss or lack.
Is that the crux of it? That we are actually seeking the missing Other that is a lost limb of ourselves? Is it comparable to the perpetual search for a lost father or mother? Or a desire to return one's clumsy, lonely body to its original oceanic (amniotic) fluidity? Or perhaps to a state of being unborn, as in William Blake's poem "The Book of Thel," in which Thel arrives at the mouth of the womb about to take birth, and instead shrinks back in horror of old age, sickness, and death.
And yet we have these polymorphous perverse bodies, wired for pleasure and procreation, that reach out again and again to touch, to give, and to take of pleasure. Copulation is one of the interconnected links in the nidana chain of twelve contributory causes or conditions that give rise to the cycle of samsara, or suffering, and it leads inexorably to death and decay and rebirth. It is an Indra's Net—the cosmic web strung with jewels in such a way that the reflection of all the other jewels can be seen within each jewel, showing how all phenomena are interrelated. And it is a rolling wheel of cause and effect. I remember Chögyam Trungpa Rinpoche saying that the ways and means of sexual desire and gratification were numberless. Certainly the copulating deities on Tibetan thangkas are meant to arouse vivid and potent energies. This yab-yum symbolism depicts emptiness and compassion, upaya (skillful means) and prajna (wisdom), and other oppositional parities. Sparks fly. The mind of the meditator is challenged to grasp and break through dualities. Every pore in the body is considered an orifice, an eyeball, a site for enlightenment. Isn't this sexy?
What makes the desire for Other—that obscure object of desire, to quote filmmaker Luis Bunnuel—such a trope in myth, history, in quotidian reality? Who among us does not suffer the pangs and sting and itch of eros? It is the great unifier. Why such resentment from the Greek cynic poets? Is it ever totally gratified?
The Kama Sutra of Hindu India is the grand manual of lovemaking, although somewhat sexist in approach as it favors the male. It brings sexual desire down to a practical, explicit level of action, less bothered by the mental stress and fuss of unrequited love. Kama is the word for desire. The kama loka is the desire realm to which we are all privy. We exist only because we are propelled by desire.
Assuredly, the greatest erotic poetry of the East is that of India. Most sensuous are Kalidasa's "Meghadhuta" and the later "Prem Sagar," or "The Ocean of Love," the tenth book of the Bhagavata Purana, which has formed the scripture of the Vaishnava cults. This worship singles out the loves of Krishna. Secular erotic poetry is much more common among the Arabs than religious poetry and the popular ghazal, a short lyric, takes on themes of love and intoxication. The Bible's sensuous Song of Songs was probably originally a collection of wedding songs. Buddhist poetry seems, however, to err on the side of renunciation. In the Therigatha, a famous collection of songs of Buddhist nuns, the Theri Adakasi sings:
I was a prostitute with fees as large as the whole kingdom of Kasithe sheriff fixed it: I was priceless Then I got disgusted with my figure No one was interested in it anymoreUsed up, tired, weary—this old bod good for sex, this sex money body Where does it go? How far does it go? never again, chasing rebirth after rebirth after rebirth
Yet renunciation would not exist without eros. Eros is the age-old goad and rarely the sex act itself. The pleasure exists in the imagination, in longing, waiting, wanting—and in the bittersweet pain of that condition.
"Anticipation wheels me around! The imagined relish is so much sweeter that it intoxicates the senses," cries Shakespeare's youthful Troilus as he plunges into the steamy arms of a very false Cressida. Troilus and Cressida, set against the backdrop of the Greek–Trojan war and the machinations of a bawdy Helen, is Shakespeare's most erotically cynical and erotically modern play.
With genetic manipulation in the wings and the mores of other cultures and traditions coming to the cultural amalgam that is our complex and fragile world, one wonders about the ongoing fate of eros as a conundrum and koan and meditation. Will eros still exist when we inhabit our bubble suits on the moon and Mars?
Apparently not, which makes it such a delightful tease and unending source for curse and speculation. Eros is at the root of so many artistic endeavors. It never exits our dream life. It pursues us, haunts us …it is ageless in us even as we age.
The dark side, of course, is the willful abuse of Other. Of victimizing Other through sexual domination and force.
Desire runs through several of the Buddhist descriptions of the Six Realms—the six different styles of samsaric occupation. It is manifest in the hungry ghost, or preta, realm as craving, grasping, predation. One constantly hungers for exotic entertainment, new experience, greater sensual delights—more stuff of all kinds—and is instead suspended in a perpetual state of unfulfilled desire. This poverty mentality is symbolized by a hungry ghost with a tiny mouth, thin neck and throat, and gigantic belly. This ghost is always hungry and finds it acutely painful to eat with such a miniscule mouth. As hungry ghosts, the more we lust after something, the more elusive—and illusive—it becomes, and the more ravaged and desperate our mentality. Not a very attractive lover.
Passion is the driving occupation in the human realm. The human psyche believes that only pleasurable objects can bring happiness, and thus it attempts to magnetize them and all kinds of Others into its sphere. One wants new ideas, strategies, someone else's power, glory, scintillating intellect, fame, and so on. One wants to gobble up another person whole! It is the most restless, competitive, and frustrated of the realms.
In the god, or deva, realm one is more "blissed-out," and the pleasure here is more of a sense of meditative absorption, a self-consciousness, a mental state of swelling on one's own ego. The goals are always pleasure-oriented, seductive—more wealth, beauty, sex. More more more. This kind of mind hallucinates pleasure domes, magnetizes all kinds of escapes and narcotics to perpetuate its solipsism. Buddhist scriptures describe the analogy of the silkworm binding itself with its own silk thread, which invariably leads to suffocation.
Desires of the warring god, or asura, realm are based on paranoia and lead to the unmitigated aggression we see in our own war culture, exemplified most egregiously by the White House and Pentagon mentality. Everyone is the enemy and must be co-opted or destroyed. Playful eros is sadly lacking from the current national political screen and is replaced by an uptight fundamentalist pathology that wants the whole world to either go up in some kind of Armageddon fantasy or become straight, white, male, and weird. What secret subtext goes on here?
The troubadour poets honored the unobtainable mistress, and the king/knight/warrior culture used her as an emblem or raison d'être for countless battles and crusades. A bittersweet passion lights up the poems, the stance is one of yearning but with an ennobled, almost passive twinge. One would fight to the death for the lady liege, the madonna, and be happy with a talismanic scarf, a kind glance. Of course, there are secret scenarios to all the poems and great intrigues in the courts where troubadours had some sway.
Dakini on a Spree?
Pragmatism first
Then let me represent your body with
words: "woman," "man," all the
conventionalized signs
"straight," "gay," "diverse"
but "in between" too.
A Hindu goddess?
A scarf of Islam?
A daughter of Rebeccah?
An opaque Quatro Century madonna?
Dakini on a spree?
Life is possible, she says, with my body
which is woman all the way down
which is imagination and desire
all the way up towards "heaven"
Pleated transparencies, twinkle of an eye
gesture, plea, shock, surprise
In a topsy-turvy world beyond gender:
the pillow is the desk
the foot is the plinth
war will never happen
the arm is the stranger
the mouth is the mystery
the face is a face you love
heaven waits
the clouds are rambunctious now
Two
Will want "something"
remember that "something"
A bouquet of perfumed stars?
Sun in his hair
Her wing in his hand
He said put in
"we are together"
She did. And "intense"
She did. She did.

And, she said, "flame?"
As in "you are my . . . ?"
"of like mind," was another
All that, and desire.
---
References for poems
Eros, the Bittersweet, Anne Carson, Dalkey Archive Press, 1998
Songs of the Sons and Daughters of the Buddha, translated by Andrew Schelling and Anne Waldman
Vow to Poetry, Anne Waldman, Coffee House Press, 2001
In the Room of Never Grieve, Anne Waldman, Coffee House Press, 2003
Anne Waldman is a poet, editor, performer, teacher, and activist who has published over thirty printed volumes, including the recent poetry collection "Structure of the World Compared to a Bubble". She is visiting writer and director at The Bowery Arts and Sciences Ltd., a nonprofit organization in New York dedicated to preserving and enhancing the oral tradition of poetry.