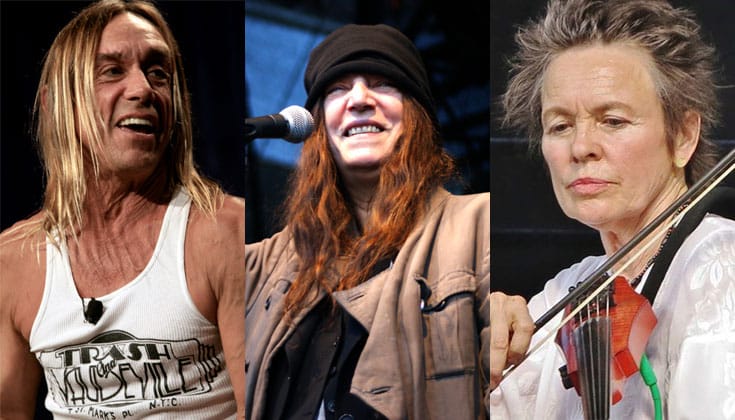 Iggy Pop (left) by
Kris Krüg
. Patti Smith (center) by
Rebekka
, and Laurie Anderson (right) by
Bill Gordon
.
Iggy Pop, Patti Smith and her Band, and Laurie Anderson will perform at the Tibet House US 30th Anniversary Benefit Concert, Rolling Stone reports.
The benefit will be held at Carnegie Hall in New York City on March 16th. This year's concert also serves as a celebration of composer Philip Glass's 80th birthday. Glass, the artistic director of the show, crafted the lineup of performers, which includes New Order's Bernard Sumner, Phil Cunningham and Tom Chapman, Tenzin Choegyal and Jesse Paris Smith, the Scorchio Quartet and harpist Lavinia Meijer.
Proceeds from the concert benefit Tibet House US. The non-profit organization was founded in 1987 at the request of His Holiness the Dalai Lama. It is "dedicated to preserving Tibet's unique culture at a time when it is confronted with extinction on its own soil."
Photorealist artist Chuck Close, actors and husband-and-wife duo Maggie Gyllenhaal and Peter Sarsgaard, and filmmaker Arden Wohl will serve as honorary chairpersons.
THANK YOU FOR READING LION'S ROAR. CAN WE ASK FOR YOUR HELP?
At Lion's Roar, our mission is to communicate Buddhist wisdom in today's world. The connections we share with you — our readers — are what drive us to fulfill this mission.

Today, we're asking you to make a further connection with Lion's Roar. Can you help us with a donation today?
As an independent nonprofit committed to sharing Buddhist wisdom in all its diversity and breadth, Lion's Roar depends on the support of readers like you. If you have felt the benefit of Buddhist practice and wisdom in your own life, please support our work so that many others can benefit, too.

Please donate today — your support makes all the difference.

Lion's Roar is a registered charity in the US and Canada. All US & Canadian donations are tax deductible to the full extent allowed by law.