On the Mindful Kids blog is a grab bag of resources for sharing mindfulness with children. A good one appeared this week—and kids, do try this at home!—a pebble meditation inspired by the teachings of Thich Nhat Hanh. You'll find all the resources you need: downloadable instructions, booklet, and playcards. All kids need to do is get off the couch and collect some rocks.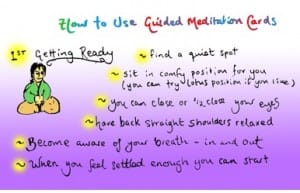 If pebble meditating is new to you, here's the gist:
We invite each child to sit up straight and relaxed and place four pebbles on the ground next to him or her.

We invite three sounds of the bell. Then we invite each child to pick up the first pebble and say:

Breathing in, I see myself as a flower. Breathing out, I feel fresh. Flower, fresh (3 breaths)

The keywords we continue to practice silently are "flower, fresh" and we breathe together quietly for three in and out breaths, really being a flower and becoming fresh.

The next three pebbles are:

Breathing in I see myself as a mountain, breathing out, I feel solid. Mountain, solid. (3 breaths)

Breathing in I see myself as still, clear water, breathing out, I reflect things as they really are. Clear water, reflecting. (3 breaths)

Breathing in I see myself as space, breathing out, I feel free. Space, free. (3 breaths)

End with three sounds of the bell. (Children are very capable of guiding this meditation for other children. They really enjoy inviting the bell for each other).
THANK YOU FOR READING LION'S ROAR. CAN WE ASK FOR YOUR HELP?
At Lion's Roar, our mission is to communicate Buddhist wisdom in today's world. The connections we share with you — our readers — are what drive us to fulfill this mission.

Today, we're asking you to make a further connection with Lion's Roar. Can you help us with a donation today?
As an independent nonprofit committed to sharing Buddhist wisdom in all its diversity and breadth, Lion's Roar depends on the support of readers like you. If you have felt the benefit of Buddhist practice and wisdom in your own life, please support our work so that many others can benefit, too.

Please donate today — your support makes all the difference.

Lion's Roar is a registered charity in the US and Canada. All US & Canadian donations are tax deductible to the full extent allowed by law.