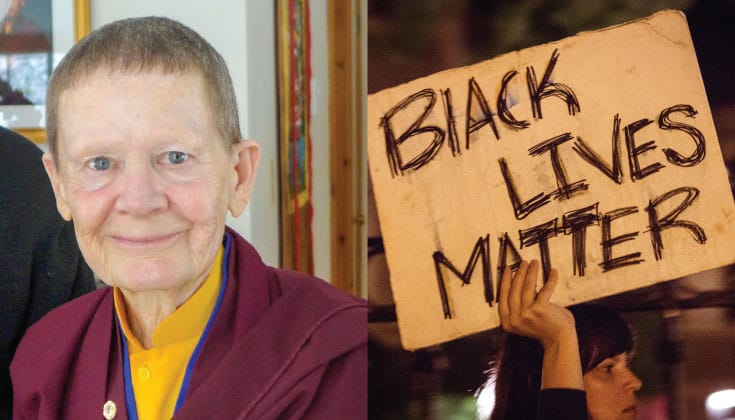 Pema Chödrön by Liza Matthews. Black Lives Matter protestor by
Tony Webster
.
Buddhist teacher Pema Chödrön took to Facebook Monday to address racial injustice and Black Lives Matter. Her comments come days after the July 5th police shooting of Alton Sterling, the July 6th police shooting of Philando Castile, and the July 7th and 8th killing of 5 police officers in Dallas. In her letter, Pema also references black teenagers Emmett Till, who was lynched in 1955, and Trayvon Martin, who was shot in 2012.
Here follows the post in full.
Pema spoke about current events today and here is what she has to say:
"It has finally really gotten through to me how dangerous it is to be black in America, especially for black men. It feels like Emmett Till all over again. Even in the case of Trayvon Martin, who was killed by a private citizen, I wonder 'How could it be that George Zimmerman was not convicted of any crime?' As this systemic oppression is seen over and over again in full sight with no justice, it is not surprising that there will be violent reactions such as the tragic shooting of 12 innocent police in Dallas.

If parents of black children have to teach them how to behave with police so they won't get killed, there is something wrong with this picture. This situation is deeply disturbing to most Americans, including most police officers.

In the US, racial injustice has been going on since the days of slavery. But what is different now, is that the videos of the murders are there for all to see, and white people can no longer ignore what is going on. I am one of them. I don't know what the solutions are. In fact, anything I would come up with I am already hearing from Black Lives Matter, Dallas Police Chief David Brown, and others, but there has got to be a way for us to move toward justice for all these victims of endemic racism.
The root problem is fear and hatred and how this escalates, which is where my kind of teachings could be useful. I am committed to continue to help where I can."

~Pema Chödrön
For more Buddhists' responses to last week's events:
Buddhist teachers, communities respond to Sterling and Castile deaths, Dallas attack
For teachings by Pema on fear, hatred, compassion, and peace, as described in her letter, see the following:
There is a key moment, says Pema Chödrön, when we make the choice between peace and conflict. Here she describes a practice we can do at that very moment to bring peace for ourselves, for others, and for the world.
Pema offers further explanation of this practice, which she says "dissolves the armor of self-protection we've tried so hard to create around ourselves."
An introduction to the life, books, and teachings of Pema Chödrön, one of America's most beloved Buddhist teachers.
For more on fostering peace, see this collection of teachings: