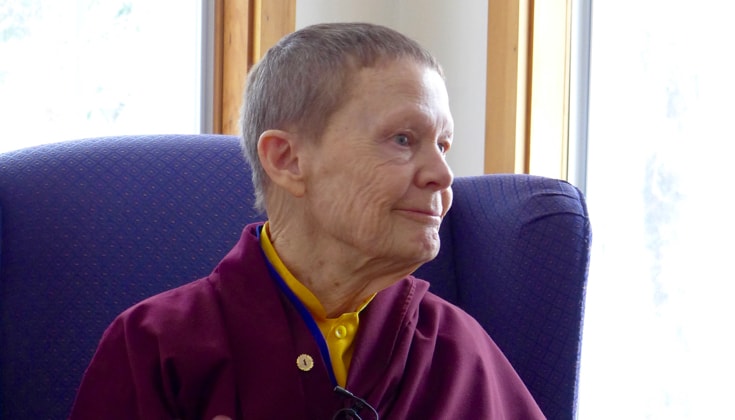 Pema Chödrön. Photo by Liza Matthews.
UPDATE: This story has been updated to include a response from the Shambhala Board.
Pema Chödrön, a bestselling author and one of the best-known American Buddhist teachers, has stepped down as a senior teacher (acharya) in the Shambhala organization.
In a letter released yesterday, she states that she was "disheartened" by news that Shambhala leader Sakyong Mipham may resume teaching this year with the approval of the organization's board. Sakyong Mipham has currently "stepped back" from his roles in the community after allegations against him of sexual assault and clergy sexual misconduct.
"I experienced this news as such a disconnect from all that's occurred in the last year and half," Chödrön says in the letter. "It feels unkind, unskillful and unwise for the Sakyong to just go forward as if nothing had happened without relating compassionately to all of those who have been hurt and without doing some deep inner work on himself."
While noting that "I haven't actually served as an acharya for a long time, and I have been considering retiring for a few years," she says that at this point "I do not feel that I can continue any longer as a representative and senior teacher of Shambhala given the unwise direction in which I feel we are going," she says.
"How can we return to business as usual," she writes, "when there is no path forward for the vast majority of the community who are devoted to the vision of Shambhala and are yearning for accountability, a fresh start, and some guidance on how to proceed? I find it discouraging that the bravery of those who had the courage to speak out [about sexual abuse] does not seem to be affecting more significant change in the path forward." She says indications the community is "returning to business as usual is shocking and disheartening."
Pema Chödrön was an early student of the late Chögyam Trungpa Rinpoche, founder of the Shambhala organization. In 1981, she was one of the first Westerners to be fully ordained as a Buddhist nun and since 1984 has been closely associated with Gampo Abbey in Cape Breton, Nova Scotia, She is the author of such Buddhist classics as The Wisdom of No Escape, Start Where You Are, and When Things Fall Apart. In addition to her popular books and teachings, she has been committed to the development of Buddhist monasticism in the West.
In yesterday's letter resigning as a senior teacher in Shambhala, Chödrön suggests a way forward for the community's leadership: "the Board could be proactive and invite a few small groups of people with differing views to propose ideas for how we can go forward – ways that include everyone in the community and that provide accountability for all that has happened … that, in my opinion, would be very wise."
In response to Pema Chödrön's letter, the board of the Shambhala organization issued a statement saying:
The Shambhala Board respects Ani Pema's decision to retire from her position as acharya. She has expressed to us that she would like to remain a part of the Shambhala community… We have been in dialogue with her, and are planning a meeting in the coming weeks to discuss with her ideas about how the organization can move forward.
The statement from the Shambhala Board also quotes a private communication from Pema Chödrön to the board yesterday in which she wrote:
At this time, I am still very hopeful that a path forward that would include everyone in the community can be designed and implemented. Therefore, I have no intention of leaving the Shambhala community and would always do my best to be there for anyone who might need it. However if no path forward can be found, that would break my heart, and I'm not sure what I would do.
Thank you for reading Lion
'

s Roar. Now can we ask for your help?

Lion's Roar is a nonprofit. Our mission is to share the wisdom of the Buddha's teachings—to inspire, comfort, support, and enlighten readers around the world. Our aspiration is to keep LionsRoar.com available to everyone, providing a supportive, inspiring Buddhist community that anyone can access, from curious beginners to committed meditators. Do you share our aspiration? We can't do this without your help.

Lion's Roar reaches more readers like you than ever before. Unfortunately, advertising and other revenues are falling for print and online media. We know we have something deeply precious to share with the world, and we want to continue this important work. Can you help support our efforts now?

Lion's Roar is independent, unbiased, not-for-profit, and supported by readers like you. Please donate today and help the lion's roar echo for readers around the world.