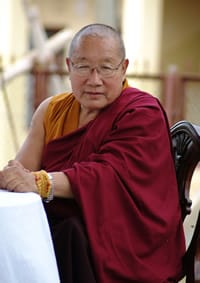 We are sad to report the death of His Holiness Penor Rinpoche, a senior Tibetan teacher and former head of the Nyingma lineage. It was announced earlier today that he had been admitted to the intensive care unit at Columbia Asia Hospital in Bangalore, India. His death has just been reported by Andrew Rose, a member of the board of directors of ODD. Penor Rinpoche was head of the Palyul monastery in South India and a highly respected lineage holder with a substantial following in the West.
We will report more details on his passing and on funeral plans when they become available.
Andrew provides this list of links to teachings by Penor Rinpoche, including the 4-part documentary  on his life and activities, "The Compassionate World of H.H. Penor Rinpoche".
Update: Rinpoche's organization main organization, Palyul Ling International, released the following letter on March 28:
This is to formally announce that the 11th Throneholder of the Palyul Lineage of the Nyingma School of Tibetan Buddhism, His Holiness Pema Norbu Rinpoche entered the stage of Thugdam,  the final stage of meditation, as of 8:20 PM on Friday, March 27, 2009, at the Namdroling Monastery in Bylakuppe, South India.

Earlier, at noon, His Holiness received offerings from many of the highest Nyingma Tulkus, Khenpos, and Lamas who had assembled to pay homage to him. Rinpoche left Columbia Asia Hospital at 3:30 PM with the help of the Bhutanese Government who provided an Indian police escort. He reached Palyul Namdroling at 6:40 PM and remained on his bed at the residence. Tulkus, Khenpos and Lamas did aspiration prayers together with His Holiness until 8:20 PM. At that time Rinpoche looked around and then closed his eyes and went into meditation.

Prayers continued for 5 minutes and then everyone remained in silence for the next two hours. His Holiness' meditation continues today, and is expected to continue for the next several days. When His Holiness releases his body from meditation, there will be an official acknowledgement of the final passing, allowing everyone to pay their respects according to tradition.

Kyabjé Drubwang Pema Norbu Rinpoche was born in 1932 in the Powo region of Kham, Eastern Tibet. His Holiness settled in South India where he built, with his own hands and with the help of a few monks, Namdroling Monastery . The monastery has grown into one of the largest Tibetan Buddhist Dharma centers in the world, housing over 6000 monks and nuns in the complex.

His Holiness also built temples and established dharma Centers around the world – in Taiwan, Hong Kong, Singapore, Malaysia, Philippines, Australia, United Kingdom, Greece, Canada and the United States – among others. His Holiness frequently traveled to teach and give empowerments at all of them. Worldwide, His Holiness is universally revered for his loving kindness and compassion, pure upholding of the Vinaya and ceaseless dedication to the welfare of all beings. Wherever he went, has brought and nourished the Buddha-Dharma everywhere he has been.

He will live forever in our hearts.

Lama Lobsang Chophel, Secretary
28 March, 2009
Sincerely,

Palyul Ling International