It was prescient of author, explorer and Zen priest Peter Matthiessen to say that his 33rd book, In Paradise, would be his "last word". Matthiessen died April 5 at 86; Penguin's Riverhead Books published In Paradise today.
The novel chronicles a Buddhist contemplative group's complicated outer and inner journey to the site of the Nazi extermination camp at Auschwitz for a "bearing witness" meditation retreat. Matthiessen drew from his own participation in the first of just such retreats conducted by Zen master Bernie Glassman—who today posted a loving remembrance of Matthiessen, calling him "my first Dharma successor"—and members of his Zen Peacekeepers group.
Several reviews of In Paradise are now online, full of praise for the piercing, lyrical insight and honesty of Matthiessen's prose, but with reservations—that Matthiessen himself had—about approaching a subject as mammoth and dense and well-worked-over as the Holocaust at such a remove. Here is a sampling: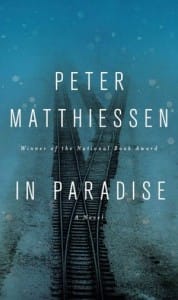 Ron Charles at The Washington Post:
"Restricted to the narrow, repetitive and mostly silent activities of this death-camp retreat, In Paradise moves through the week in a series of precisely drawn moments and memories as the participants tour the railroad tracks and the decrepit crematoria. Matthiessen's descriptions are poetic and scarifying. Without stooping to genocide pornography, he creates indelible vignettes about what remains and what took place here. No reader will ever forget his brief, piercing visions of terrified children pulled from the trains or panicked women shut up in the gas chambers.

"And yet the book continually undercuts itself and questions its own motives."
Sam Sacks at The Wall Street Journal:
"For In Paradise…Mr. Matthiessen constructs a microcosmic society of the close-quartered participants to gripping effect…The scenes among these clashing characters are uncomfortably realistic, at times bleakly funny and uncanny in their ability to anticipate the reader's objections both to the idea of a meditation retreat in Auschwitz and, more broadly, to the steady onslaught of Holocaust fiction. The first half of In Paradise is an eloquent refutation of its own reasons for existence. As its witness-bearers descend into bickering, they seem to demonstrate, in [the novel's central character] Olin's jaundiced words, that "even horror becomes wearisome…

"For all its steely self-awareness, the novel makes the error that is common in the bulging library of Holocaust fiction: It hallows the place instead of the people. And in its message of all-inclusive transcendence, In Paradise seems to signal that there are no longer any cultural barriers to stop authors from claiming the Holocaust as their own."
Sam Coale at The Providence Journal:
"Peter Matthiessen's often brutal and unflinching lyricism, the depth of his conflicted characters, and the presence of the terrifying, brooding, eerie and banal landscape of Auschwitz and Birkenau create an emotionally wrenching and metaphysically speculative narrative that will leave you drained, enriched, at times weeping and full-souled."
Hear NPR's audio review of In Paradise and profile of Matthiessen here, and Terry Gross's 1989 Fresh Air interview "on writing and Zen Buddhism" with Matthiessen here.