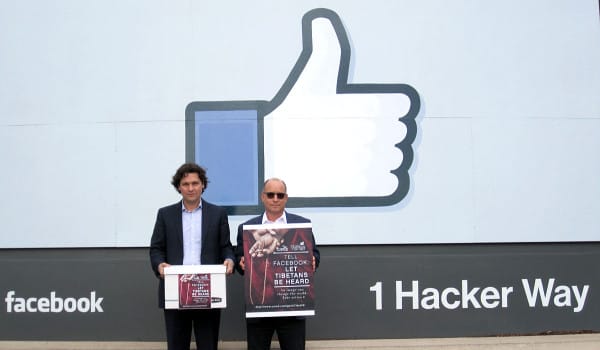 Photo via SaveTibet.org.
The nonprofit International Campaign for Tibet has delivered a petition with 20,449 signatures to Mark Zuckerberg, CEO of Facebook, affirming the right of Tibetan voices to be heard without censorship. The ICT reports that on December 26th, the Tibetan writer Tsering Woeser posted to Facebook about the death by self-immolation of a 38-year-old monk, Kalsang Yeshe, in front of a police station near his monastery in eastern Tibet. Woeser's post, which included a link to a video about the self-immolation, was deleted by Facebook within a few hours. Although she was later able to post the same material from a different user's account, Woeser found the move disturbing, telling The New York Times, "I was really surprised. I couldn't believe my eyes. I thought, 'How is it that this has become like a Chinese website?' "
In response, Facebook said in a statement, "We work hard to balance expression and safety. However, since some people object to graphic videos, we are working to give people additional control over the content they see. This may include warning them in advance that the image they are about to see contains graphic content. We do not currently have these tools available and as a result we have removed this content."
Facebook has been blocked by China's censors since 2009. The head of China's Internet regulator, Lu Wei, recently visited the Facebook office in Silicon Valley, where Mark Zuckerberg greeted him in Mandarin and displayed the Chinese President Xi Jinping's book "The Governance of China" on his desk.