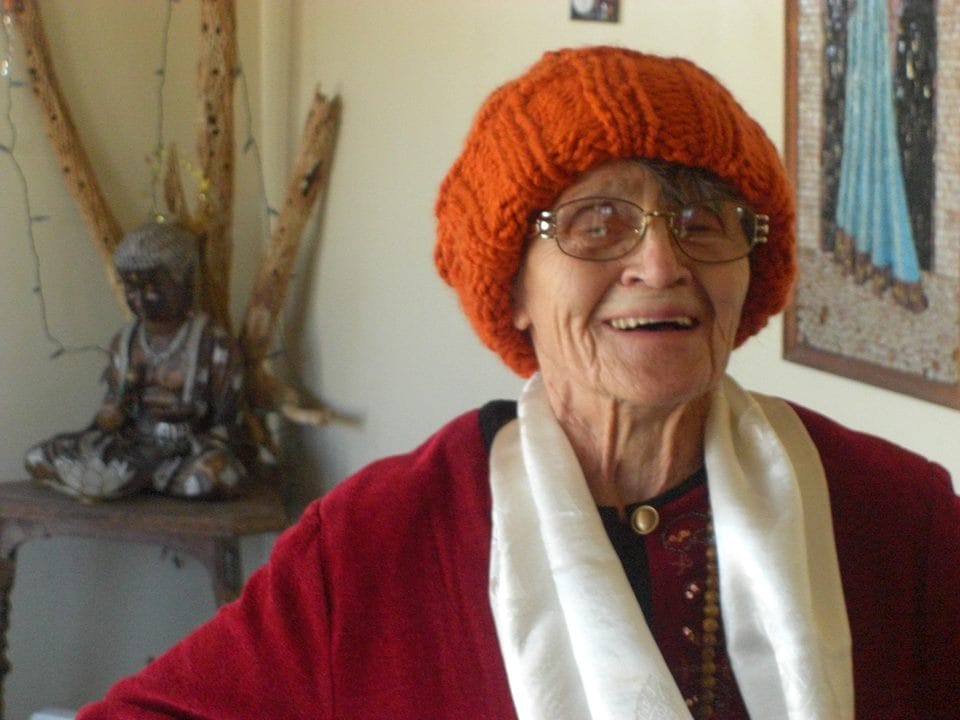 Ruth Denison, the pioneering Buddhist teacher and subject of the documentary-in-progress reported on here recently, has died. Denison was in ill health, having suffered a serious stroke and entering hospice earlier in February.
Her Dhamma Dena community website, which has been sharing updates since the stroke, has posted a brief update about her passing:
Ruth passed away quietly at 3 AM PST this morning, February 26, 2015, at her Joshua Tree home, surrounded by loved ones.

Her body will rest in state in the Zendo at Dhamma Dena in Joshua Tree until 8 PM, February 26.

There will be a memorial in nearby Yucca Valley within a couple of weeks. Details to follow.
Aleksandra Kumorek, the filmmaker behind the documentary-in-progress, shared an emotional update with social-media friends:
Dear friends, I am very sad to announce that Mahatma (Great Soul) Buddhist Teacher Ruth Denison passed away quietly on the 26th of February. Thank you for your loving kindness and good energy. My sadness is beyond tears.
Denison had an incredible life and impact. After growing up in the horrors of Nazi Germany and Soviet work camps, she came to the United States in 1957, where her circle included Alan Watts and Aldous Huxley. In 1971 she was authorized to teach by the Burmese Theravada master U Ba Khin. She helped establish the Southern California Zen centers led by Sasaki Roshi and Maezumi Roshi, and was for many years friends with Jack Kornfield, founder of Spirit Rock, who regularly visited her Dhamma Dena center in the Mojave Desert. In Shambhala Sun article on Denison, Sandy Boucher wrote, "Ruth taught us to redirect the urge to escape our suffering."
For more information about her, visit Dhamma Dena, and learn how you can contribute to the making of  Kumorek's film.