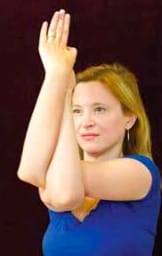 The editorial introduction to the July 2013 issue of Lion's Roar by Deputy Editor, Andrea Miller.
There were shiny hardwood floors and lime-green walls decorated with black-and-white photos of bodies bent into intriguing angles. It was a lovely, light-filled space to do yoga, but I couldn't stand this class. It was like a cross between a military drill and an anatomy lesson.
"You will externally rotate your arms," the teacher barked. "You will turn your feet slightly in. You will release your back." He did not crack a smile, nor did he remind us of our breathing or lead us in a round of oms. There was nothing meditative going on here.
At the end of class, I followed the crowd into the changing room and waited for my turn behind the curtain. "That class was so gooooood," one of my classmates moaned. "I'm so relaxed now."
My eyebrows arched into an asana of surprise but I kept my boredom and frustration to myself. However, another classmate responded incredulously. "Really?" she said. "I'm totally stressed! I'm always worried about making a mistake in this class."
Three people had each stretched and twisted their bodies into the same forms yet had entirely different experiences. This makes sense in the context of the Buddhist teachings on the workings of the body and mind.
In "What Is Your Body?" Zen teacher Norman Fischer explains, "There isn't a body per se, just a variety of momentary mental events. Some of them we think of as 'physical,' even though they're not." In short, Fischer concludes, the body is nothing more than "an idea based on unwarranted assumptions about the coherence of our conscious experience."
Yet the idea that we have a body is incredibly powerful. Much of our thinking revolves around our bodies, and the lion's share of our resources are dedicated to them. We preen our bodies and shelter them, feed and clothe them, enjoy and loathe them. Our bodies can spur us to awakening.
It is said that Siddhartha decided to embark on the spiritual path only after he encountered the sufferings of the body, and more than two millennia later the same bodily sufferings are still leading people to profound truths. In "Now the Bad News," four writers unpack what they've gleaned from giving birth, growing old, being sick, and dealing with death. It seems that in these challenging situations, uncertainty is the principal teacher: What happens when nothing is what we thought it would be? What happens when we no longer recognize ourselves?
Pleasure can be another call to awakening. Indeed, in "Through the Gateway of the Senses," Vajrayana Buddhist teacher and scholar Francesca Fremantle makes the point that our world is one of delight— a pure land, in fact. Spirituality is frequently believed to be unrelated or even opposed to sensory experience, yet senses and sense-objects are not themselves a problem. The problem is grasping. If we grasp at what gives us pleasure, we'll find ourselves more tightly bound to delusion. Yet freed of attachment, says Fremantle, the bliss of touch, sound, taste, smell, and sight can be a powerful means of transformation.
In "Flesh Sex Desire," novelist Karen Connelly delves deeply into erotic pleasures. Yes, watch out for this one—it's a lot steamier than the material we normally publish in the Shambhala Sun. It's also an insightful contemplation of a complex subject, and it's funny. "The body is an honest comic," says Connelly, just before she recounts a romantic encounter gone wrong with gaseousness.
Finally, this issue celebrates the pleasures of performance and sport. Four amateur athletes show us the spiritual side of skiing, golfing, surfing, and horseback riding. To finish up, Thich Nhat Hanh offers us three mindful movements to help us return to the present moment.
Personally, the body practice I connect with the most is yoga, and a few days ago I went to another class. This time I went with my husband, Adán, and worried that he wouldn't enjoy it because it was a restorative class—it didn't have any cardio component and just involved taking resting postures fully supported by props. About halfway through the class we had our legs butterflied out and our hearts lifted with bolsters when I whispered across the space between our mats: "Do you like this type of yoga?"
Adán nodded and smiled—totally relaxed. We were on the same page.