Robert Birkenes is the US Government's only civilian aid worker embedded inside US military headquarters in Iraq. He also happens to be a Buddhist. Birkenes shares some of his impression and experiences (so far) of the conflict in Iraq and his role there.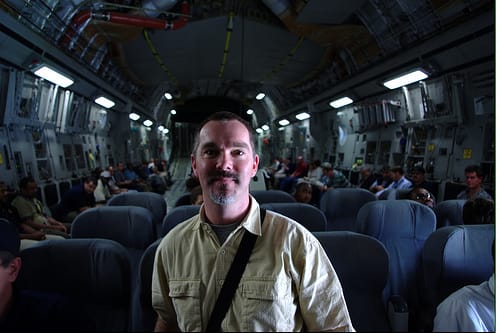 On a sunny day in Baltimore last July, while waiting for the children's audience with visiting monk Jigme Rinpoche outside the Shambhala Center, the US Agency for International Development called to say that I was their top pick to represent USAID on General Petreaus' new Joint Interagency Task Force in Baghdad. This was surprising news since it meant curtailing my assignment to Jamaica, moving my family back to the USA, and training for combat zone deployment-all in just a few weeks.
Several months later, I was the US Government's only aid worker embedded inside US military headquarters in Iraq, helping to bring non-lethal governance and economic development solutions to national security strategies here.
When I arrived in September, many military colleagues were still in kill/capture mode, focused on the enemy rather than the Iraqi population.  I helped military leaders to understand the strategic value of non-lethal, civil capacity activities to support Iraq's transition from counterinsurgency to stabilization phase in its recovery.  My main job is to provide a different perspective, one that happens to be consistent with the military's own counterinsurgency and stabilization doctrine.  One of the many stumbling blocks here is that US military presence is still large and well-funded, while development and diplomacy resources are relatively small, and the military is not well-prepared for nation-building, law enforcement, or peacekeeping.  To their credit, U.S. military officers are very fast learners.
Our interagency team combines soft power approaches (development assistance and diplomacy) with hard power (military) to form a strategy  to help the Iraqi government create a stable, secure and democratic country.  On the hard power side, our strategy involves working with the Iraqi government to catch insurgents before they attack, and to seize their caches of bomb-making materials and weapons.  On the soft power side, we give Iraqi people hope by helping businesses to create jobs and incomes, and enabling their government to provide electricity and water and other essential services.
One would think that the military is the aid worker's nemesis, and that soldiers would not respect peaceniks, tree-huggers, and do-gooders.  But today, our military leadership widely recognizes that if diplomacy and development are given the resources they demand, our soldiers will spend less time fighting and dying in unstable nations around the world.  As the US military draws down in Iraq, and we must look to Iraqis to take the lead on governance, security, economy—rather than us just doing it for them.
In many ways, I am three times in enemy territory: as an unarmed American diplomat in Iraq's red zone in; as a liberal in a politically conservative part of the US Government; and as a civilian aid worker embedded in the military.  We live on a huge, muddy, ugly military base by Baghdad airport, working 0700-2200 every single day.  In this world, yoga is called "tactical stretching," exercise is "PT," and meditation is "warrior mind training"—but we all strive to lead a balanced and healthy life.  Quite often, we are targets of rockets and mortars by the same Iraqi population that we are trying to help-the tragic irony of the modern aid worker.  And yet, I am very much at ease and even happy.  I miss my family in the USA, but I am where I am meant to be.  After this assignment, I will return to Washington to work on USAID's conflict mitigation office.  Who would think they'd find their place in the world by going off to be a peacemaker among warriors in a combat zone?  Every day in Iraq we are realizing the Buddha's words: "In this world, hate never dispelled hate. Only love dispels hate."
THANK YOU FOR READING LION'S ROAR. CAN WE ASK FOR YOUR HELP?
At Lion's Roar, our mission is to communicate Buddhist wisdom in today's world. The connections we share with you — our readers — are what drive us to fulfill this mission.

Today, we're asking you to make a further connection with Lion's Roar. Can you help us with a donation today?
As an independent nonprofit committed to sharing Buddhist wisdom in all its diversity and breadth, Lion's Roar depends on the support of readers like you. If you have felt the benefit of Buddhist practice and wisdom in your own life, please support our work so that many others can benefit, too.

Please donate today — your support makes all the difference.

Lion's Roar is a registered charity in the US and Canada. All US & Canadian donations are tax deductible to the full extent allowed by law.