Patty Winter shares her experience as a volunteer at local school, and as a dharma practitioner trying to be of benefit to others and make sense of it all.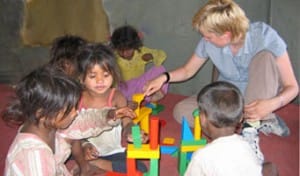 Winter is a nurse and Zen practitioner who traveled from her home in Ashland, Oregon, to Dharamsala to volunteer with an organization called Tong-Len. It was started by a group of Tibetan refugees who wanted to give something back to the local community that had given them refuge after they were forced to flee their homeland during the Chinese invasion of Tibet. The founders also recognized that while a number of aid agencies were working with Tibetan refugees, little was being done to help the impoverished Indian families living in the surrounding slums:
Traveling to lower Dharamsala on a bus one can see an ocean of black plastic undulating across a dry river drainage in the center of the town.  These are theslums where 700 displaced people, 300 of them children, live in three culturally separated groups.  We walked in over mounds of gravel, old pipes and wire, behind a broken brick wall opening into the dirt and plastic forest. I think to myself that I would never be able to walk through here without Wendy, my 74 year old Italian guide and a Tong-Len volunteer of 4 years.  My thinking is clouded by my cultural perspective and a lack of context for what I am seeing.  I feel a tinge of fear for "my" safety.  Then, I suddenly think, "Who is this 'my' that thinks she needs more safety than these people who reside here.  I am not the one living here.  I have my Columbia Sportswear pants on and my two-year old Merrill boots with clean bright white socks that insulate me against the filth.  I can shower in just a few hours.  Here, the river dried up early this year and the monsoons are not due for 2 months.  No place to wash or do the clothes for these ones.  I wanted to be naked, not literally, just to rid myself of this importance with my Western wear and my Western mind.  I was not able to find the thread of equanimity until I sat with a young boy who was as if a shadow.
As we walk in, Wendy is greeted by a teen on crutches.  She reaches into her wallet and pulls out 500 rupees ($10.00 US dollars) and wishes him well.  Not long ago this young man was repairing shoes in Mcleod Ganj but now he is on crutches from leprosy ulcers on his legs.  Wendy has not seen him working for some time.  He walks us through a maze of dusty, uneven gravel paths, through plastic structures, to one, in a sea, of black plastic lean-to structures.  This is the school, one black plastic 30×30 tent supported by sticks that looks like all of the other structures as far as I can see.  I count 29 children of various ages, sitting down on a large dusty mat, one mom and her two children, an Indian teacher named Vehoes and another Italian volunteer who is about 25-30 years old.  It is impossible to tell the age of these kids.  All are malnourished, the contour of their bones outlined by brown skin.  Most are caked in dirt from head to toe and hair matted to their heads in unintentional dread locks formed from not washing and brushing.  The dirt was so thick on three of the children that it was difficult to see where their skin stopped and their clothes began.  Suddenly the teacher has everyone line up and we begin the children's tune, "Head, Shoulders, Knees and Toes, Knees and Toes," except the teachers do not know the tune so they speak it instead of sing it.
We then sit in a circle and each one introduces themselves with another song, "What is your name little Bee," and then one child says, "my name is …" and we all answer, "Your name is…"  I am still feeling clean, white, and fancy.  I want to be naked, freed from this separation that exists most heavily in "my" mind but still not able to shake it off.  Soon the old round wooden tables are unstacked and 7 children gather around them.  Wendy and I tear pages from a coloring book and pass out crayons.  Each child, each one, waits patiently without grabbing and with no concern for a certain color, receives a crayon and a page and begins to color.  The sheets are the English alphabet with pictures depicting things that begin with the letter, such as H is for house, and a nice picture of a gabled home unlike anything these kids have seen before, or may never see in their lives.
I tentatively find my way down onto the dusty rug.  Getting dusty clothes was not a problem,   just a part of being in Anywhere, India.  My identity was shaky, "Who am I here?"  My heart was questioning, "Can I open enough to see all of it, the dirt, the matted hair and the open wondering, matted eyes?  How can I assist with this alphabet and coloring?"
Finally, I find my place next to a one of the three children that I described earlier.  He has a green crayon, a flat affect and nothing yet on his page.  I ask, in a way, if I can show him.  My large white clean hand holds his delicate, dirt encrusted hand and I begin to show him the lines. No effect.  Then, on his own, he slowly lifts his hand to the middle of the page, puts the crayon down, and lets the gravity of his elbow pull the mark of the crayon down the page 2-3 inches in a weak, faint squiggle before lifting it again and repeating it.  I move in closer to him.  He rubs his neck often and I notice snot running down his nose.  His fingers are terribly bony and he looks to be about 4 years old but I bet he is 8.  I assume that he may have a fever by the way he keeps rubbing his neck.  His face is completely absent of expression until I praise his lines and then a brief smile and wide eyes look back.  My clothes are beginning to fall away now.
Another one of the three encrusted ones sits on the other side.  She is a bit older and with the same bony fingers.  She can color.  I draw circles for her to fill in.  Still, most of my attention is with the boy.  It is as if he has disappeared, absent, already gone in a way, but no he is here sitting close to me.   His invisibility is loud in my senses.  The children around our table don't seem to notice him.  I conclude that he may be invisible with only three teachers to give attention to the 28 others.  He may sit here completely unnoticed.  I am glad for these few hours where I can just be with his absence in my way, a way similar to the energy that I offer as I am sitting with the dying who are also not absent.  At times I feel tears welling in my eyes (and now as I write this) as I sit here under the black plastic canopy.  I say to myself, "Not here! How could I shed a tear here!  I don't live like this day after day.  I am not the one that should be crying."  The tears feel arrogant.  I will cry later in the safety of my clean sheets and my organized closets."
Soon an older, girl arrives who speaks quite a lot of Hindi but no English and we find our way to communicate.  I start showing her how to write the letters and pronounce them.  But soon we are drawing stick figures, copying each other back and forth and adding more detail each time – a face, a skirt, she adds hands and feet, I add hair.  We are feeling playful together as we discover how clever each of us can be with stick figures.  Soon we are drawing clouds and the sun.  My clouds have soft round fluffy edges her clouds are jagged.  The monsoons are coming soon, she lives in a drainage, in the dirt and under black plastic.  I am naked now and equalized with one child to the right, one to the left, the bright one in front drawing jagged clouds and me.
Others begin showing me their work, some of the older, cleaner, brighter ones who are learning to color within the lines.  Even the one mother has been coloring and she holds up her page for approval.  I praise them, encourage them and still a portion of my attention is with the disappearing one.  What will his future be?  I get the strong feeling he may not live into a future. His life energy is so low.  I assume that if he walked away from camp perhaps nobody would even know.  Where are his care providers?
Soon the colors and papers are collected without argument and with a lot of help from the children.  I can sense the gratitude in their action of helping put things away and their lack of argument – there is not even a hint of disappointment that coloring time is over.
Wendy pulls out biscuits (cookies) from her bag and asks that I pass them around.  My hands are dirty and I think I should wash them before handing out the food.  Suddenly my clothes have popped back into place as I put one small biscuit into 29 bony fingered, filthy hands.  Each child says, "Thank you." I say, "You're Welcome."  Providing a "good example" for manners I think. One small cookie and no one asks for more.
After this Wendy and I make our way back through the plywood floored tents, with mats.  We pass 3 older women and a man lying on a mattress-less metal spring bed.  There is a bony dog under the bed and Wendy asks that they hold the dog as we walk by.  My Merrills are back on my white socked feet. My Columbia Sportswear pants are hanging from my body intact.  My periwinkle sun hat and my $50.00 clip-on sunglasses are protecting me from the harshness of the day.  We circle back around the cement wall, over the wires and pipes and wait at the bus stop where Wendy pulls out the hand sanitizer.   We rub this in, creating a damp clay as it mixes with the filth on our hands.  We rinse with our clean drinking water.  A routine that Wendy has done for 4 days a week, 4 months a year for the last 4 years.
I arrive back at my guest house on the third floor with the view, strip naked and shower. Throwing my sportswear and socks in the bucket for washing I head to dinner for hot soup at the Peace Café.
This experience came about during my first journey to McLeod Ganj, Dharamsala, India when I was introduced to Wendy.  Sharing a table at the Peace Café, over a bowl of hot thugkpa she introduced me to the benevolent organization, Tong-Len.  Founded by Tibetan refugees, this organization returns India's generosity of refuge by offering educational and health based programs to displaced families who reside in the local slum village.    Wendy is retired and lives on a pension.  For 4-6 months of the last four years she has left her Italian home to be a "Teacher" in one of the black plastic covered tents in the slums of lower Dharamsala. Over dinner we arranged for me to accompany her to the slums the very next day.