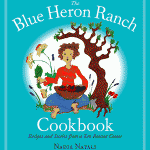 For twenty-eight years, Nadia Natali and her husband have been dishing up meals for visitors to their small Zen retreat center, Blue Heron Ranch. Now Natali has a cookbook out and it includes some of her finest recipes. Blue Heron Ranch Cookbook will be featured in the Books in Brief section of the upcoming December/January issue of Shambhala Sun. Until then, to whet your appetite, here is one of Natali's recipes, along with a little note from her:
Blue Heron Ranch Potato Leek Soup
Serves 8
I usually cook this soup for Friday night dinners when our retreats
commence. Soup has a warm welcoming effect, and in the case of a
meditation retreat you don't want to start out with too heavy a meal.
1. Sauté:
2 Tbs Olive oil
3 Leeks cut in thin slices
3 stalks Celery cut in thin slices
1 head Garlic cut in large chunks
2. Add and cook for 20 minutes:
8 cups Water or vegetable or chicken stock
1 Tbs Tamari soy sauce
8 New potatoes cubed
3. Add:
1/4 lb Noodles elbows style
2 tsp Dill
4. Add when noodles are just done:
1 lb Tofu cubed
From The Blue Heron Ranch Cookbook by Nadia Natali, published by North Atlantic Books, copyright © 2008 by Nadia Natali. Reprinted by permission of publisher.