In Mahayana Buddhism, a bodhisattva is an enlightened being who forgoes nirvana and vows to take rebirth again and again in order to save all sentient beings from suffering. In the vajrayana tradition preserved in Tibet, the rebirths of enlightened Buddhist masters are traced from lifetime to lifetime. A letter written before a master dies, or the clairvoyant visions and dreams of a living master, help to locate a young child who is the emanation of the deceased master. While they may remember little or nothing of their previous life, these children show remarkable learning abilities and concentration powers. With diligent practice and study, and proper training usually given by chief disciples of their previous incarnation, they have the potential to become extraordinary teachers. These masters, known as "Rinpoches" ("precious jewels"), are at the heart of Tibetan Buddhist culture.
In the typical Tibetan home, there are photographs displayed of His Holiness the Dalai Lama and other incarnate masters. Generations of family members have been disciples of several incarnations of the same master. The Rinpoche is a source of faith to the family, giving teachings, divinations and guidance for their life, including guiding them through the process of dying.
Whether a lama is recognized as the incarnation of a previous master is not paramount to Tibetans. There are some extraordinary lamas who, from many years of monastic training or retreats, are venerated as much as, if not more, than incarnate lamas.
I have felt an urgency to photograph the last of the Buddhist masters who received their training in Tibet before the Chinese invasion. I am profoundly moved by the qualities of kindness, compassion and equanimity of these extraordinary beings. From these masters, we receive the unbroken transmission of dharma that was passed on from master to disciple in the pristine, Tibetan high plateau.
-Don Farber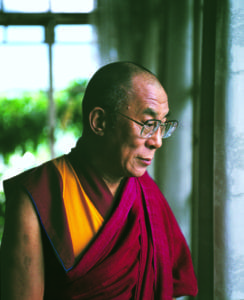 His Holiness the Dalai Lama, Dharamsala, India, 1997
As I was photographing His Holiness by a window in his residence, I told him about my wife's mother. A beautiful young maiden from a respected family in eastern Tibet, Lhaga escaped with her husband Wangyal to India in 1959, but shortly after arriving, she contracted polio and her legs became paralyzed. This disease was practically unknown in Tibet. They loved each other very much and, despite Lhaga's paralysis, they had two children together. One day they were at a hot spring in northern India and they met Taring Amala (founder of the Tibetan Homes Foundation, a boarding school for Tibetan refugee orphans). Taring was so touched seeing Wangyal carrying this beautiful young woman on his back that she invited them to live at the school. Wangyal became the school's handyman and their children attended the school. As I told this story to His Holiness, he was deeply moved. He said to me, "All the Tibetan people have suffered so much."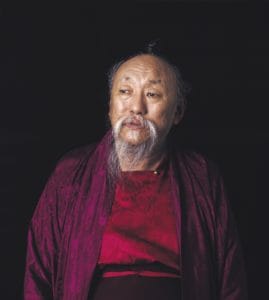 Chagdud Tulku Rinpoche, Los Angeles, 1990
Born in 1930, Chagdud Tulku Rinpoche was recognized at the age of two as the incarnation of the abbot of Chagdud Gonpa, a Nyingma monastery in Kham, eastern Tibet. A meditation master, poet, storyteller, artist and physician, he inspires his many western students to practice diligently and to learn and maintain traditional Tibetan Buddhist arts and rituals. After living in northern California for many years, he recently moved to Brazil, where he directs a vital dharma community. Nowadays he is entering old age and his health is fragile. On his rare visits to the United States, there is a feeling among all of us who have received his teachings and spiritual guidance that each moment with him is precious. He is a living link to the great Buddhist tradition of Tibet.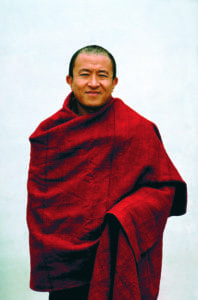 Dzongsar Khyentse Rinpoche, Dzongzar Institute, Himachal Pradesh, India, 1997
In many of the homes of Tibetan refugees from Kham, eastern Tibet, there is a large black and white photograph over the altar of their root guru, Jamyang Khyentse Chokyi Lodro, who died in 1959. He was the incarnation of the great Jamyang Khyentse Wangpo (1820-1892). While of the Sakya tradition, both were masters of all four Tibetan Buddhist lineages. They established the nonsectarian Rime tradition at Dzongsar Monastery in Derge, Kham. Dzongsar Khyentse Rinpoche, the main incarnation of Jamyang Khyentse Chokyi Lodro, is a gifted teacher and filmmaker. His 1999 film Phörpa (The Cup) won several film festival awards and was featured at Cannes. He also oversees the Dzongsar Institute, which gives advanced training for monks, many of them escaped from Tibet. Especially for the people of Kham, Dzongsar Khyentse is seen not only as a man in this present life, but as a continuum of lifetimes keeping alight a brilliant spiritual tradition.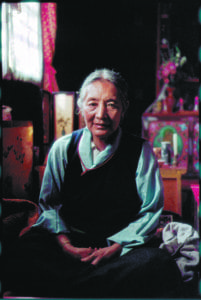 Khandro Tsering Chodron, Gangtok, Sikkim, India, 1997
In Sogyal Rinpoche's book, The Tibetan Book of Living and Dying, he describes his childhood being raised by Jamyang Khyentse Chokyi Lodro and his spiritual wife, Khandro Tsering Chodron. She was much younger than her husband, who died in 1959. Sogyal Rinpoche describes her as the foremost woman master in Tibetan Buddhism. At the invitation of the royal family of Sikkim, she has been quietly living for many years in a small house located on the beautiful grounds of the royal temple atop a hill in Gangtok. She never remarried and she lives like a nun, usually doing meditation practice. I asked if she would mind being interviewed, but she preferred not to. However, just being in her presence, experiencing her warmth and kindness and seeing how she lived, was a great teaching and blessing in itself.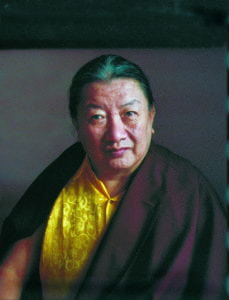 His Holiness the 11th Mindrolling Trichen, Dehra Dun, India, 1997
Mindrolling Trichen Rinpoche is revered by many Tibetans as one of the greatest living Buddhist masters. He received extensive teachings and empowerments from great masters in Tibet and spent more than 14 years in retreats. His father was the 10th Mindrolling Trichen and head of the influential Mindrolling lineage of the Nyingma school. In 1962, H.H. Dudjom Rinpoche and H.H. Dilgo Khyentse Rinpoche performed the formal enthronement ceremony for Rinpoche to become the 11th Mindrolling Trichen. He worked closely with the 16th Karmapa, Dudjom Rinpoche, Dilgo Khyentse Rinpoche and others as a leader in preserving the Tibetan Buddhist way of life. In 1976, Rinpoche moved to Dehra Dun, India, to head the Mindrolling Monastery in exile, where he lives today with his family and sangha. I photographed him in the room where he normally does his practice, with light coming from a window. He joked around, exuding tremendous joy and vitality through his eyes.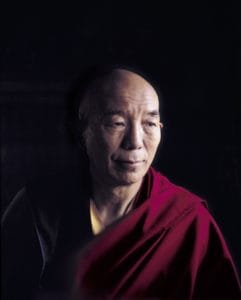 Tenga Rinpoche, Kathmandu, 1997
The Venerable Tenga Rinpoche was born in 1932 and at age 7 was recognized as the third incarnation of Tenga Rinpoche by the previous Tai Situ Rinpoche. After many years of training under Situ Rinpoche and other great masters in Kham, and after completing a three-year retreat, he escaped to India in 1959 and settled at Rumtek monastery in Sikkim. There he studied with the late 16th Gyalwa Karmapa, head of the Kagyü sect. Rinpoche lived at Rumtek for 17 years, the last nine of which he served as the Dorje Loppön (Vajra Master).
In an interview, I asked him to share briefly something of the dharma that he considers most important, and he replied: "The essence of the Buddha's teachings is contained within the two types of enlightened mind, or bodhichitta. [Shantideva describes bodhichitta as the wish to bring all sentient beings to the level of enlightenment.] Basically, you pray, 'May I be able to give birth to the sincere and genuine enlightened mind of bodhichitta.' At the same time, you pray, 'May all sentient beings be able to generate, give birth to this genuine mind of bodhichitta.' That thought is the crucial point of the path. The essence of Buddhism is to cultivate, over and over, that mind of bodhichitta, praying in this manner. At the same time, you try to think that whatever you are doing, may it benefit sentient beings. In this way, whatever you are doing, whether you are praying or you are engaged in some activity, your wish is to benefit others. That is the real enlightened mind of bodhichitta, which is the essence of all the teachings of the Buddha."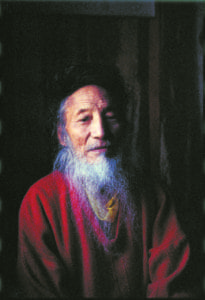 Togden Amting, Himachal Pradesh, India, 1997
When the Tibetans escaped to India in 1959, among them were the togdens, or mountain yogis. Having lived isolated in caves in Tibet, they built huts or found caves in the Himalayan foothills of India, where they could continue their many-year retreats. Traditionally, the form of yoga they practice has been kept secret and has only been practiced by togdens. This is because of concern that these practices could be harmful if used without long preparatory training. They also practice meditation and recite Buddhist scripture, keeping the vow to attain enlightenment for the benefit of all sentient beings. Togden Amting has lived for many years in a tiny hut under trees, high on a hill in Himachal, Pradesh.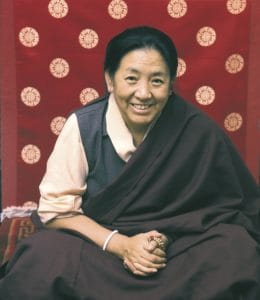 Her Eminence Jetsun Kushok Chimey Luding, Los Angeles, 1992
It is said that Tibet has always had many accomplished female Buddhist practitioners, but out of modesty, few have emerged as prominent teachers. Jetsun Kushok Chimey Luding is one of the most respected female teachers of Tibetan Buddhism. Born in 1938, Jetsun Kushola is the sister of the Sakya Trizen, head of the Sakya lineage. Beginning at an early age, she received intensive training, alongside her brother, from Jamyang Khyentse Chokyi Lodro and other great masters. After escaping from Tibet in 1959, eventually she settled in Vancouver with her family in 1971. Struggling to care for her children and make a living in a new country, and at the same time maintain her intensive practice, often left her without sleep. At the urging of her brother, she started teaching in Vancouver in the early 1980's. She now teaches all over the world, incorporating her broad life experience into her teaching.
---
Don Farber is best known for his widely seen photographs of the Dalai Lama. In 1997, he received a Fulbright Scholarship to research and photograph Tibetan Buddhist life in India and Nepal. 
This photo essay is selected from the portfolio, When the Light Shines Through: Portraits of Tibetan Masters. Information on this portfolio and other work by Don Farber is available at www.BuddhistPhotos.com.