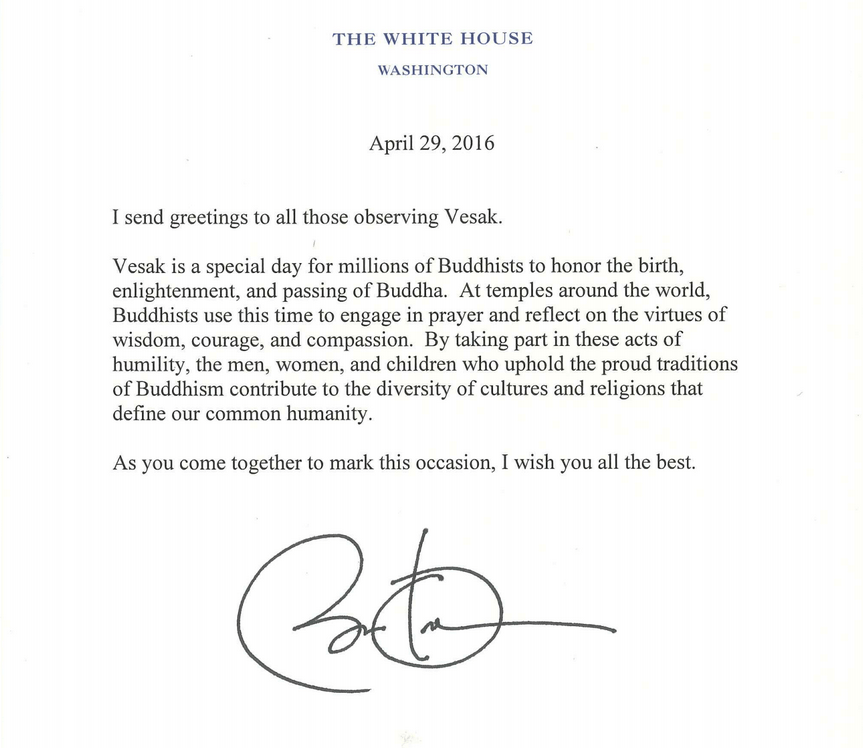 The first of President Obama's two 2016 salutes to Vesak, or "Buddha Day." This was followed up by an May 20 posting on WhiteHouse.gov.
US President Barack Obama has now issued a second 2016 statement about the Buddhist holiday of Vesak, or "Buddha Day" — this time, an official White House message (as opposed to his previous statement of April 29, which illustrates this story), posted on WhiteHouse.gov. It reads:
Michelle and I extend our warmest wishes to Buddhists in the United States and around the world in their celebration of Vesak, a day honoring the birth, enlightenment, and passing of Buddha. During this season, we reflect on Buddha's universal teachings of peace, service, and recognition of common humanity — shared values that also bind us all as Americans. This occasion gives us an opportunity to commemorate the many contributions of Buddhists to our progress and to recommit ourselves to building a brighter future for all communities, cultures, and religions. As we come together in hope for wisdom, courage, and compassion, our family sends our best wishes during this season.
On May 2, Bill Aiken at the Office of Public Affairs of Soka Gakkai International-USA told Lion's Roar about the issuing of Obama's first statement acknowledging Vesak. About that message, Aiken — who has been "functioning as 'secretary general' for an White House Vesak ad hoc committee of 20 or so Buddhist communities from DC, NY, and California" — said,  "As far as I know, this is the first time in US history when the President has issued a message saluting this great holiday."
The two messages are quite similarly worded; the message dated April 29, 2016 illustrates this story.
Aiken also shared a message from California governor Jerry Brown, which was pre-dated May 20:
The State of California is one of the earliest homes to American Buddhists, and Buddhism is one of the world's great religious traditions, touching the lives of many with its practice of compassion, wisdom and mindfulness.

American Buddhists have played essential roles in the history if this state, from the early Chinese and Japanese immigrants of the 19th century who helped build the railways, defend our country, and cultivate the land. Throughout the State of California, Buddhist communities contribute to the welfare of our society in numerous ways, providing comfort, compassion, encouragement, and wisdom for those facing life's challenges.

Vesak is a holy day that commemorates the birth, enlightenment, and passing of the Buddha, Gautama Siddhartha, and celebrates the cultivation of wisdom and compassion in our lives. Vesak is celebrated in numerous ways throughout the diverse range of Buddhist communities in our state. I salute the contributions of this state's Buddhist citizens on Vesak Day.
Regarding Brown's letter, Aiken added:
I hope that folks in other states will also reach out to your state, local and federal officials, inviting them to your celebrations (and documenting it!) and getting proclamations and letters of support. These recognition documents are actually quite valuable in getting even more support from political leaders. Whenever you are successful, send me a scanned (or photographed) copy. It really does help!
You can email Aiken at [email protected]
Buddhist holiday of Vesak honored by NY's Cuomo & DiBlasio, MD's Hogan
[gard group='5′]
THANK YOU FOR READING LION'S ROAR. CAN WE ASK FOR YOUR HELP?
At Lion's Roar, our mission is to communicate Buddhist wisdom in today's world. The connections we share with you — our readers — are what drive us to fulfill this mission.

Today, we're asking you to make a further connection with Lion's Roar. Can you help us with a donation today?
As an independent nonprofit committed to sharing Buddhist wisdom in all its diversity and breadth, Lion's Roar depends on the support of readers like you. If you have felt the benefit of Buddhist practice and wisdom in your own life, please support our work so that many others can benefit, too.

Please donate today — your support makes all the difference.

Lion's Roar is a registered charity in the US and Canada. All US & Canadian donations are tax deductible to the full extent allowed by law.