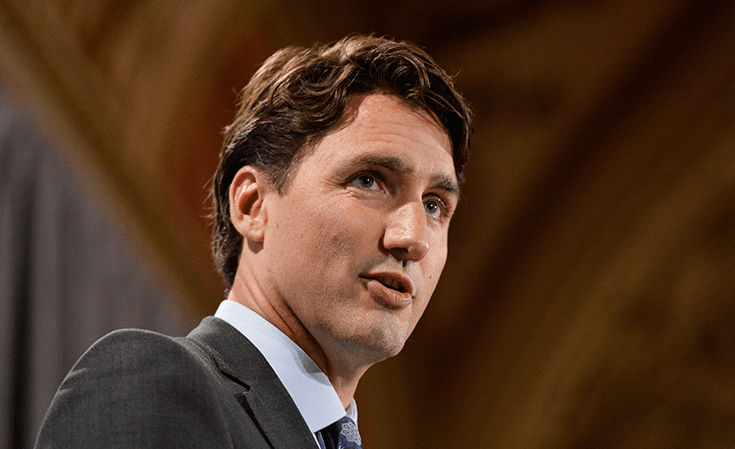 Prime Minister Justin Trudeau. Photograph courtesy of
Canada 2020
.
Prime Minister Justin Trudeau has issued a statement acknowledging the occasion of Vesak, the Buddhist festival also known as "Buddha Day."
The statement, posted on his website, reads:
Today, Buddhists in Canada and around the world will celebrate the birth, enlightenment, and passing of Gautama Buddha – the founder of Buddhism.

On this day, Buddhists unite to reflect on the Buddha's life and his teachings about showing compassion toward others. Vesak is celebrated in many different ways in many different countries all over the world.

Buddhists will visit their local temples to pray, donate to those in need, and put the teachings of the Buddha in practice. They will also offer gifts to the Buddha statue to show respect and gratitude to the Buddha for his life and wisdom.

As we celebrate the Buddha's life and teachings, let us be inspired by his message, and continue to put the needs of others before our own. Let us continue our work in pursuit of happiness, peace, and equality for all Canadians and people around the world.

On behalf of our family, Sophie and I extend our best wishes to all those observing this sacred day.
Lion's Roar previously reported on the United Nation's recognition and celebration of Vesak. President Barack Obama also acknowledged the holiday in early May with a letter to the Buddhist community. The governor of California, Jerry Brown, followed suit and did the same.
Vesak is traditionally celebrated annually on the first full moon of the month of Vesākha, which usually falls in late May or early June.
THANK YOU FOR READING LION'S ROAR. CAN WE ASK FOR YOUR HELP?
At Lion's Roar, our mission is to communicate Buddhist wisdom in today's world. The connections we share with you — our readers — are what drive us to fulfill this mission.

Today, we're asking you to make a further connection with Lion's Roar. Can you help us with a donation today?
As an independent nonprofit committed to sharing Buddhist wisdom in all its diversity and breadth, Lion's Roar depends on the support of readers like you. If you have felt the benefit of Buddhist practice and wisdom in your own life, please support our work so that many others can benefit, too.

Please donate today — your support makes all the difference.

Lion's Roar is a registered charity in the US and Canada. All US & Canadian donations are tax deductible to the full extent allowed by law.