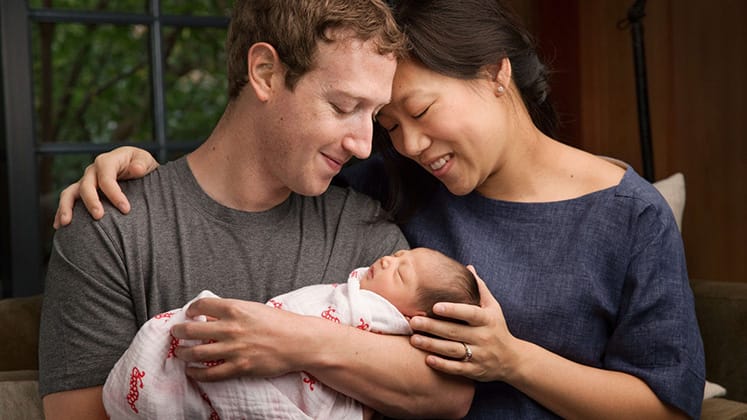 Priscilla Chan and Mark Zuckerberg with their daughter, Max. Photo via
Mark Zuckerberg on Facebook
.
Today, Priscilla Chan — a prominent Buddhist, philanthropist, and educator — announced with her husband — Facebook founder Mark Zuckerberg — that the couple will donate 99% of their shares in Facebook  over the course of their life. Zuckerberg posted the announcement to Facebook in a letter that also announced the birth of their daughter, Max.
The letter announced the launch of the Chan Zuckerberg Initiative, the organization to which the couple will be donating their fortune, currently valued at $45 billion. The initiative will work to promote personalized learning, cure disease, connect people, and build strong communities. However, many commentators have criticized the move, arguing that it could simply be an elaborate tax break or a form of "philanthrocapitalism." This announcement comes little more than a month after Chan and Zuckerberg announced that they are opening a private school in the San Francisco Bay area that will integrate healthcare and education — both areas of expertise for Chan, who is a teacher and pediatrician.
Charity and altruism are also the focus of a conversation to be found in March's debut issue of Lion's Roar magazine, between philosopher Peter Singer, monk/author Matthieu Ricard, and charity advocate Julia Wise. Wise and her husband have made recent headlines for their own generosity, which takes the form of donating 50% of their income yearly.