Think Good Thoughts, Speak Good Words, Do Good Things, by Dharma Bum Jeff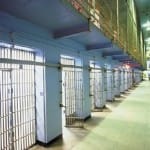 With one hand clutching the bible, the other hand rests gently in his lap. The meditation begins after striking the bell 3 times and we start with taking 3 deep breaths. Here we sit in the downtown San Diego prison, 20 men all there for various reasons. As the meditation is led, I realize once again there are no Buddhists in the room, except for me of course. I am reminded the importance of Buddhist teachings is not so much to "be Buddhist" but to cultivate ultimate wisdom and compassion.
"Think good thoughts, speak good words, do good things." This is how my greatest teacher taught me. She is a Buddhist Nun, and her core teachings always included singing a gentle and beautiful song. This, along with her before mentioned phrase, was all we needed to sit and find peace.
These men in prison come from all races and religions. There was a Muslim man after meditation who shared that when he prays, there is 100% focus and concentration on his prayer. Another man shared that a few minutes after we began the meditation, he was able to perfectly in his mind recite "praise god almighty." His words were clear, pure, and with beautiful intention. Then there was me, who sat there reciting in my mind, "I take refuge in the Buddha, I take refuge in the Dharma, I take refuge in the Sangha." So as I continue to share the message of peace with the world, I realize what we believe is not as important as how we act in community. It is critical that in the current times we face in this world, all people sit together in silence and breath.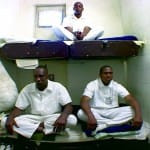 When the sound of the bell ended the meditation, every man in that room was at peace. I asked when was the last time you felt this peaceful. One man said, "30 years ago." They all wore the same clothes, had the same shoes, sat in the same chairs and all smiled without a thought of anger. It was a moment where we all realized there was no difference in any of us, we were all brothers. This to me is the way we create a beautiful harmonious world. All from sitting and doing nothing but breathing mindfully.
As the prison doors slammed behind me and I walked out, I turned to wish them well with their day and reminded them to think good thoughts, speak good words and do good things.
Dharma Bum Jeff leads the Dharma Bum Temple in San Diego, which opened in 2006 as a home for the study and practice of Buddhism in America.