Lama Rod Owens says protesting is a spiritual act that engages the practitioner's body, speech, and mind in service to others. But many Buddhists are resistant to resistance.
On August 25, I marched with thousands of other religious leaders in the 1,000 Ministers March for Justice, organized by Rev. Al Sharpton and the National Action Network. Ministers from across religious traditions came together for the march to reaffirm their commitments to social justice and to denounce the current administration's assault on voting rights, healthcare, criminal justice reform, and economic justice.
The event appealed to me because, as a dharma teacher, I see myself as a minister and a member of the clergy — though I recognize that not all dharma teachers do. At no point did I feel that the 1,000 Ministers March excluded me as a dharma teacher.
As activists and demonstrators, Buddhists are not on the front lines.
The program commenced with impassioned speeches from Christian, Jewish, and Muslim clergy. As they spoke, I found myself reflecting on the absence of Buddhist leaders. Other traditions seem to have a lot to say about justice. Despite Buddhists' commitment to compassion and a long tradition of community service (particularly in Asian American Buddhist communities), the popular perception of Buddhists is one of pacifism and apathy.
I think we aren't included in interfaith demonstrations because we don't show up. As activists and demonstrators, we're not on the front lines. Our efforts to develop a dharma of social liberation is lacking in comparison to the rich and dynamic Christian theologies of liberation. When I went to the march, I was sure I would meet up with many other dharma teachers. I didn't. There might have been more teachers present, but I could only identify four.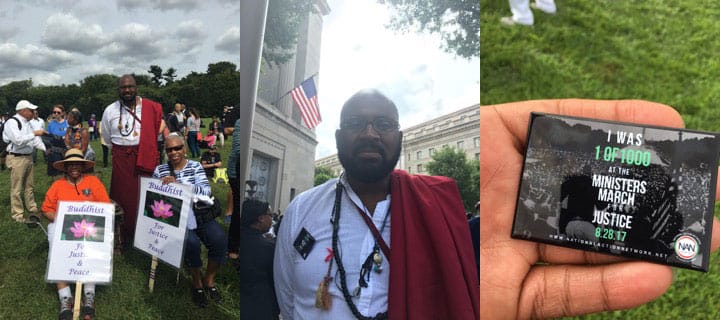 I'm used to Buddhists not being represented at protests, especially interfaith gatherings. Our engagement with radical social movements is historically not evident compared to other faith groups, so organizers often don't think to reach out to Buddhists. While there are justice-oriented Buddhist groups, few (if any) leaders are publically recognized by other faith-based justice organizations.
It's important that Buddhists show up to marches and protests. Especially when other religious and spiritual groups are present. And I believe that faith leaders want us to show up. But, we struggle in a spiritual tradition that has been deeply coopted by a white, middle- and upper-class sensitivity that has distanced dharma from justice.
A march is a symbol. It's a tangible representation of our aspiration for peace and equanimity.
Justice calls power inequalities into question and reveals how our dharma communities can mirror larger social systems that perpetuate violence against marginalized bodies. White-dominated sanghas reflect the experience of the white middle class and its privilege of having less struggle for resources. The work of justice disrupts our communities. That can challenge the comfort that many white practitioners seek. Marching is the antithesis of what many dharma practitioners are interested in.
The 1,000 Ministers March was an opportunity for other faith leaders to see Buddhist clergy in public, addressing our country's struggles. Moreover, a march is a symbol. It's a tangible representation of our aspiration for peace and equanimity, made public and vitalized through movement and speech. When we're seen by others, we open ourselves up for critical collaboration with other groups that can help our communities do the work of justice.

Protest is my spiritual practice. When I recognize that, it helps me to ground my demonstration in compassion for myself and others. I have come to realize that marches are like the tantric practices done in groups, engaging the body, speech, and mind. At the march, I witnessed demonstrators using their bodies to move, their speech to chant and sing, and their minds to visualize a better world.
I don't always want to attend every protest, and that's okay. But one thing that always motivates me is knowing that, as a dharma teacher and minister, I feel I have an obligation to model the path of justice and dharma for my students and for the larger Buddhist community. I show up because I'm concerned about the violence of injustice. And I go because people need to see me and know there is space in Buddhism to talk about justice. When I march, I take my dharma practice with me; and it is my dharma practice that helps me show up with the aspiration for all beings to be free from suffering.